As a nonparent, I stand in awe of parents. Our friends save for years to bring their children to Colorado, then spend thousands of dollars on the vacation of a lifetime and get little apparent return on their investment. The 10-year-old wants to play video games all day. The teenager sulks in the back seat, plugged into a portable CD player, head buried in a sports or fashion magazine, refusing even to glance at the glorious views outside the van window.
Younger children squabble about who gets what seat, feign motion sickness at every curve, and whine about how much time they must spend in a car. It's too cold for a picnic—or too hot. Why do we have to hike this stupid trail? I thought we were supposed to see wild animals—where are they? Can't we just stay home and watch a movie?
Amazingly, these reactions do not faze the parents. They are well-accustomed to shelling out dollars, prodding their children to get dressed, scraping uneaten food off the plate, cleaning up messes, and receiving in return reactions ranging from diffidence to sullenness. As parents, they understand this is part of what parenting is about.
The self-sacrificing, servant aspect of the Christian life has many parallels to parenthood. Every person feels a "cry from the heart" to serve those weaker than ourselves, says Jean Vanier, founder of L'Arche homes for the profoundly disabled. For many people, parenthood satisfies this need. Others—like Vanier the priest, like Jesus himself—seek to serve the poor, the lonely, the forgotten, the sick or disabled, in response to this cry from the heart.
The New Testament contains many passages directed to "parental" instincts. Gradually, gently, the writers press their readers to move beyond self-fulfillment. For example, some passages urge Christians to avoid lawsuits, in effect waiving their legal rights, in order to set an example that may attract others to the faith. And though the apostle Paul himself had no qualms about certain controversial practices, he modified his own behavior for the sake of weak and immature Christians. "Though I am free and belong to no man, I make myself a slave to everyone, to win as many as possible," he said.
The New Testament persistently presses us upward, toward higher motives for being good. A child wants to know what she can get away with; an adult understands that boundaries exist for his own good; a parent voluntarily sacrifices her freedom for the sake of others. "Such ever was Love's way," wrote Robert Browning, "to rise, it stoops."
God yearns for us to grow toward the parent stage of sacrificial love, which most accurately reflects God's own nature. We draw near to God in likeness when we give ourselves away. In fact, as Jean Vanier insists, we need this further stage as an essential part of spiritual development; it teaches what we might otherwise never learn.
I have sat with many parents and listened to their heart aches. We did all we could. We gave her everything she wanted, loved her in every way we knew how—and now this. She blames us for all her problems. She says she hopes she never sees us again.
In effect parents struggle with the same delicate issues of power and self-limitation that define God's relationship with us. Through parenthood we get a glimpse of the "problems" God conceded into existence by creating human beings with the freedom to rebel against him.
Parents learn the uses of power and its limits. They can insist on certain outward behavior but cannot change inner attitudes. They can require obedience but not goodness—and certainly not love. How, then, do you build character in a child? How do you nurture such qualities as patience, kindness, gentleness, and compassion? How do you forgive obnoxious behavior without sanctioning it? Parenthood, like nothing else, brings us face to face with these theological and ethical dilemmas.
Yet here is a strange thing: When my friends pack their suitcases and head back in cars or airplanes to their homes, they do not regret what they have just endured. The glimpse of wonder in their children who watch fox kits peeking out of their den across the ravine, the momentary lapse from teenage sulkiness when their son scrambles to the top of a mountain and lifts his hands Rocky-style in the air, the cuddle of a 10-year-old body against their own at the end of an exhausting day outdoors—these memories displace the frustration. They have seen progress toward maturity, confidence, and independence. What else is the reward of parenthood?
Related Elsewhere
Another Christianity Today article that discusses ways God parents us is " The Pursuing Father " (Oct. 5, 1998).
Read a biographical sketch of Jean Vanier , founder of L'Arche homes for the disabled, or a transcript of a Vanier interview about images of love .
Read about the life of poet Robert Browning , or read Browning's " A Death in the Desert ", the poem Yancey quotes above.
Christian Parenting Today , a sister publication of Christianity Today, frequently runs parenting advice from a biblical perspective.
Earlier Philip Yancey columns include:
Lessons from Rock Bottom (July 10, 2000)
Chess Master (May 15, 2000)
Would Jesus Worship Here? (Feb.7, 2000)
Doctor's Orders (Dec. 2, 1999)
Getting to Know Me (Oct. 25,1999)
The Encyclopedia of Theological Ignorance (Sept. 6, 1999)
Writing the Trinity (July 12, 1999)
Can Good Come Out of This Evil? (June 14, 1999)
The Last Deist (Apr. 5, 1999)
Why I Can Feel Your Pain (Feb. 8, 1999)
What The Prince of Egypt Won't Tell You (Dec. 7, 1998)
What's a Heaven For? (Oct. 26,1998)
The Fox and the Writer (Sept. 7,1998)
Have something to add about this? See something we missed? Share your feedback here.
Philip Yancey
Philip Yancey is editor at large of Christianity Today and cochair of the editorial board for Books and Culture. Yancey's most recent book is What Good Is God?: In Search of a Faith That Matters. His other books include Prayer (2006), Rumors of Another World (2003), Reaching for the Invisible God (2000), The Bible Jesus Read (1999), What's So Amazing About Grace? (1998), The Jesus I Never Knew (1995), Where is God When It Hurts (1990), and many others. His Christianity Today column ran from 1985 to 2009.
Previous Philip Yancey Columns:
Our digital archives are a work in progress. Let us know if corrections need to be made.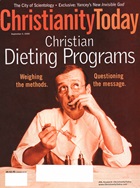 This article is from the September 4 2000 issue.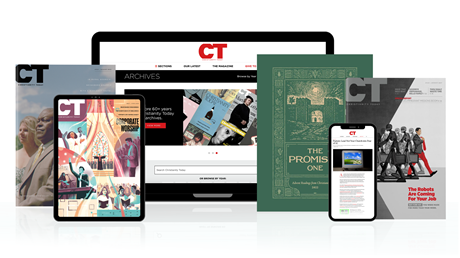 Subscribe to Christianity Today and get access to this article plus 65+ years of archives.
Home delivery of CT magazine
Complete access to articles on ChristianityToday.com
Over 120 years of magazine archives plus full access to all of CT's online archives
Subscribe Now
'To Rise, It Stoops'
'To Rise, It Stoops'