You've probably heard about Petition 2493, which threatens to take religious programming off the air—including such shows as "Touched by an Angel." For those of you who are still circulating the horrible e-mail about it, for the love of God (literally) please STOP! The petition doesn't exist. The Federal Communications Commission (FCC) has not banned, nor has it ever tried to ban, Christian programming. (It did recently rule that some religious programming aired on noncommercial television stations cannot be considered educational, but then reversed its decision.) But for the past 26 years, the FCC has been getting angry letters by the truckload. "I think there is somebody behind this," American Atheists President Ellen Johnson tells The Washington Times. "Christians should be upset that it's making them look pretty foolish." The FCC and American Atheists sites also have fact sheets on the rumor. More Christian urban legend factsheets are available at christianhumor.about.com, Ship of Fools, ReligiousTolerance.org, and the mothers of all urban legends sites, Snopes.com and Urbanlegends.com. Please check these sites before passing along any forwarded e-mail to ChristianityToday.com.
Family Life Services (FLS) is a Christian organization largely aimed at counseling people in debt, and the company's founder, Darold Larson, was accused of financial mismanagement. As a related case worked its way through the court system, Northeast District Judge Donovan Foughty ruled that the Fargo-Moorhead Evangelical Ministerial Association and employees of FLS could throw out incumbent board members (since they had overlooked Larson's practices) and choose new ones. Last week, the North Dakota Supreme Court ruled that was too much interference with a religious institution: "This group was given complete discretion to select the FLS trustees and could do so for their own purposes, religious or otherwise. The selected board may or may not collectively hold the same religious beliefs and ideology adhered to and practiced by the founders of FLS." The bottom line for culture warriors will be apparent in this sentence from the decision: "State interference with the free exercise of religion is no less forbidden in the form of judicial action than in the form of state action through legislation." (Read the decision here.)
Two commissions of the Irish Conference of Catholic Bishops have singled out seven biblical texts "liable to give contemporary society an undesirably negative impression regarding women": Colossians 3:18; Ephesians 5:22-24; 1 Corinthians 11:3-16; 1 Corinthians 14:33-35; Titus 2:4-5, 1 Timothy 2:11-15, and 1 Peter 3:1-6. The bishops say that if these verses are "quoted in any context, [they] should be suitably commented on in the light of contemporary church teaching," which emphasizes mutual submission. The bishops are also suggesting that the passages be dropped from the church lectionary. "We're not suggesting that Scripture be rewritten," the Rev. Laurence Ryan, head of one of the commissions, tells U.S. News, but such Scripture is usually read without the knowledge that is "reflects a different time and culture."
Related Elsewhere
See our past Weblog updates: September 5 September 1 | August 31 | 30 | 29 August 25 | 24 | 23 | 22 | 21 August 18 | 17 | 16 | 15 | 14 August 11 | 10 | 9 July 27 | 25 | 24 July 21 | 19 | 18 | 17 July 13 | 12 | 11 | 10 July 7 | 5 | 3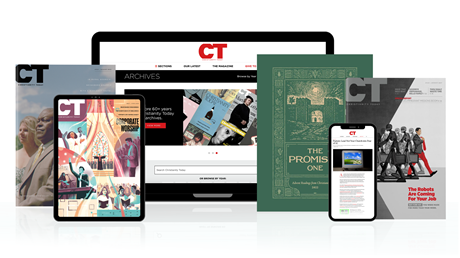 Annual & Monthly subscriptions available.
Print & Digital Issues of CT magazine
Complete access to every article on ChristianityToday.com
Unlimited access to 65+ years of CT's online archives
Member-only special issues
Subscribe
You've Got 26-Year-Old Legends!
You've Got 26-Year-Old Legends!