Steve Wike, who has been Chief Operating Officer of Christian Internet site Crosswalk.com since his Goshen.net site was purchased by the company last August, resigned Monday. He will maintain his position on the company's board of directors. Last week was a tough one for Crosswalk, as its stock price fell to an all-time low: $1.438. It hasn't traded above $2 since mid-July. Yesterday, it turned to Christian radio company Salem Communications Corporation. Salem has had trouble attracting visitors to its streaming-audio-based site, OnePlace.com, and is now trying a new tactic with the announcement of its Salem Web Network, in which it will syndicate its radio programs (such as James Dobson's Focus on the Family, Chuck Swindoll's Insight for Living, and Charles Stanley's In Touch) to other Web sites. Crosswalk will apparently be the Salem Web Network's guinea pig.
Tom Beaudoin, the author of the acclaimed Virtual Faith: The Irreverent Spiritual Quest of Generation X, has an article in Business 2.0 about what will make religion work online. "The three premiere concerns of this century for the practice of faith online will be time, access, and commercialization," he says. His section on time is muddled, and actually has very little to do with temporal concepts. But he's fiery on commercialization: "As we build virtual sites of religious exploration online, we should not presume that the presence of advertising on those sites is an unambiguous good–or even a necessity. … If we say that it doesn't matter, that advertising is just the way of the world, we run the risk of treating our spiritual lives as just another product in our shopping cart." (If the link above doesn't work, try here.)
The supposed remains of Luke—yes, that Luke, the gospel writer—have been moved from Italy to what has traditionally been thought of as his birthplace in Thebes, Greece. Apparently the Greek Orthodox Church in Thebes asked for the relics and the Roman Catholic Church happily parted with them. There has to be more to the story, but it isn't in the article. Sorry.
Roman Catholic Cardinal Francis George appointed a full-time exorcist a year ago, but it's just now becoming public. George wishes it was still private. "I collaborate with a number of health care professionals, as well as officials of the archdiocese. Confidentiality is of utmost importance in my work, so I prefer to be low-key and quiet about it," he tells the Chicago Sun-Times. It's the first time the position has been created in Chicago, though New York has four. (Hmmm.) The paper has a multi-article package on exorcism, including signs of possession.
"The small band of religion specialists often criticized by even established scholars for their iconoclastic statements on Jesus will vote on whether God is all-powerful, whether he intervenes in the affairs of humans and, more radically, whether God even exists," reports the Fort Worth Star-Telegram. In a related story, the Jesus Seminar Seminar will vote on whether or not the Jesus Seminar even exists, and whether it has really made all those iconoclastic statements. "Surely not," says one member of the Jesus Seminar Seminar. "No one could have possibly been that heretical."
Related Elsewhere
See our past Weblog updates: September 19 | 18 September 15 | 14 | 13 | 12 | 11 September 7 | 6 | 5 September 1 | August 31 | 30 | 29 August 25 | 24 | 23 | 22 | 21 August 18 | 17 | 16 | 15 | 14 August 11 | 10 | 9 July 27 | 25 | 24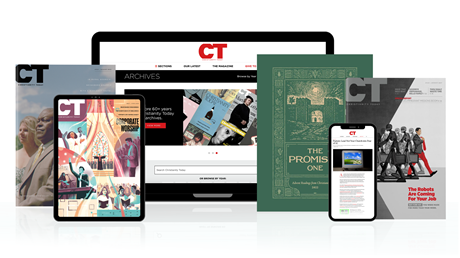 Subscribe to Christianity Today and get access to this article plus 65+ years of archives.
Home delivery of CT magazine
Complete access to articles on ChristianityToday.com
Over 120 years of magazine archives plus full access to all of CT's online archives
Subscribe Now
Former Goshen.com Head Steps Out of the Crosswalk
Former Goshen.com Head Steps Out of the Crosswalk