Christianity Today just announced its annual book awards, which reminded me that I haven't highlighted any history books for awhile. So here are a few volumes that have recently crossed my desk (or, more accurately, my book-strewn floor):
The Christian Travelers Guideseries, Irving Hexham, general editor (Zondervan, 2001)
So far this series offers guides to four European countries: Great Britain, Italy, France, and Germany. Each portable volume begins with a history of the country and an introduction to its music, art, and architecture. Part 3 contains a listing and map of major Christian sites, and the rest of each book is devoted to alphabetical city-by-city listings of key attractions, primarily but not exclusively those with Christian connections. Sidebar-like boxes point out significant biographies and artifacts.
The need for these guides arose, according to the preface, because leading tour books (Frommer's, Fodors, and Rough guides) "tend to underplay the Christian contribution to Western Civilization through neglect or a negative tone." Such an approach does a disservice both to history and to Christians who wish to reconnect with their roots. Hexham and his co-contributors rediscover people and places of faith, both of which have been abundant in the four featured countries.
These guides won't replace the old standards, because they lack information on transportation routes, hotels, restaurants, and fees. But for Christian tourists who wish to know more about their destinations than which political leader slept there and where to find the trendiest boutiques, the books will be a valuable source of insight.
The Reverend Mark Matthews: An Activist in the Progressive Eraby Dale E. Soden (University of Washington, 2001)
Mark Matthews (1867-1940) made a cameo appearance in Christian History's issue on "Christianity in the Wild West," where he was named as one of the most extraordinary Christian leaders of the early twentieth century West. He earned this honor for his achievements in a life of contradictions—in scarcely churched Seattle, he pastored the largest Presbyterian church in the country, and he pioneered social action programs while holding decidedly fundamentalist theological views.
These contradictions helped draw Soden, a professor of history at Whitworth College in Spokane, Washington, to his subject. But Soden was also interested in Matthews's era—the span between Reconstruction and World War II that saw the fundamentalist/modernist controversy, the rise of Communism, rapid western urbanization, the Great Depression, and many other challenges to Christians and their worldview.
Matthews's colorful career gives Soden plenty of great material to work with. The long-haired pastor in a Victorian waistcoat would do nearly anything to "redeem Seattle and make it a righteous community." He preached "The Gospel of Soup, Soap, Salve, and Salvation." He railed against women's suffrage, union strikes, and the game of bridge. In one of his many battles with city fathers, he actually financed a phony gambling operation in order to uncover police corruption. No wonder he attracted so much attention from the Seattle press (as well as local cartoonists, samples of whose work Soden delightfully includes.)
Soden does a better job of telling these stories than of describing what impact Matthews really had. Soden also gets a little redundant with his thesis that Matthews was a product of his time and an agent of some positive change, not just an anachronism. Even so, the book aids readers' understanding of a dizzying period in American history by examining its issues through the experiences of a truly fascinating character.
Bible Time Line, from Genesis to Revelation(Rose)
This is actually a pamphlet rather than a book. But all of you fans of the Christian Historytimelines know how much chronological information can be packed into a small space.
This accordion-fold timeline, which would fit easily inside a Bible, lines up major biblical books, people, and events with world and Middle Eastern landmarks. Grid lines mark off 10-year periods, but the superimposed dates and images appropriately reflect fuzziness and scholarly disagreements. The goal is breadth, not depth, making the timeline a quick but handy resource for Sunday school teachers and other students of the Bible.
By the way, Richard J. Mouw's The Smell of Sawdust(Zondervan) won the award in Christianity Today's history/biography category. Christian History Corner earlier reviewed the book, and Christianity Today has published two excerpts.
Elesha Coffmanis associate editor of Christian History.
Related Elsewhere
More Christian history, including a list of events that occurred this week in the church's past, is available at ChristianHistory.net. Subscriptions to the quarterly print magazine are also available.
Christian History Corner appears every Friday at ChristianityToday.com. Previous Christian History Corners include:
Article continues below
A Primer on Paul | The History Channel uses Holy Saturday not to discuss Jesus, but the apostle who spread his message. (Apr. 12, 2001)

Image Is Everything | The Taliban's destruction of Buddhist statues is only the latest controversy over the Second Commandment. (Apr. 6, 2001)

Christian Education for All | The first Sunday schools provide a positive example of government partnerships with faith-based organizations.(Mar. 23, 2001)

The Sport of Saints? | Forget St. Pat's. It's time for March Madness, baby! (And yes, it's Christian.) (Mar. 16, 2001)

Digging in China | Christianity in the world's most populous country may be a lot older than anybody imagined. (Mar. 9, 2001)

Food for the Soul? | Lenten traditions range from fowl-turned-fish to pretzels. (Mar. 2, 2001)

The Radical Kirk | The Church of Scotland has a long history of intense reforms. (Feb. 23, 2001)

Marching to Zion | The African Methodist Episcopal Zion Church celebrates its 200th anniversary today. (Feb. 16, 2001)

Innovating with the Flow | John and Charles Wesley harnessed the momentum of their time. (Feb. 9, 2000)

Dangerous Myth-Conceptions | A new book traces the origins of historical misunderstandings about Christianity. (Feb. 2, 2001)

1,700 Years of Faith | Armenian Christians celebrate their heritage and look to their future. (Jan. 26, 2001)

This Is Your Life | Exploring the "well-worn sawdust trail" between fundamentalists and evangelicals. (Jan. 19, 2000)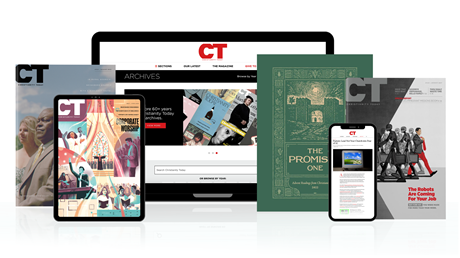 Annual & Monthly subscriptions available.
Print & Digital Issues of CT magazine
Complete access to every article on ChristianityToday.com
Unlimited access to 65+ years of CT's online archives
Member-only special issues
Subscribe
Book Notes
Book Notes