Outraged by the deaths and suffering they witnessed during a seven-day, fact-finding mission to southern Sudan, five leading Canadian church officials are demanding a moratorium on all aspects of oil development, including major involvement by a Canadian company, in this oil-rich, but war-ravaged region, until peace is restored.
Eighteen years of civil war in this region have claimed more than 2 million lives and displaced 4 million people in a conflict often ignored by the rest of the world.
The church leaders also called on the Canadian government to take legal action against Talisman Energy Corp., of Calgary, Alberta, the leading oil producer in Sudan, and prevent it from pumping oil and paying huge royalties to the Islamic government of Khartoum, the capital of Sudan, which, the church officials believe, is using the money to buy sophisticated weapons for use against southern Sudanese people, most of whom are Christians or animists.
The delegation said in a statement released when they returned to Canada shortly before Easter that a "peace dividend" in southern Sudan would flow from the strengthening of the African initiative IGAD (Inter-government Authority on Development).
The peace process has been floundering for several years because of internal politics and a lack of material resources to bring about a cease-fire and an ultimate peace agreement for a war that has badly affected civilians. The conflict is rooted in a complex mix of religious, racial and ancient tribal rivalries.
The Canadian church mission, organized by the Interchurch Coalition on Africa (ICCAF), included Protestant, Anglican and Roman Catholic officials who met New Sudan Council of Churches (NSCC) officials both within and outside Sudan, observed Operation Lifeline Sudan (OLS) and received briefings from diplomats and church leaders, from IGAD and from Sudanese officials based in exile in Nairobi, the capital of neighboring Kenya.
The NSCC, which represents churches in southern Sudan, has its administrative offices in Nairobi and a wide network of churches and field operations inside southern Sudan.
The delegates traveled under difficult and dangerous conditions in southern Sudan from April 1 to 9. Without explanation, the Khartoum government refused at the last minute to give the delegates visas to enter the north.
In a sharply-worded statement handed to Canada's minister of foreign affairs, James Manley, and his deputy for Africa, David Kilgour, the church officials said: "We are outraged that a Canadian company is a major producer of oil located in southern Sudan, paying huge royalties to the unaccountable northern military dictatorship led by General Omar al Bashir. We hold the Bashir government largely responsible for the atrocities committed against the southern Sudanese peoples."
The Canadian government had no immediate comment.
The church delegation asked for a moratorium to be imposed by the international community against Swedish, Chinese and Malaysian, as well as Canadian, oil producers, ordering them to cease exploration, development, infrastructure support, production and sale of oil until a peace accord can be negotiated by IGAD, which consists of Uganda, Kenya, Ethiopia, Eritrea and northern and southern Sudan.
Little progress has been made in peace efforts largely because of the intransigence of the warring parties—Khartoum and the Sudan Peoples Liberation Movement and Army (SPLM/SPLA)—and because of the withdrawal of western financial aid to enable IGAD to prepare and negotiate peace on the basis of six negotiated principles.
Canada has been a donor to the IGAD peace process, but, along with European funders, withdrew late last year, declaring that insufficient progress had been made.
The church leaders said in their statement: "We also insist that an accelerated peace process is critically linked to the moratorium. The Canadian government should take high-level diplomatic and practical initiatives to support African nations in bringing about a speedy end to a vicious and brutal civil war."
The delegates visited areas hard hit by the war just south of the oil fields. They met with the most vulnerable people—civilians, women, children and the internally displaced, as well as church and local authorities.
"We listened to accounts of slaughter and burnings from people who had fled for their lives days earlier," the church leaders said. "Some displaced persons told us: 'They [the government] want our land without us on it to give to the oil companies.'"
Sudanese church leaders told the delegation the tactics of the Khartoum government were "genocidal."
Systematic bombings in the region, along with attacks on civilian targets, forced displacement of civilian populations, mass starvation and other acts of terrorism have been well documented by human rights agencies. According to the delegation, they require urgent action by the international community.
"We were particularly moved by meetings with people who in terror had fled their defenseless villages under attack by government troops and the militias they support, and were forced to leave behind their dead and injured relatives, including women, children and the elderly," the Canadians said after interviewing hundreds of displaced Nuer people. The displaced people said thousands of others had been killed or left behind.
"We cannot disguise the fact that a major factor in the suffering of millions of innocent people is the rapid exploration, development and production of oil located in the south and which has killed and displaced untold numbers of people, forcing them to flee their homes and land for an uncertain future."
The mission was invited to visit the country by the Sudan Council of Churches, based in Khartoum, and the New Sudan Council of Churches.
While oil is not the only factor in the war, the revenues from the oil, all of which accrue to the Khartoum government, are making the conflict, according to observers, far more dangerous and destructive. Sudanese government leaders have acknowledged that oil revenues are being used to purchase weapons and build munitions factories.
"We believe the government now thinks it can win the war militarily and seems to want to crush all opposition groups in the north and south. 'Sudanese need peace first, and oil later,' many Sudanese church leaders told us.
"We agree with them, and that is why we, along with the Sudanese churches, are calling for a total moratorium on oil development until peace is in place," the Canadian statement said.
ENI tried unsuccessfully to obtain comment from Talisman Energy.
Related Elsewhere
The Inter-Church Coalition on Africa site has more on the organization's response to the Sudan crisis. The Canadian Council of Churches also has information.
Our earlier coverage of the Sudan genocide includes:
Slave Redemption | Americans are becoming instant abolitionists. But is the movement backfiring? (Aug. 9, 1999)

Sudan Loses Election for U.N. Security Council Seat | Sanctions continue to plague the African nation's bid for international acceptance. (Oct. 12, 2000)

Southern Sudan Bombed Despite Cease-fire Promise | Details sketchy from town of Yei, near Democratic Republic of the Congo. (May 8, 2000)

Editorial: Confronting Sudan's Evils | Western Christians and governments should press Khartoum on multiple fronts. (Apr. 12, 2000)

Sudan Relief Operations Endangered | Rebel demands cause agencies to curtail efforts. (April 3, 2000)

Bombs Continue to Fall on Ministry Hospitals in Sudan | Samaritan's Purse hit for fourth time, two killed in Voice of the Martyrs bombing. (March 24, 2000)

Mixing Oil and Blood | Sudan's 'slaughter of the innocents' toughens religious freedom coalition. (Mar. 15, 2000)

Protest Begins as White House Rethinks Policy on Sudan Regime | Religious leaders urge Clinton administration to act against oppression. (Feb. 10, 2000)

Christian Solidarity Loses U.N. Status | Slave-freeing organization's rebel spokesman violated U.N. rules (Dec. 14, 1999)

Sudan Releases Jailed Catholic Priests | President Resolves Impasse in Contrived Bombing Trial (Dec. 13, 1999)

Jailed Sudanese Priests Reject Presidential Amnesty | Clerics waiting for 'total acquittal' by courts. (Dec. 6, 1999)

Oil Exports Draw Protests | Christians urge divestment from Canadian company (Nov. 15, 1999)

Starvation Puts 150,000 at Risk (Sept. 6,1999)

The Price of a Slave | "I was taken by a slave master [who] beat me and shamed me, telling me that I was like a dog." (Feb. 8, 1999)

Sudanese Christians Bloody, but Unbowed (Aug. 10, 1998)

How Apin Akot Redeemed His Daughter (Mar. 2, 1998)

Muslim-Christian Conflicts May Destabilize East Africa | Christians raped, forced into slavery, and killed. (Apr. 29, 1996)
Article continues below
Recent news stories about Sudan include:
Sudan Protests Bring Out Pragmatic Side of Idealism — James Pinkerton, Los Angeles Times (Apr. 17, 2001)

Sudan flogs 53 Christians for rioting — Associated Press/Los Angeles Times (Apr. 14, 2001)

Modern crusade to save souls and change Bush's foreign policy — The Independent (Apr. 14, 2001)

3 Arrested in Protest at Sudanese Embassy — The Washington Post (Apr 14, 2001)

Easter crusade canceled after threats | Violence erupted after threats froms uspected terrorist Osama bin Laden and other Muslim extremists had forced Christian leaders to cancel a mass rally celebrating Good Friday in Khartoum. — UPI (Apr. 13, 2001)

Clashes over church services | Sudanese Christians were arrested and others injured on Wednesday as they protesting against a government order to transfer Easter services from central Khartoum to the suburbs — UN Integrated Regional Information Network (Apr. 12, 2001)

Demonstrations continue to protest Mass cancellation | Sudanese government cancelled Reinhard Bonnke service — Panafrican News Agency (Apr. 11, 2001)

A holy war of words | Washington is now beginning to take notice of Sudan's once forgotten conflict — The Financial Times (Apr 11, 2001)

Christians seek to aid brethren in Sudan — The Philadelphia Inquirer (Apr 9, 2001)

Sudan 'gives green light' for slave trade to flourish again | The Sudanese government is allegedly encouraging slavery by delivering arms to Arab kidnappers in return for their support in the civil war (The Daily Telegraph, Apr. 9, 2001)

Sudan persecution decried | Franklin Graham urges action by Bush — The Boston Globe (Apr. 8, 2001)

Key Republican urges U.S. action on Sudan | "We need to do whatever is necessary to stop this carnage that's going on," says House Whip Tom DeLay — Reuters (Mar. 25, 2001)

Christians' plight in Sudan tests a Bush stance | Evangelicals urge intervention —The Washington Post (Mar. 16, 2001)
Article continues below
The Report of the United States Commission on International Religious Freedom on Sudan and a related press release are available at the commission's Web site.
The United States Holocaust Memorial Museum site has more information about the museum, but also an area about the Sudan genocide. The Sudan area includes a video of the opening of the exhibit and more resources.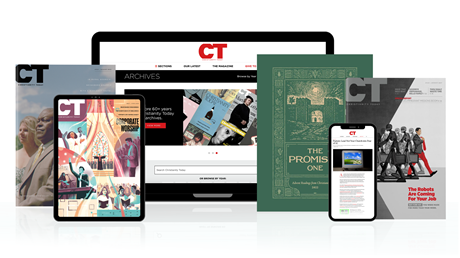 Annual & Monthly subscriptions available.
Print & Digital Issues of CT magazine
Complete access to every article on ChristianityToday.com
Unlimited access to 65+ years of CT's online archives
Member-only special issues
Subscribe
"Turn Off Sudan's Oil Wells, Say Canadian Church Visitors"
"Turn Off Sudan's Oil Wells, Say Canadian Church Visitors"