Supreme Court allows historic churches to raze buildings
The Supreme Court yesterday rejected a challenge to a California law exempting churches from landmark preservation. Without comment, it let stand a narrow 4-3 decision by the California Supreme Court upholding the law, which was enacted in 1994 when the Roman Catholic Archdiocese of Los Angeles and other churches were trying to overhaul or close buildings. "By providing the exemption, the state simply stepped out of the way of the religious property owner," Justice Marvin Baxter wrote in that decision (PDF | DOC). Without the law, Baxter wrote, preservation concerns "could affect the ability of many owners to carry out their religious missions." (See Weblog's earlier coverage.) But critics had argued that that the law gave special preference to religion, opening doors in the real estate market that are closed to nonreligious companies and organizations.
Court also rejects 'faith healing' defense
The Supreme Court yesterday also rejected the appeal of a Pennsylvania couple who lost two of their 13 children because they believe only God can cure illness. In 1991, Clayton Nixon, 8, died of an ear infection. Dennis and Lorie Nixon prayed over their child, but sought no medical services. As a result, they were arrested on charges of involuntary manslaughter and endangering the welfare of a child. They pleaded no contest and were put on probation. Four years later, their 16-year-old daughter Shannon died of diabetes acidosis—also treatable. It took less than two hours for a 1997 jury to find the couple guilty of manslaughter.
Delivering the sentence shortly thereafter, Judge Norman Callan wrote, "They are good, family people. Except they endanger the well-being of their children by failing to seek medical treatment when their children need it. … Religious freedom cannot shield criminal conduct." Appeals have been going through the court system ever since. Now that the Supreme Court has turned down their last hope in the judicial system, they will be leaving their remaining children to serve two-and-a-half to five years in prison.
What happens next to the couple and the family during the imprisonment is "something you leave in God's hands," Dennis Nixon told the Pittsburgh Post-Gazette. "If it's something he allows, you go with it." As a final clarification, here are the words of Charles Nixon, Dennis's father and the pastor of the family's 140-member Faith Tabernacle congregation: "We do not believe in 'faith healing.' We believe in 'divine healing' through Jesus Christ."
Messiahville USA?
If Orlando's Holy Land Experience isn't enough for you, just wait until Denver Baptist pastor Tom Moore finishes his $20 million Messiahville, USA, in Broomfield, Colorado. "A wooden replica of Noah's Ark would be the backbone of the complex," reports The Denver Post. "Also taking center stage would be the water slide into the whale's belly, a merry-go-round designed after Elijah's Chariots and a miniature golf course where play stretches from Jerusalem to Jericho." Plans also include drive-in worship services, a 30-acre memorial park, a zoo, a farm, and homes for retired ministers and missionaries. The Broomfield City Council and Planning Commission has plenty of questions, and residents and religious leaders have plenty of their own. Plans for a life-size animatronic Last Supper recreation" "just really bothered me," says Broomfield resident Dena Brinkman. "To me, some of this just exudes tackiness."
Related Elsewhere
See our past Weblog updates:
April 30

April 27 | 26 | 25 | 24 | 23

April 20 | 19 | 18 | 17 | 16

April 12 | 11 | 10 | 9

April 6 | 5 | 4 | 3 | 2

March 30 | 29 | 28 | 27 | 26

March 23 | 22 | 21 | 20 | 19

March 16 | 15 | 13 | 12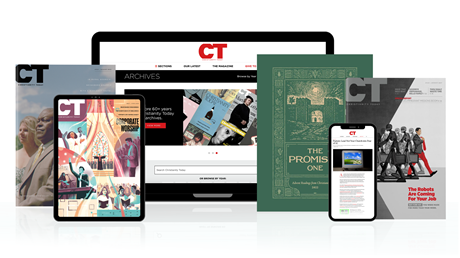 Annual & Monthly subscriptions available.
Print & Digital Issues of CT magazine
Complete access to every article on ChristianityToday.com
Unlimited access to 65+ years of CT's online archives
Member-only special issues
Subscribe
Supreme Court Won't Hear Two Religious Freedom Cases
Supreme Court Won't Hear Two Religious Freedom Cases