The atonement is falling out of favor, reports The Dallas Morning News
"More and more, some [Christians] reject the usual Christian talk about Jesus' death," reports The Dallas Morning News. "They don't consider Jesus a ransom for sin. They shudder at hymns glorifying the 'power of the blood.' They cringe at calling the day Jesus died Good Friday. They say a God who requires human sacrifice sounds mean and vindictive. It doesn't mesh with their idea of a God who loves and forgives." In other words, an increasing number of Christians today—"young and old, conservative and liberal, and [across] denominational lines—reject atonement theology. The writer of the article, Susan Hogan-Albach, shows a masterful grasp of what she's talking about. She quotes Romans 3:25 and 1 Peter 2:24, and is very fair to those who both support and disagree with atonement theology. The views are presented with more equal weight than they would be in Christianity Today (or that they have been in Books & Culture's series on the atonement), but for a major city newspaper article, this should win an award. Here's the bottom line: "Placing so much emphasis on Jesus' death overshadows the message he proclaimed while he lived, say those troubled by atonement theology. It makes the crucifixion all about appeasing an angry God, they say. … But atonement theology didn't just drop from the sky. It's there, in the gospels and letters of the New Testament."
Other articles on theology:
Eugene Rivers: Still in the spotlight
As noted in Weblog last week, The Boston Globe reported that Eugene Rivers was planning on "disappearing" from the public eye. "I am not interested in being local news," Rivers said. "All I want to do is reduce my negatives and … wherever it is possible, promote good will." Well, maybe he's not local news right now, but he's still national news. Saturday's New York Times also profiled Rivers, saying that "White House … efforts to have the government work more closely with religious organizations to tackle social problems may place him in a more influential position than he ever achieved with his small social services center here [in Boston]." Rivers says he wants to be the new black religious movement's—in his words, "an intellectual Phil Jackson." But writer Gustav Niebuhr noted Rivers's desire to disappear as well: "To be either coach or adviser, he will need to attract less attention—not an easy task, given his record for being both insightful and provocative, which has made him a magnet for reporters."
Bush meets with religious broadcasters
The National Association of Evangelicals got John DiIulio. The National Religious Broadcasters Association—which just split from the NAE—got DiIulio, Ashcroft, and Bush himself. Well the NRB executive board, anyway. "We expressed our gratitude that righteousness—which is just rightness—has returned to this office," said David W. Clark, president of Family Net TV Networks, told the Associated Press. "He, in turn, assured us that his role really is not to change government but to change culture."
More articles
Faith-based initiatives:
Religion and politics:
Church and state:
Education:
Science:
Persecution:
Homosexuality and public life:
Homosexuality and the church:
Namibia:
Sexual ethics:
Not a movie: The spy who evangelized a stripper
Church life:
Activism:
Catholicism:
Vatican Radio's continuing battles:
Ecumenism:
Other stories of interest:
Related Elsewhere
See our past Weblog updates:
April 11 | 10 | 9
April 6 | 5 | 4 | 3 | 2
March 30 | 29 | 28 | 27 | 26
March 23 | 22 | 21 | 20 | 19
March 16 | 15 | 13 | 12
March 9 | 8 | 7 | 6 | 5
March 2 | 1 | February 28 | 27 | 26
February 23 | 22 | 21 | 20 | 19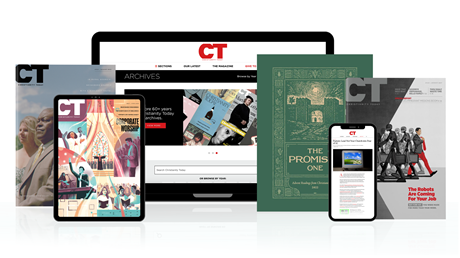 Subscribe to Christianity Today and get access to this article plus 65+ years of archives.
Home delivery of CT magazine
Complete access to articles on ChristianityToday.com
Over 120 years of magazine archives plus full access to all of CT's online archives
Subscribe Now
Is It Really a Good Friday?
Is It Really a Good Friday?