"Forget adults. Focus on children," a business executive told Rick Tobias, director of Toronto's Yonge Street Mission (YSM).
Tobias's original plan had been to teach impoverished adults and single moms computer literacy so they could get jobs. But when Tobias asked businesses if they would hire YSM's grads, they laughed. They told him bluntly that a lack of white-collar social skills—never mind computer literacy—barred most poor people from employment in Toronto's silver and gold office towers.
What to do? Taking the business community's counsel to heart, Tobias decided to shift his focus to younger students, who could break the cycle of socioeconomic depression in their community.
Named after Toronto's most famous street, the Yonge Street Mission has for more than a century served the urban poor—everyone from newly arrived refugees to homeless people who sleep on city grates during the winter. Most of YSM's clientele live in southeast-central Toronto, an area dominated by Regent Park, a subsidized housing development with a 50 percent unemployment rate.
Regent Park looks like a prison without bars—it doesn't need them. The children here face steep odds against finding living-wage employment in the wired world. They have 66 percent less access to computers than other children in Toronto. Teachers try hard, but poor schools throughout Canada seldom have enough money for classroom computers.
Canada's situation mirrors that of the United States. A 1998 study by the U.S. Department of Commerce worried that "while computer penetration has increased nationwide, there is still a significant 'digital divide' based on race, income, and other demographic characteristics." For example, 51 percent of U.S. households own computers, but the numbers decrease to 28.7 percent among inner-city African Americans and 31 percent among Hispanics.
Going from computerless homes to computerless classrooms, many children are being educated for irrelevance to the 21st century economy. And irrelevance of any kind has a devastating effect. "By the time our children hit grade 5, they are emotionally dropping out of school," Tobias says, "and by the time they hit grade 10, they have dropped out, period." He hopes that introducing youths to computers at an early age will help reverse those trends.
Earning a Bright Future
When Tobias marketed his retooled computer-literacy program—providing hardware, training, and software for elementary students—both business and local educators were enthusiastic. td Securities, the Toronto-Dominion Bank's stockbrokerage arm, became YSM's prime partner, helping to build and fund a computer lab. Microsoft Canada chipped in with free software for the lab and for graduates of the program. Dozens of business people volunteer with the program as well.
YSM began cautiously in 1999 with a 12-week course that covered word processing, database, spreadsheet, graphics, and typing skills. Kids who passed a final exam got a refurbished Pentium computer to take home, loaded with up-to-date software.
"We talk about it as a learn-and-earn program," Tobias says. "We do not tell the kids we are giving them a computer. We tell the kids they are earning a computer."
Rachel, 13, is excited about the prospect of receiving a home computer. She had tried using computers but did not get far because she did not know how to type, a skill she is now learning at the mission.
Julie, 11, drifted into the program with a friend and stayed, determined to get a computer. She says a computer with Internet access would help put her in touch with the world outside Regent Park. "If I do a project I can get information. I can also get information from my friends and my cousins," who are scattered through Vietnam and the United States.
YSM has graduated five classes to date, with 176 out of 200 students passing, and has placed computers in more than 150 homes. The program's success makes the mission the largest supplier of information technology in the neighborhood. The lab has recently added a six-week Internet course. Passing students (and their families) will get ten years of free Internet access at home, courtesy of the Royal Bank and AOL-Canada, to see them through school.
The Ultimate Test
When Christianity Today visited Yonge Street Mission recently, the computer classes started late so students could attend a school-sponsored antiviolence response rally—sparked by a shooting death near the elementary school. The lab is directly across the street from Regent Park, behind YSM's used clothing store, several doors down from an abortion clinic, and half a block from a small park "owned" by career drunks and drug users.
The program is bursting with kids, mostly of Caribbean, Middle Eastern, and south Asian origin. When one boy tried to sneak a friend in, coordinator April Binnie told him that the friend could listen but there were no available computers.
The fourth- through sixth-grade class was learning to build Web pages. They peered intently as a volunteer from a local Web design company showed them how to capture an image file and place it on a Web page.
The seventh- and eighth-graders were eagerly tackling a graphic-arts assignment: Choose a corporate logo and reproduce it in ClarisWorks. As Binnie and a volunteer circulated and offered suggestions, there was no "acting out," just a low, continuing hum from the workstations.
Before earning his computer, Marlon, 12, had to go "all over" to access the Internet. Now, with his own machine, he's building a Web page. He looks forward to being able to use the Internet at home: "If I have projects, I could do it right at my house instead of staying at school a long time."
YSM does not, as a matter of policy, directly proselytize the children, who are mostly Muslim or Hindu. More subtle forms of evangelism are not discouraged, though. The word-processing exercise, for example, offers the students the chance to adorn the text of 1 Corinthians 13 with color printing and artwork—and the best examples are prominently displayed.
So far, Tobias and his staff are pleased with the way the program is working. "Teachers in our community now tell us that the kids coming out of our lab teach not only the other students but the teachers," he says. "All of a sudden, they go from being stigmatized and not doing very well to having a skill even the teachers don't have."
YSM's goal is to position poor kids for a shot at well-paying jobs. Toward that goal, a course in computer rebuilding and repair is also in the planning stages.
"This computer lab runs as a prime model of what can happen when faith communities and businesses partner together," Tobias says. One key difference: In Canada, the "digital divide" is driven by income, not race. Thus the political risks for businesses that get involved may be lower.
The ultimate test of YSM's computer lab is not whether students are online. It is whether business will really hire them four to five years from now for career-starting summer jobs. So far, several supporting companies, including td Securities, have said yes. Tobias says YSM eventually will provide a job-etiquette course for applicants, to teach critical skills that students do not learn at home or school.
"It will take five or ten years to know the full impact," he says. "But what we know already is that our kids are doing better than before. The teachers are excited. Those are good enough outcomes for us at this stage."
Denyse O'Leary is a journalist in Toronto and author of the forthcoming book Faith@Science: Why Science Needs Faith in the 21st Century (J. Gordon Shillingford).
Related Elsewhere
Yonge Street Mission's online site includes good information on the organization, volunteer opportunities and a quarterly newsletter.
Other Christianity Today articles on discipleship in the digital age include:
Silicon Saints | High-tech Christian executives are bringing biblical values into a mecca of Mammon. (July 27, 2001)

A Church for Internet Entrepreneurs | Grace Presbyterian had a Web site before it even had Sunday services. (July 27, 2001)
Have something to add about this? See something we missed? Share your feedback here.
Our digital archives are a work in progress. Let us know if corrections need to be made.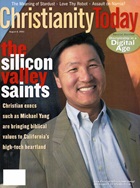 This article is from the August 6 2001 issue.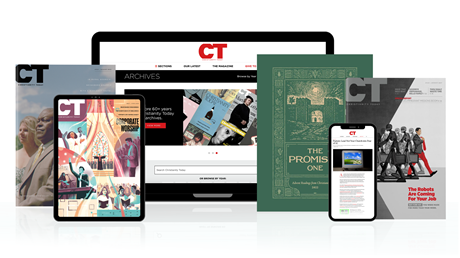 Subscribe to Christianity Today and get access to this article plus 65+ years of archives.
Home delivery of CT magazine
Complete access to articles on ChristianityToday.com
Over 120 years of magazine archives plus full access to all of CT's online archives
Subscribe Now
Bridging the Digital Divide
Bridging the Digital Divide