Forty years ago, in 1961, Jean Gottmann, a French geographer in the United States, published a book called Megalopolis: The Urbanized Northeastern Seaboard of the United States. Gottmann didn't coin the word "megalopolis." It derives from the name of a city created in Greece in the fourth century B.C. to serve as the capital of a federation of city states. (The project failed, as many ambitious efforts at urban planning have failed over the centuries.) But Gottmann's book gave the term a currency it enjoyed for some time.
Today the word is not forgotten, but it has long since lost its buzz. In common usage a megalopolis is often simply a very large city: London or Tokyo or Sao Paulo. But that is not what Gottmann meant. His book focused on the dense urban network stretching from Boston to Washington, D.C., with New York in the center: an axis along which 20 percent of the total American population, c. 1960, was concentrated. For Gottmann, a megalopolis was not merely a "mononuclear metropolitan agglomeration" but rather a vast "polynuclear urbanized system," of which there were only six or seven examples to be found worldwide.
Ah, system. That was a notion to conjure with in the years of the postwar boom, which saw the rise of "systems thinking" in many fields. A city, no matter how large, is something on the age-old human scale. An "urbanized system" can't be visualized and held in the mind's eye as New York or Chicago can. "The important thing to keep in mind," Gottmann wrote in a 1976 essay, "is that megalopolis is not simply an overgrown metropolitan area. It is not only another step on the quantitative scale. It is a phenomenon of specific qualities of a different nature."
What exactly would be offered by those "specific qualities" remained rather vague and unspecific, or else deadly bland ("the volume of transactions," say), but it's clear that Gottmann regarded the advent of the megalopolis as an evolutionary leap—not without difficulties, but ultimately leading to "a new and better world." Perhaps that is why, for a while, the very notion of the megalopolis was in vogue.
Gottmann's book was typical of the optimism—some would say hubris—of its time. While Gottmann himself maintained that optimism in subsequent decades, and while several new megalopolitan systems appeared in the forty years after his book appeared, the development of such urban networks is widely seen today as a threat, a daunting problem. Many would go further. For them, the megalopolis is a sign that humanity has lost its bearings. Many more lack the luxury of contemplation altogether; they are doing their best to make a living and make a life in the new form of the city, which for them is a given, like the weather.
How should we think of the megalopolis? Is it just a matter of taste? Is it a purely academic matter, a waste of time? We'll take up those questions next week.
John Wilson is editor of Books & Culture and editor-at-large for Christianity Today.
Related Elsewhere
Visit Books & Culture online at BooksandCulture.com or subscribe here.
Books & Culture Corner appears Mondays at ChristianityToday.com. Earlier Books & Culture Corners include:
The Future Is Now | You want the news? Read science fiction. (Aug. 6, 2001)

Memorable Memoirs | Whether telling us about the Spirit in the South or the crumbling atheism of a Chinese immigrant, these books provide windos into others' lives. (July 30, 2001)

The Distorted Story of Memoir Inc. | There are many good autobiographies out there, but do those who write about them have to pretend they're the only books worth reading? (July 23, 2001)

Looking for the Soul of CBA | Nearly anything that can be said about Christian publishing is true to some extent, thanks to the industry's ever-enlarging territory. (July 16, 2001)

Give Me Your Muslims, Your Hindus, Your Eastern Orthodox, Yearning to Breathe Free | Immigration's long-ignored effect on American religion is garnering much attention from scholars (July 9, 2001)

Shrekked | Why are readers responding passionately about a simple film review? (July 2, 2001)

Debutante Fiction | The New Yorker should have paid less attention to the novelty of its writers and more attention to their writing. (June 18, 2001)

Saint Teddy? | Yes, Roosevelt paid the usual presidential respects to Christianity, but didn't show much explicit personal devotion to it. (June 11, 2001)

History Bully | Christian scholars speak not-so-softly over a big sticking point: Theodore Roosevelt's faith. (June 4, 2001)

'Taken Up in Glory' | The Ascension has been forgotten in many Protestant churches, jettisoning an essential part of the Christian story. (May 21, 2001)

Who Won? Who Cares? | Skip the latest ballot reviews and read Italo Calvino's brilliant election novella "The Watcher." (May 14, 2001)

Infamy Indeed | John Gregory Dunne suggests imperialistic Americans got what they deserved at Pearl Harbor. (May 7, 2001)

Rantings of a Not-So-Primly Dressed Person With Too Much Time | The Chronicle of Higher Education infuses some not-so-subtle bigotry into its fetal-tissue research coverage. (Apr. 30, 2001)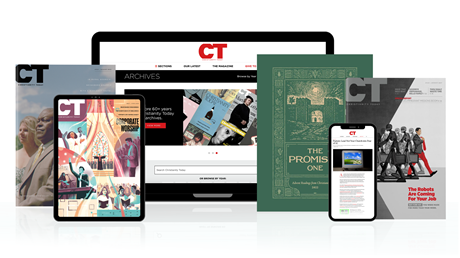 Annual & Monthly subscriptions available.
Print & Digital Issues of CT magazine
Complete access to every article on ChristianityToday.com
Unlimited access to 65+ years of CT's online archives
Member-only special issues
Subscribe
Megalopolis Forty Years On
Megalopolis Forty Years On