Indian Christians upset with Prime Minister's conversion comments
Indian Prime Minister Atal Bihari Vajpayee over the weekend criticized Christian relief agencies and the media's reporting on religious persecution. At a book release party attended by leaders of the Hindu group RSS, Vajpayee began praising Christian social work agencies, then attacked their Christian witness. "Some have a conversion motive," he said, "which is not proper." He also accused the Indian media of devoting too much coverage to the persecution of Christians while ignoring attacks on other groups. Opposition party leaders, Christian organizations, and even newspaper editorial pages are infuriated with the remarks. "How can the prime minister make such a comment?" asked Priya Ranjan Dasmunshi of the Congress Party during a parliamentary session yesterday. "If Vajpayee has facts that Christians are engaged in forceful conversion, then he should put those facts before us." Otherwise, Dasmunshi says, such remarks destroy "the secular religious fabric of India." The All-India Christian Council similarly responded, "One stroke cast a dark shadow of doubt on the entire Christian endeavor in national development. … Remarks such as the Prime Minister's are seen as condoning the hate campaign and the canards, lies and half-truths that are being spread in many parts of the country. They encourage communal and extremist elements."
Ironically, Vajpayee's comments came just three days after the U.S. Commission on International Religious Freedom announced it was "seriously considering" whether India should be listed as a "Country of Particular Concern" (CPC) regarding religious persecution, saying there are "grave violations of religious freedom engaged in or tolerated by" India's government, as well as by the leaders of Pakistan, Uzbekistan, and Vietnam, which also may join Burma, China, Iran, Iraq, Laos, North Korea, Saudi Arabia, Sudan, and Turkmenistan as CPCs.
Meanwhile, heads of the RSS met with Roman Catholic leaders for the first time in three years "to remove misunderstandings between us and to put an end to both sides making allegations at each other."
Speaking of religious persecution in India, the militant Hindus accused of the 1999 murder of Australian missionary Graham Staines and his two sons are again on a hunger strike (an earlier hunger strike, in demand for a fan, ended unsuccessfully after nine days). Meanwhile, the trial of Dara Singh, the alleged leader of the mob that burned the Staineses alive, has been postponed again, this time until September 3.
Most victims of Philippine hotel fire were evangelicals attending conference
Most of the Filipinos who died in a Manila hotel fire had come to the capital for a Dallas pastor's conference, say various news reports. Charisma News Service says that 69 of the 73 killed in the blaze, as well as a majority of those seriously injured, were pastors and church workers. Of the Manor Hotel's 236 registered guests, 172 were attendees of the conference, which was organized by Pentecostal evangelist Don Clowers and featured Joyce Meyer. The four-day "Destiny Crusade," held at Manila's Araneta Coliseum, was expected to draw 40,000.
Newsweek's Ken Woodward attacks religious bestsellers
"Sociologists tell us that the United States is experiencing a religious revival—a third "great awakening" echoing those of the 18th and 19th centuries," begins Newsweek religion editor Kenneth L. Woodward in a rare opinion piece. "But if the best-seller lists are any guide, the revival looks more like a collective leaving of the senses." He singles out three recent bestsellers as particularly egregious examples of "how easily wispy spirituality passes these days as ancient wisdom": The Prayer of Jabez, Conversations With God, and Karen Armstrong's recent biography of Buddha. For each book, Woodward offers alternatives. Instead of Jabez, for example, Woodward suggests "any verse from the Book of Psalms, the prayers Jesus himself recited, which ask only for forgiveness and the grace to do God's will." In video clips only available on the magazine's Web site, Woodward continues his invectives, especially for Neale Donald Walsch's Conversations With God. "The books that sell well are in my judgment intellectually and theologically trashy," he says. "Most of it is pretty low-grade stuff."
Visual Bible has bled through $10 million in a year and wants $10 million more
Canada's National Post is strangely optimistic about the prospects for The Visual Bible, a $400 million effort to produce a word-for-word film version of the Bible. The facts, however, seem pretty dim, whatever the spin. "We are at ground zero and have nowhere to go but up," Doug McKenzie, the company's new CEO, tells the paper. In a brief overview of the company's history, the Post reports that a handful of investors ponied up $7.5 million during a reverse takeover by American Uranium. "That capital was used to start production on the Book of Mark. But those funds didn't last that long and earlier this year Hong Kong-based Pan Zone Inc., a new investor, kicked in another $3.6-million," the Post's Barry Critchley notes. But Visual Bible still doesn't have anything to show for all that money, and McKenzie is now trying to find $10 million in the next months. Meanwhile, the company is still promoting its two films by South African director Regardt Van Den Bergh, Acts and Matthew.
Worth ignoring
Syndicated columnist Robert Scheer's latest column is a hackneyed screed against religion. "The pretense that religion is inevitably an ennobling experience stands in absurd denial of a harsh reality reported in daily headlines," he writes. His list of religion's ill effects are so predictable you'd think it was written by a high school sophomore: Middle East terrorism, Northern Ireland's troubles, and the shooting of abortionists are as creative as Scheer's examples get before he then draws parallels to Bush's stem-cell decision. The article is lamentable, but rather than waste electricity with a response to such drivel, Weblog has instead found a silver lining: that the Los Angeles Times would print such a hackneyed column gives hope to bad writers everywhere. No matter how weak your arguments, you too can write for the country's fourth-largest newspaper.
More articles
DiIulio's resignation and Bush's faith-based initiative:
Abuse in the church:
America's spiritual diversity:
Persecution:
Archbishop Milingo:
Church life:
Religion and politics:
Related Elsewhere
See our past Weblog updates:
August 20

August 17 | 16 | 15 | 14 |13

August 10 | 9 | 8 | 7 | 6

August 3 | 2 | 1 July 31 | 30

July 27 | 25 | 24 | 23

July 20 | 19 | 18 | 17 | 16

July 13 | 12 | 11 | 10 | 9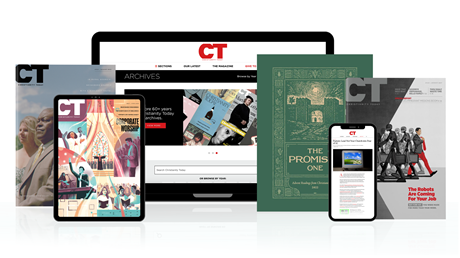 Annual & Monthly subscriptions available.
Print & Digital Issues of CT magazine
Complete access to every article on ChristianityToday.com
Unlimited access to 65+ years of CT's online archives
Member-only special issues
Subscribe
India's Prime Minister Inflames Country With Attack on Improper Evangelism
India's Prime Minister Inflames Country With ...