Shulevitz: Don't mess with those racist, sexist Narnia books
Judith Shulevitz's Close Reader column, which regularly appears as the conclusion of The New York Times Book Review, seems at first to be a defense of C.S. Lewis against those who want to "distance the Narnia chronicles from 'Christian imagery/theology,' presumably for fear of scaring off non-Christian parents." It's even called "Don't Mess With Aslan." But after Shulevitz praises the books for "reanimating the Hebrew Bible and the Christian Gospels … which is why so many of us love the Narnia stories so fiercely, whether we're Christian or not," she begins describing exactly how he does so. But wait. "Lewis reproduces the Passion of Christ, complete with nasty Jews" (The White Witch implicitly invokes Shylock's pound of flesh, she argues). "Muslims also haunt Narnia—or rather, cartoon infidels, a turbaned, dark-skinned people called Calormenes, who … are a greedy, cruel, proud, enslaved and enslaving race." Uh-oh. "A rather clerical fear of the female also pervades Narnia. Women are good when schoolgirls, mostly evil when grown. … There's anti-Catholicism here too, at least if you accept one scholar's thesis that the story of the ape who makes a false Aslan out of a donkey in a lion skin is an attack on papist idolatry." Yikes! Who'd want to read such bigotry, especially to children! Somehow, Shulevitz lists all of these odd accusations, then concludes, "The Narnia chronicles are glorious, and they're also very dark, like the literary traditions they're steeped in. No matter how much their outmoded mores may trouble you, you can't alter them without destroying the soul of Lewis's creation. Embrace Narnia or reject it, but don't bowdlerize it." Weblog isn't so sure that Lewis would appreciate the … um … support.
Taliban shuts down two more aid agencies
While members of Germany-based Shelter Now await trial in Afghanistan for promoting Christianity through their relief work, the Taliban has begun expelling other aid organizations. Kabul-based International Assistance Mission has been working in the country for more than 35 years, having survived communist rule and other oppression. Now the agency, which ran two eye hospitals and several health clinics, is closed and the 50 or so workers (mainly American expatriates) have been given 72 hours to leave the country. Likewise, SERVE (Serving Emergency Relief and Vocational Enterprise), a Christian ministry with offices in the Netherlands, Britain, and elsewhere, has done refugee work, housing, health education, solar technology, and disability training. No more. "No one is left here and we are not allowed to let any foreigners in," a Taliban official outside the International Assistance Mission said. "All foreigners left this morning after we closed their offices."
Mandatory Labor Day link:
Religious freedom abroad:
Irish priest murdered in Philippines:
Other murders:
Kidnappings:
Sexual abuse:
Sexual ethics:
Law and the courts:
Life ethics:
Books:
Catholicism:
Science and studies:
Popular culture:
Church advertising:
Sports:
Other important stories:
Related Elsewhere
See our past Weblog updates:
August 30 | 29 | 28 | 27

August 24 | 23 | 22 | 20

August 17 | 16 | 15 | 14 |13

August 10 | 9 | 8 | 7 | 6

August 3 | 2 | 1 July 31 | 30

July 27 | 25 | 24 | 23

July 20 | 19 | 18 | 17 | 16

July 13 | 12 | 11 | 10 | 9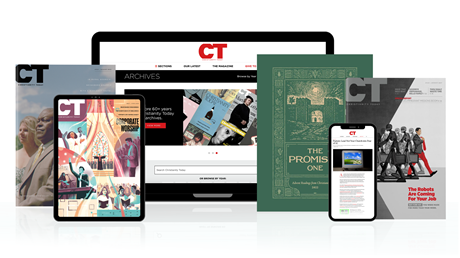 Annual & Monthly subscriptions available.
Print & Digital Issues of CT magazine
Complete access to every article on ChristianityToday.com
Unlimited access to 65+ years of CT's online archives
Member-only special issues
Subscribe
"Leave Christianity in Narnia, says New York Times columnist ; Racism, Sexism, Sectarianism, Too."
"Leave Christianity in Narnia, says New York Times ...