Bush: "We must proceed with great care."
Last night, President George W. Bush announced (video) that he favors federal funds supporting embryonic stem-cell research—but with specific limits and where the "life and death decision has already been made."
Bush drew a line in the sand saying that federally supported embryonic stem-cell studies will be restricted to stem cells harvested from over 60 existing genetically diverse stem-cell lines. Derived from already destroyed embryos, these cell colonies can regenerate themselves indefinitely.
In order to monitor stem-cell research, Bush is creating a president's council of leading scientists, doctors, ethicists, lawyers, and theologians. Dr. Leon Kass, a biomedical ethicist from the University of Chicago, will lead the council.
Kass has conservative credentials (including writing for First Things and being a Brady Fellow at The American Enterprise Institute) and a well-rounded resume (he's a medical ethicist, a surgeon, and a Ph.D. in biochemistry). Currently the Addie Clark Harding Professor in the Committee on Social Thought and the College of the University of Chicago, Kass is a graduate of the University of Chicago School of Medicine.
He has established himself lately in the fight against human cloning with a book and several articles. A recent Kass essay, Moral Meaning of Genetic Technology, sets the context for the embryonic stem-cell debate.
Bush's decision was a careful step into the fray. In his compromise, he found a way to allow scientific exploration to continue while still making an ethical stand. But people on both sides feel he gave too much ground.
Do No Harm: The Coalition of Americans for Research Ethics is "greatly disappointed in President Bush's misguided decision to allow federal funding of existing stem cell lines derived from the destruction of human embryos. Science should not, and need not, depend on the deliberate destruction of human life, no matter when that destruction of life occurred."
The New York Times reported today that many groups on both sides have found something to like and hate. That seems true with conservative organizations.
Ken Connor of the Family Research Council commended Bush for "drawing a clear line against future federal funding of stem cell research that involves the killing of human embryos," but was distressed at the decision to fund research on the existing 60 lines. "It is a basic moral principle that one cannot benefit by the wrongdoing of others. In law, this doctrine is known as the fruit of the poisonous tree," Connor said.
He said the compromise is a slippery slope because now the question is not "whether such research ought to be permitted, but rather how many cell lines are enough. Having introduced the camel's nose under the tent, soon we will have the whole beast."
Christianity Today's editorial response argues that the decision "actually pulled our society a few feet back up the slippery slope the Clinton administration put us on."
The Center for Bioethics and Human Dignity cheers Bush's restrictions but is disappointed he did not completely ban federal funding.
The President's compromise is disappointing but not entirely disheartening. We should not use tax dollars to fund research which is complicit with embryo destruction. Since human embryos were killed to obtain the stem cell lines, those cells are morally tainted. All the more, this research is likely unnecessary given the tremendous progress in using stem cells from morally unproblematic sources such as umbilical cords, placentas, and adult tissue.

Fortunately, the President drew a clear line in the sand stating that federal funds would not be used to destroy human embryos. It is unfortunate though that federal money will be used to promote research that, if treatments ever come from it, many conscientious citizens will refuse because it comes from destroyed human embryos. It is better to promote research that all Americans can unequivocally support.
Human Life International particularly responded to "fundamental issues" that Bush discussed in his explanation. Fr. Thomas Euteneuer wrote:
Last night the President asked the question, "are these frozen embryos human life and therefore something precious to be protected?" Of course! The fact that we as a nation cannot answer that question is the most deeply disturbing aspect of this whole debate. Human life begins at fertilization, Mr. President! Human life is precious! And even though the Government is not funding the killing of these embryos, it is now funding their killers.
Concerned Women for America feels the logic behind the decision is unacceptable:
The President's position contradicts the Nuremberg Code, ethical guidelines set down after World War II, which prohibits experimentation that knowingly causes injury or death to humans.

The President has embraced the hair-splitting logic of the previous Administration, in pretending that it is wrong to conduct experiments on someone you have killed yourself, but right to do so on someone who has been killed by another. The critical moral question is not who killed the victim, but rather shall we profit from that killing?
In a contrasting statement, the National Right to Life Committee applauded the decision. "We are delighted that President Bush's decision prevents the federal government from becoming a party to any further killing of human embryos for medical experimentation," said Laura Echevarria, director of Media Relations.
James Dobson of Focus on the Family says Bush "deserves praise from citizens who understand that it is never justified to destroy one life in order to possibly save another." He said:
Americans who respect human life from conception understand that this type of research oversteps the bounds of morality and ethics. We breathe a sigh of relief that President Bush has upheld that pro-life policy, and trust that he will continue to do so.

We as a nation need to understand that we can be both pro-life and supportive of medical research. Federal funds should be directed toward funding research using non-destructive sources such as bone marrow, umbilical cord blood, placenta and fat.
Philippine kidnappers still running, may be setting diversions
As Philippine army officers claim they are closing in on the Abu Sayyaf rebels, the New Tribes Mission Web site reports that the August 2 raid by the rebels may have been a distraction to divert the army from where their 21 hostages were being held. Hostages include American New Tribes missionaries Martin and Gracia Burnham, who have been held since May 27.
The Muslim rebels are on the run, but a Roman Catholic priest alleges that in June he witnessed officers allowing the guerrillas to get away. The military is beginning an investigation into the accusations but has admitted that "tactical lapses" have occurred.
Philippine President Gloria Arroyo has vowed to hunt down the rebels. While she would consider peace talks with Abu Sayyaf, Arroyo will not pay a ransom for the hostages.
Previously divorced can be clergy, but not married to one
On Wednesday, the Assemblies of God General Council passed Resolution 15, which permits "men and women who were divorced before conversion" to be ordained.
Passing by a 998-834 secret ballot vote, the resolution stipulates that the denomination will only consider applicants who were divorced before conversion. They have to "present evidence to prove that it truly was a pre-conversion divorce." No word on what evidence would be.
Oddly, before that amendment passed, the council defeated another resolution that would have allowed a minister to be ordained if his or her spouse was once divorced.
Defeated by a vote of 879-1,049, the resolution may have died because it did not have the luxury of a secret ballot like Resolution 15. Delegates stood to signify their vote.
Archbishop hubby shows up at Vatican, ultimatum suspended
In July, the Vatican gave Archbishop Emmanuel Milingo until August 20 to give up his wife, sever ties with the Rev. Sun Myung Moon, and reaffirm his vow of celibacy or else face excommunication. On Tuesday, he showed up on the Pope's doorstep.
Earlier this year, Milingo was married to a South Korean woman in one of Moon's Unification Church mass weddings. After Milingo's audience with the Pope on Wednesday, the Vatican released a statement saying the matter was complex and needed time. The August 20 deadline was suspended. Talks between the Pope and Milingo are expected to continue.
First he's accused of taking without citing, and now the opposite
Last week, The Los Angeles Times reported that Trinity Law School dean Winston L. Frost had been accused of plagiarizing an encyclopedia. Now an author is claiming he cited what he didn't use. John W. Montgomery claims Frost listed Montgomery's book Human Rights and Human Dignity as a source for an article but didn't really use it.
Trinity International University Provost Dr. Barry J. Beitzel told Christianity Today that, contrary to Times and wire reports, Frost has not been suspended with pay but voluntarily stepped down during the investigation.
Persecution:
Race:
Other stories of interest:
Related Elsewhere
See our past Weblog updates:
August 9 | 8 | 7 | 6

August 3 | 2 | 1 July 31 | 30

July 27 | 25 | 24 | 23

July 20 | 19 | 18 | 17 | 16

July 13 | 12 | 11 | 10 | 9

July 6 | 5 | 3 | 2

June 29 | 28 | 27 | 26 | 25

June 22 | 20 | 19 | 18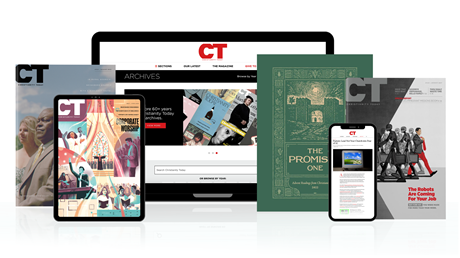 Annual & Monthly subscriptions available.
Print & Digital Issues of CT magazine
Complete access to every article on ChristianityToday.com
Unlimited access to 65+ years of CT's online archives
Member-only special issues
Subscribe
Read These Next
Trending

American Christians Should Stand with Israel under Attack

While we pray for peace, we need moral clarity about this war.

From the Magazine

I Studied Christianity with the Hope of Debunking It

A decade later, I became a Christian.

Editor's Pick

Don't Miss These African Christmas Hits

Jam out this season to highlife, Afrobeats, jazz, a cappella, R & B, rap, dance, and hip-hop artists from Nigeria, South Africa, and more.
Bush Finds Middle Ground with Stem-Cell Decision
Bush Finds Middle Ground with Stem-Cell Decision