How do you know that you have truly forgiven someone?
—Holly Beran, Aurora, Colorado
Jesus was unequivocal on this point: As his followers, we are required to forgive those who sin against us (Matt. 6:15). But what if we don't feel like we've forgiven them? How do we know, then, if we have truly forgiven? The Holy Spirit, thank God, often enables people to forgive even though they are not sure how they did it. But forgiving, and knowing that we've truly forgiven, comes easier when we understand the realities of forgiveness:
1. Forgiveness is a redemptive response to having been wronged and wounded. This is simple but important. Only those who have wronged and wounded us are candidates for forgiveness. If they injure us accidentally, we excuse them. We only forgive the ones we blame.
2. Forgiveness requires three basic actions. First, we surrender our right to get even. Every victim is sure that the victimizer deserves to suffer at least as much as he made us suffer. But that is not necessarily so. "The wages of sin (wronging God) is death" (Rom. 6:23), but the payment was made through the death of God's own Son. The blood of Christ covers all of our sins, but each of us must do personal business with God in order to experience his forgiveness. When we forgive, therefore, we place the outcome of the matter in God's hands and often choose to live with the scales unbalanced.
Second, we rediscover the humanity of our wrongdoer. When we have been badly injured and clearly wronged, we make an instant caricature of the person who did it to us. We define him totally by the one wrong he did. If he betrayed us, his total being is reduced to his betrayal. When we forgive, we rediscover that the person who wronged us is a complex, weak, confused, fragile person, not all that different from us. This is what God does. Our sin hid our faces from him; now, forgiven, we shine like sparkling jewels before him.
And third, we wish our wrongdoer well. We not only surrender our right to revenge against him; we desire good things to happen to him. We bless him. Unnatural? Too much to ask of us? Perhaps. And yet, this is how God forgives us; he not only surrenders his right to see us punished, he graces us with whatever blessing is right for us.
3. Forgiving takes time. God can forgive in a single breath. But we need time. Just before he died, C.S. Lewis wrote: "I think I have at last forgiven the cruel schoolmaster who so darkened my youth. I had done it many times before, but this time I think I have really done it." Maybe, had he lived longer, he would have had to do it again.
4. Forgiving does not require forgetting. True, God said through Isaiah (43:25), "I am he who blots out your transgression. … and I will not remember your sins." But does God have amnesia? Does God not remember that Peter denied his Lord? Or, does he treat Peter and all other forgiven people as if he cannot remember what they did? On a human level, it is futile to try to forget; the more we try to forget, the more we remember. But we can dethrone the memory; we can refuse to let it control our lives. We can detoxify the memory; we can purge its poison from our souls. But we do well not to worry about forgetting. Sufficient unto the day is forgiving.
5. Ideally, forgiving leads to reconciliation. But we often have to put up with less than the ideal. Sometimes the forgiven person will not want to be reunited with us; he may not care a fig for our grace. Besides, though he is forgiven, he may not be changed. If he is reunited with us, he is likely to clobber us again. Forgiving happens in our hearts. There can be no reunion without forgiving, but there can be forgiving without reunion. An offender who has violated a law will need to endure the just judicial consequences. But even as that happens, the offended person can pray and seek full reconciliation on the other side of justice.
6. Forgiving comes naturally to the forgiven. Nothing enables us to forgive like knowing in our hearts that we have been forgiven. This is probably why Jesus taught us to pray: "Forgive us our debts, [but only] as we forgive our debtors" (Matt. 6:12). Jesus implies that it is unthinkable for a forgiven person to refuse to forgive. If we do refuse, he says later, we have no claim on God's forgiveness. But remember, he does not expect perfect forgiving; he is the only expert at it. We are poor duffers trying to treat others as he treats us.
Lewis B. Smedes is professor emeritus of theology and ethics at Fuller Theological Seminary and author of The Art of Forgiving: When You Need to Forgive and Don't Know How (Ballantine).
Ask a Question, Get a Gift Send your questions to Good Question, Christianity Today, 465 Gundersen Drive, Carol Stream, IL 60188, or to cteditor@christianitytoday.com. If we use your question, you will receive a free copy of The Story of Christianity: 2,000 Years of Faith, a beautifully illustrated history of the church.
Related Elsewhere
A ready-to-download Bible Study on this article is available at ChristianBibleStudies.com. These unique Bible studies use articles from current issues of Christianity Today to prompt thought-provoking discussions in adult Sunday school classes or small groups.
Read quotations to stir the mind and heart about confession and forgiveness.
Christianity Today reported last year that forgiveness may help lead to emotional and even physical healing and wholeness.
Miroslav Volf is known for grappling with matters of grace and forgiveness in the face of great pain and transgression. His widely read 1996 book Exclusion & Embrace probed theological implications of reconciliation in a fractured world. After the attacks of September 11, Christianity Today interviewed him about reconciliation.
The Web sites for the Campaign for Forgiveness Research: and the International Forgiveness Institute have information on what forgiving is and the effect it has for individuals and the world.
Lewis B. Smedes is Professor Emeritus of Theology and Ethics at Fuller Theological Seminary.
Christianbook.com carries several books written by Lewis B. Smedes.
Smedes earlier answered, "Can God Reach the Mentally Disabled?," "Who Are We to Judge?," and "Is Suicide Unforgivable?"
Earlier Good Question columns include:
Who Are We to Judge?
Should We File Lawsuits?
Can We Expect God to Forgive Unbelievers Who 'Don't Know What They're Doing'?
Is the Stock Market Good Stewardship?
Is Satan Omnipresent?
Is Suicide Unforgivable?
Was Slavery God's Will?
A Little Wine for the Soul?
Should We All Speak in Tongues?
Did Jesus Really Descend to Hell?
Take, Eat—But How Often?
Is Christmas Pagan?
Are Christians Required to Tithe?
Is Revelation Prophecy or History?
You're Divorced—Can You Remarry?
If Grace Is Irresistible, Why Evangelize?
Does the 'Bible Code' Really Exist?
What's the Unforgivable Sin?
What Bible Version Did Jesus Read?
Did God Die on the Cross?
You Must Be Born Again—But at What Age?
Was the Revolutionary War Justified?
Can the Dead Be Converted?
What Is the Significance of the Shroud of Turin?
Is Hell Forever?
Why Are There Denominations?
Did Paul Baptize for the Dead?
Do Demons Have Zip Codes?
What Is the Gospel of Thomas?
Have something to add about this? See something we missed? Share your feedback here.
Our digital archives are a work in progress. Let us know if corrections need to be made.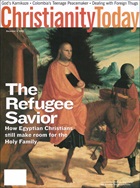 This article is from the December 3 2001 issue.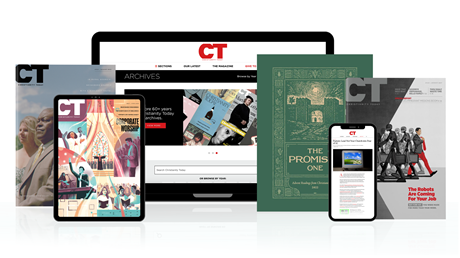 Annual & Monthly subscriptions available.
Print & Digital Issues of CT magazine
Complete access to every article on ChristianityToday.com
Unlimited access to 65+ years of CT's online archives
Member-only special issues
Subscribe
Keys to Forgiving
Keys to Forgiving