Pat Robertson Quits Christian Coalition
Pat Robertson resigned yesterday as head of the Christian Coalition, which he founded in 1989 after running for president. "We are seeing an outpouring of revival power in the United States that exceeds anything that I have known in my lifetime," he said. "With the few years left to me of active service, I must focus on those things that will bring forth the greatest spiritual benefit." Ah, those things that will bring forth the greatest spiritual benefit. Like gold mining in Liberia, oil refining in California, and who-knows-what in China.
What's fascinating about this story isn't that Pat Robertson is leaving the Christian Coalition—that's to be expected, like a rat deserting a sinking ship. What is fascinating is how much harsher the conservative press is on Robertson and the Coalition than the mainstream is.
The Associated Press has its straightforward, just-the-facts presentation: Robertson quits, the Coalition doesn't have the profile it used to, etc.
The Washington Post quotes predictable Robertson foes, who offer surprisingly bland remarks. "The Christian Coalition has diminished significantly from its high-water mark, during the 1994 midterm elections," says David Smith of the gay-rights organization Human Rights Campaign. "I don't think Pat Robertson's departure is particularly significant to us." Whoa! Watch that vicious tongue! (The Post also quotes Americans United for the Separation of Church and State's Barry Lynn, but you'll have to read his comments there yourself. The guy gets quoted way too often for Weblog to give him more attention here.)
The New York Times paraphrases unnamed "political experts and critics" who blame Robertson for the Coalition's decline. He failed, the unnamed sources said, "to make good on a promise to push through the organization's agenda, particularly on subjects like a ban on abortions and the authorization of school prayer and by failing at times to support conservative causes like President Bill Clinton's impeachment."
Then turn to the conservative press, specifically The Washington Times. There's no obvious editorializing in the story—no unattributed statements that Robertson is evil, for example—but the paper simply savages both Robertson and the Coalition, bringing up the organization's debt and lawsuits, Robertson's recent comments supporting China's one-child policy, new president Roberta Combs's poor leadership skills, and other skeletons. All this while quoting from friends and former friends of the organization itself! Particularly rough is Charles H. Cunningham, former director of voter registration and director of national operations for the Christian Coalition, who rips Combs. "She's primarily been responsible for driving off the national office staff and state leaders," he says. "There's been a 100 percent turnover in the national office staff over the past three years. She has a problem with her people skills."
"Anyone who watches the Christian Coalition knows it doesn't have a big profile these days," says Robert L. Maginnis, vice president of policy for the Family Research Council. No kidding. Just a quick tour around the organization's Web site demonstrates that. Its press release section hasn't been updated since July!
The Virginian-Pilot calls him Pat Robinson—twice—but otherwise has a fine article, quoting the National Association of Evangelicals' Richard Cizik (who says Robertson taught evangelicals how to be political) and Catholic University professor Mark Rozell (who says, "It's hard to imagine Pat Robertson not being political—I don't think it's in his character"). It also has an update on the racial discrimination lawsuit against the Christian Coalition. Jon S. Nicholas, lawyer for the employees suing the organization, tells the paper "he is finalizing an out-of-court settlement with the Coalition."
Colbert I. King: Robertson's pants are on fire
Colbert I. King is still using almost every column to attack Robertson for his Liberia gold-mining deal. Of course, you can hardly blame him this time; Robertson recently rebutted several of King's past columns. "Robertson's letter should not be received without reservation," King says in last Saturday's piece. "It contains some assertions that—How shall I say this of a televangelist?—are at variance with the facts." He takes particular issue with Robertson's description of Liberia as "a Christian nation" that has "freedom of religion, freedom of movement, freedom of expression, and what appears to be a judiciary dedicated to the rule of law." "To pretend … that Taylor runs a country overflowing with God's unconditional, inclusive love is unadulterated bunk," King writes. Specifics of Robertson's letter are taken one at a time, and King seems to have the facts in his corner. He also takes some nice swipes at Robertson's failing oil refinery and Robertson's past support of "kleptocrat" dictator Mobutu Sese Seko of ZaÏre (d. 1997).
Meanwhile, King's accusations are being picked up by The Perspective, an Atlanta-based publication that monitors human-rights violations in Liberia. And that publication is a lot harsher than King. "By his words, Mr. Robertson does not sound any better than any of the many criminals who rush to crisis-stricken countries like Congo or Angola or Sierra Leone to make a few bucks and run out before the chips fall," says a recent editorial. (Apparently GQ has published a similar article, but Weblog hasn't seen it and GQ doesn't post its articles online.)
Paxson sues NBC over Telemundo purchase
To be honest, Weblog hasn't ever really watched a show on the family-friendly Pax network. But here in the Chicago area, it's on cable channel 3, so Weblog catches a couple seconds of it every time the VCR gets turned on or off. Billy Ray Cyrus (Mr. "Achy Breaky Heart") as a doctor sure makes Weblog giggle. It seems that the channel isn't doing so well, though, and things just got a lot worse. NBC owns about one-third of Paxson Communications, with an option to buy the rest. But now NBC wants to buy Telemundo, the country's second-largest Spanish network. FCC rules prohibit both, so it looks like that option won't ever be cashed in. That means Pax probably won't get a chance to grow, and may even shrink. And that makes Pax upset. "We feel like the wife who has just been jilted and is watching her husband go out with another woman," says chairman Bud Paxson. NBC-named members of Paxson's board have resigned.
More articles
Christmas and Advent:
This Christmas, some see virtue in buying sprees | Maybe, ministers reconsider, Christmas shopping isn't always a vice. Maybe it can be an act of compassion - or even moral duty. (The Christian Science Monitor)
Festive fun is just what we all need | Those who complain of being bounced into Christmas in October should remember that it starts later for us than for our forbears. (Katie Grant, Scotland on Sunday)
Nativity scenes endure as symbol of Christmas| For many, creches are expression of faith, art (The Sun, Baltimore)
Advent's message in a time of terror | For those of us who are Christians, respect a special calling in this season, when we long not for a narrowly defined celebration of our triumph—but for the very fulfillment of history, for all people, the true advent of peace on earth. (James Carroll, The Boston Globe)
Newsday series onpriest shortage:
The evolving face of the church | Shifting work to lay people, offering Communion services instead of Masses in some cases, the church will be doing things differently in the years to come. (Newsday)
The young and the righteous | New priests are conservative, yearning for the era before the Second Vatican Council, and say they want to "clean up" or reform the priesthood (Newsday)
Staffing with foreign priests | As American Catholic churches face clergy shortage, help comes from abroad (Newsday)
More work, fewer hands | Ministering alone is a situation that has become more common. And some priests are even leading two congregations. (Newsday)
In Belle Harbor, double disasters | Powerful moments for Brooklyn priests after September 11 (Newsday)
A shortage of priests | Downsizing is changing the structure and actions of the Roman Catholic Church (Newsday)
Finding recruits | The parish priest has always been a model for young men, encouraging many to enter the clergy. Now, with fewer priests, that system doesn't work as well. (Newsday)
Christian relief agencies:
Franklin Graham focuses on kids' gifts | Evangelist says ministry plans to ship thousands of boxes to Afghanistan (The Charlotte Observer)
Church World Service launches new identity | National Council of Churches relief agency wants to de-emphasize Christian identity, broaden appeal to "socially conscious people of all faiths and persuasions to take action toward the common goals of human rights, world peace, and ending hunger" (NCC News Service)
Vienna church celebrates Mercer's return | Hundreds crowd Vienna Presbyterian Church to hear aid worker's testimony (The Washington Post, video available)
Other stories of interest:
Losing faith and lots more | Mormons who quit the church find themselves ostracized by friends, co-workers and even families. Annual gathering offers support, shared experiences. (Los Angeles Times)
Sacred mysteries | A Christian group for prisoners called Kainos may be allowed to carry on after all, it emerged this week, but without funding from the Home Office (Christopher Howse, The Daily Telegraph)
D.C. clergy decry date of marathon | Palm Sunday event may delay worshipers (The Washington Post)
Church defends poster campaign | Diocese attempts to appeal to young people through references to drugs and body piercing. (BBC)
Baptism on the box | Television make-over shows offer the illusion of a new you—like a teenager's new year resolutions (Decca Aitkenhead, The Guardian)
Spiritual nation | Rock musicians find a higher calling through faith (The Boston Globe)
Finding sanctuary behind bay doors | Garage is church's home during exile (The Atlanta Journal-Constitution)
Related Elsewhere
See our past Weblog updates:
December 5 | 4 | 3
November 30 | 29 | 28 | 27 | 26
November 21 | 20 |19
November 16 | 15 | 14 | 13 | 12
November 9 | 8 | 7 | 6 | 5
November 2 | 1
October 31 | 30 | 29
October 26 | 25 | 24 | 23 | 22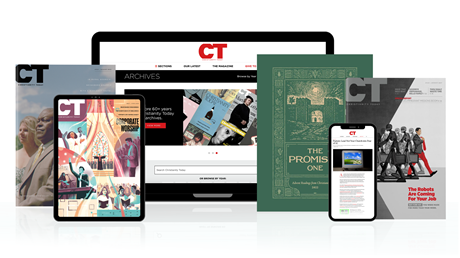 Subscribe to Christianity Today and get access to this article plus 65+ years of archives.
Home delivery of CT magazine
Complete access to articles on ChristianityToday.com
Over 120 years of magazine archives plus full access to all of CT's online archives
Subscribe Now
Robertson Says He's Quitting Politics
Robertson Says He's Quitting Politics