Following up on the "Top Ten" list posted two-and-a-half weeks ago (last week the Corner was on Christmas vacation and computer glitches delayed this edition), here is some more good stuff from the year that just ended. We hear a lot of whining about the junk of the publishing world, but there are plenty of good books piled on bookstore tables or spine-out on shelves just waiting to be taken home, not to mention the offerings of your local library.
The Divine Hours: Prayers for Springtime, compiled and with an introduction by Phyllis Tickle (Doubleday). The third and final volume of this "manual for the contemporary exercise of fixed-hour prayer," based on The Book of Common Prayer, though with some changes, and with Scripture chiefly from The New Jerusalem Bible.
The Forbidden Image: An Intellectual History of Iconoclasm, by Alain Besancon (University of Chicago Press). A leisurely journey from the Old Testament and Plato to the Russian avant-garde of the early twentieth century. Look for a review of this book sometime in the next year or so in Books & Culture. (The copyright page says "2000," but we didn't receive the book until 2001, so I'm including it here in good faith.)
The Lotus and the Cross: Jesus Talks with Buddha, by Ravi Zacharias (Multnomah). An imaginary conversation that can easily be read in an evening, clarifying some of the central teachings of Buddha and showing how they differ from the teachings of Jesus. Persuasive and deeply moving, as the human dimensions of philosophical differences are brought to life. Zacharias spent many hours in conversation with Buddhist teachers in preparation for this book, and while his criticisms of Buddhism are uncompromising, there are no cheap shots here.
Heaven Below: Early Pentecostals and American Culture, by Grant Wacker (Harvard University Press). A sympathetic but not uncritical portrait of Pentecostalism in its formative period, based on an encyclopedic familiarity with the sources. Should be read alongside David Martin's Pentecostalism: The World Their Parish (Blackwell), which continues the story on a global scale from a sociologist's perspective.
Visions of Space Flight: Images from the Ordway Collection, selected and with an introduction by Frederick Ordway III (Four Walls Eight Windows). Ranging from the Renaissance to the 1950s, these images could serve as a point of departure for a history of the modern imagination.
A World Made Safe for Differences: Cold-War Intellectuals and the Politics of Identity, by Christopher Shannon (Rowman & Littlefield). A brilliant young Catholic historian and social critic traces the ramifications of the postwar ideology of tolerance.
Some of the best books published every year are not new books but reissues of old ones. In 2001, Ignatius Press, who gave us (two years ago) The Annotated Thursday, that wonderful annotated edition of G.K. Chesterton's The Man Who Was Thursday, turned out a lovely reprint of Chesterton's narrative poem, The Ballad of the White Horse, which recounts Alfred the Great's battles against the invading Danes. It's a book that demands to be read aloud. Some might even find it relevant to the events of September 11 and thereafter.
All best wishes for the New Year. And good reading.
John Wilson is editor of Books & Culture and editor-at-large for Christianity Today.
Related Elsewhere:
Visit Books & Culture online at BooksandCulture.com or subscribe here.
Books & Culture Corner appears Mondays at ChristianityToday.com. Earlier Books & Culture Corners include:
Books of the Year | Part 1: The Top Ten (Dec. 17, 2001)
"Daddy, What Is the Soul?" | Does the church have an answer? (Dec. 10, 2001)
'We Now Know' | The boast of imperial science. (Dec. 3, 2001)
"24 Cow Clones, All Normal" … | Oh yes, and a few cloned human embryos that died. (Nov. 26, 2001)
"Discovering" Islam: The Intellectual Challenge | There's good reason to believe that there will be staying power to the West's belated "discovery" of Islam. (Nov. 19, 2001)
Disturbing the Peace | Is art always subversive when it's doing its job? (Nov. 12, 2001)
Play Ball | Baseball, leisure, and worship. (Nov. 2, 2001)
Is God a Body-Snatcher? | The restless intelligence of philosopher Peter van Inwagen. (Oct. 30, 2001)
"Science and the Spiritual Quest" | A place at the table for Christians, but at a price. (Oct. 22, 2001)
Beyond Belief? | Nobel Prize-winner V.S. Naipaul's accounts of Islam presuppose the superiority of modern skepticism. (Oct. 15, 2001)
Covering Islam | Getting beyond the feel-good bromides. (Oct. 8, 2001)
Christian Scholarship … For What? | Academic speakers affirm the value of beholding God's creation. (Oct. 1, 2001)
Myths of the Taliban | Misinformation and disinformation abounds. What do we know? (Sept. 24, 2001)
The Imagination of Disaster | "We thought we were invulnerable." Really? (Sept. 17, 2001)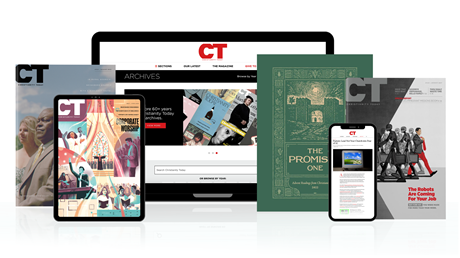 Annual & Monthly subscriptions available.
Print & Digital Issues of CT magazine
Complete access to every article on ChristianityToday.com
Unlimited access to 65+ years of CT's online archives
Member-only special issues
Subscribe
Books of the Year, Part 2
Books of the Year, Part 2