If there is one image of The Salvation Army that comes immediately to the public's mind, it is that of a bell-ringing volunteer tending a Christmas kettle on a city street.
The kettles were started by Salvation Army Captain Joseph McFee in December 1891. The Captain had resolved to provide a free Christmas dinner to San Francisco's poor. But how would he pay for the food? Remembering his days as a sailor in Liverpool, England, McFee recalled seeing a large pot, called "Simpson's Pot," into which charitable donations were thrown by passers-by. He secured permission from authorities to place a similar pot at the Oakland ferry landing, at the foot of Market Street. Its success encouraged other local corps to do the same, and by 1895 the kettle was used in 30 Salvation Army corps on the West Coast.
Two years later, Officer William A. McIntyre took the novel idea to Boston, but his fellow officers refused to cooperate for fear of "making spectacles of themselves." So McIntyre, his wife, and his sister set up three kettles in the heart of the city. That year the kettle effort in Boston and other locations nationwide resulted in 150,000 Christmas dinners for the needy.
Kettles have changed since the utilitarian cauldron set up in San Francisco. Some new kettles have a self-ringing bell or a booth complete with public-address system to broadcast the traditional Christmas carols. Salvation Army officers and soldiers still tend the pots, but so do community volunteers, and paid employees.
But the purpose of the kettles remains the same. When The Salvation Army "puts out the kettles" today—from the United States to Japan to Chile—millions of dollars are raised. While the days are past when a sit-down dinner in Madison Square Garden brought in thousands from the street, the homeless poor are still invited to share holiday dinners and festivities at hundreds of local Salvation Army centers. Other people are given grocery checks so they can buy their own dinners. The kettles provide about one-third of the money used to aid over 4,500,000 persons annually at Christmas.
The Christmas kettle stands as a symbol of service, a refreshing reminder amid the hoopla of Christmas that people do care for one another.
Mary Ann Jeffreys was the editorial coordinator at Christian History from 1990 to 1999. She wrote this piece for issue 26: William & Catherine Booth.
Related Elsewhere:
More Christian history, including a list of events that occurred this week in the church's past, is available at ChristianHistory.net. Subscriptions to the quarterly print magazine are also available.
Article continues below
The Salvation Army's kettle campaign has been getting a lot of press lately:
Helping needy keeps this Army on its mission — Boston Herald
Gay-Rights Notes Target Holiday Pots — AP
Salvation Army policy is no drop in the bucket — The Bay City Times
Conflict brews in Salvation Army's kettles — The Seattle Times
A recent Christian History Corner reported that while the Salvation Army has seen much controversy this year, the Army has been through worse.
The Salvation Army's official site (national headquarters site) includes basic information, bios on historical figures and news releases.
Christian History Corner appears every Friday at ChristianityToday.com. Previous editions include:
Christmas Countdown | When does the holiday season really start? (Dec. 7, 2001)
Serving God with Mammon | John Wesley's wisdom for hard economic times: earn all you can, save all you can, and give all you can. (Nov. 30, 2001)
Eat, Drink, and Relax | Think the Pilgrims would frown on today's football-tossing, turkey-gobbling Thanksgiving festivities? Maybe not. (Nov. 21, 2001)
Where Are the Women? | The Christian tradition includes few female history-writers but plenty of female history-makers. (Nov. 20, 2001)
God Bless, More or Less | Irving Berlin's anthem captures America. (Nov. 2, 2001)
Festival of Fears | What's scarier than Halloween? The anxieties that drive it. (Oct. 26, 2001)
Forget 'Normal' | C.S. Lewis's warning against panic during World War II resonates in our new crisis. (Oct. 19, 2001)
Apocalypse Not | As speculations mount regarding the significance of recent events in God's plan for the end of the world, voices from the past urge restraint. (Oct. 12, 2001)
'He Does Not War' | In the Anabaptist tradition, a Christian must never fight back. (Sept. 28, 2001)
Previous Christiany Today articles on the Salvation Army include:
Business Principles, Salvation Army-style | What the nation's largest charity knows about leadership. (December 18, 2001)
Moscow Bans Salvation Army | Embattled ministry appeals judicial ruling. (October 31, 2001)
Dismantling the Salvation Army | In maintaining integrity, Salvationists got the Boy Scout treatment. (August 27, 2001)
Moscow Bans Salvation Army | Embattled ministry appeals judicial ruling. (Nov. 11, 2001)
Russia Recognizes Salvation Army as a Religious Organization | Officials say that doesn't restore status to the Army's Moscow branch. (Feb. 28, 2001)
Article continues below
Moscow Salvation Army Rejected | Without official recognition, ministry and the elderly suffer. (Feb. 13, 2001)
Salvation Army Closed in Moscow | Moscow court decision turns city into a 'legal never-never land' for Christian charity. (Jan. 11, 2001)
Still Red-Hot and Righteous | The Salvation Army's International Congress meets outside London for the first time since its founding. (July 12, 2000)
Saving Bodies, Rescuing Souls | Chechen Muslims find Salvationist care has compassionate accent (Apr. 11, 2000)
Salvation Army General Seeks Refocus on Gospel | Newest world leader faces modern challenges (June. 14, 1999)
Did Somebody Say $80 Million? (Dec. 7, 1998)
Salvation Army Youth Spell Out New Methods (Mar. 3, 1997)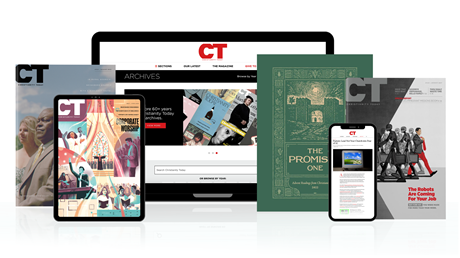 Subscribe to Christianity Today and get access to this article plus 65+ years of archives.
Home delivery of CT magazine
Complete access to articles on ChristianityToday.com
Over 120 years of magazine archives plus full access to all of CT's online archives
Subscribe Now
Christmas Kettles
Christmas Kettles