A member of the government of the state of Karnataka, in southern India, has been forced to resign after claiming that the earthquake which killed tens of thousands of people in the western Indian state of Gujarat last week was God's punishment for atrocities against Christians.
T. John, a civil aviation minister in Karnataka's state government and a member of the Orthodox church, has handed in his resignation after widespread criticism and protests by Hindus angry at his interpretation.
The 69-year-old politician had described the Gujarat earthquake, the worst to hit India in 50 years, as "the punishment of God to the people for ill-treating Christians and minorities in the state."
He issued his controversial statement at an inter-religious meeting of the Good News Global Peace group in Bangalore, capital of Karnataka, on January 30, four days after the earthquake. He was referring to a series of attacks on Christians and Muslims in Gujarat allegedly by Hindu fundamentalist groups linked to the BJP (Bharatiya Janata Party) which controls the Gujarat government.
Gujarat, with a tiny Christian minority (0.5 percent of the state's population of 45 million), is one of the areas badly hit by Hindu fundamentalist violence against Christians in recent years. Just before Christmas 1998, churches and related buildings in the Dang region of Gujarat, in north-western India, were subjected to arson attacks, and priests and pastors were attacked. In the village of Vaki, 500 armed people attacked a church and looted nearby shops. At least seven people were taken to hospital after sustaining bullet wounds.
Early last year, Christians in Gujarat expressed alarm when the state authorities gave permission for government employees, including police and teachers, to become members of the RSS (Rashtriya Swayamsevak Sangh), a fundamentalist Hindu organization.
John also saw a divine connection between attacks on Christians in Orissa, a state in eastern India, and the cyclone that hit the region in December 1999. The storm, which claimed more than 10,000 lives, followed several attacks on Christians in the state, including the murder of an Australian Baptist missionary, Graham Stuart Staines, and his two young sons, and the murder of a Catholic priest.
News reports of John's comments in Karnataka angered the BJP which called for him to be arrested for his "indiscreet and uncharitable" comments. Other opposition parties also joined the protest, forcing the state premier, S. M. Krishna, of the Congress party, to ask the minister to step down.
"I had not spoken with a purpose to hurt anybody. I express my apologies. I am resigning the minister's post to safeguard the interests of the state government, the chief minister, and Congress party which upholds secularism," John said in a statement. ENI was unable to reach him for further comment.
Sajan K. George, an Orthodox church member and convener of the Global Council of Indian Christians, said of John's remarks:"These comments are un-Christian." Speaking to ENI from Bangalore, George said: "The church is not retributive, and does not endorse vindictiveness." He added that, according to Christian teaching, "God is ever merciful."
In New Delhi, Father Gregory D'Souza, assistant executive director of Caritas India, a leading Catholic charity, told ENI that John's statement was "uncalled for."
"He should not have made such a statement at all. Christians also have suffered damages in Gujarat," D' Souza said.
However John's comments reflect the views of some Indian Christians who have said in private that they can see the work of the invisible hand of God in the earthquake. They have pointed out that church institutions and buildings suffered comparatively little damage in the earthquake. In particular, Christians drew attention to the fact that 320 blind and disabled inmates of a church residential center at Raidhanpar, near the epicenter of the earthquake, escaped unhurt. The residents were in the open grounds of the center, for the raising of the flag for Republic Day, when the earthquake took place.
Related Elsewhere:
Other media coverage of John's resignation includes:
Police register case against ex-minister T John for inciting "communal feelings" (South Nexus, Manipal, India)
Minister resigns over quake remarks (BBC)
Outrageous indiscretion | John's resignation has nipped in the bud a controversy that could have assumed grim proportions (Editorial, The Times of India)
Minister resigns as remarks kicks up controversy (South Nexus, Manipal, India)
Minister loses seat for remark on quake (The Times of India)
Karnataka minister quits in row over quake remarks (The Economic Times, New Delhi)
Read more about religious persecution in India from the U.S. State Department's 2000 report.
Christianity Today's Persecution area also has many stories about religious tensions in India, including:
Militant Hindus Assault Christians | Persecution of religious minorities stirs Christian outrage against government inaction. (Jan. 31, 2001)
Article continues below
Christians Hammered by Pre-Christmas Violence | 200 Christians driven from a small town in Gujarat, India, and their church converted into a Hindu temple. (Dec. 22, 2000)
Indian Christian Youth Form Protection Group | Non-violent group aims to counter attacks on Christians through peaceful solidarity. (Nov. 12, 2000)
A Chinese Model for India's Churches? | No thank you, say Indian Christians to Hindu proposal for government church regulation. (Oct. 12, 2000)
U.S. Religious Freedom Commission Criticized | Indian churches reject U.S. inquiry, but Pakistani Christians welcome it. (Oct. 3, 2000)
Plans to Resolve India's Interfaith Tensions Face Delays and Accusations | Did India's National Commission for Minorities plan a meeting to discredit Christians? (July 20, 2000)
India's First Dalit Archbishop Holds 'No Grudge' Over Predecessor's Attack | Once "untouchable" Dalits make up bulk of country's Christians. (May 11, 2000)
India's Christians Resist Move to Register Conversions | State's legislation unconstitutional, says leaders. (May 2, 2000)
Build Bridges, but Fight Fanaticism, India's Churches Told | National Council of churches in India will work against strengthening of caste system. (Mar. 9, 2000)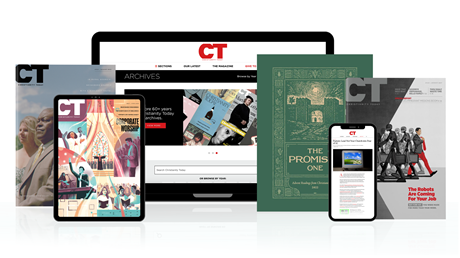 Subscribe to Christianity Today and get access to this article plus 65+ years of archives.
Home delivery of CT magazine
Complete access to articles on ChristianityToday.com
Over 120 years of magazine archives plus full access to all of CT's online archives
Subscribe Now
Politician Who Saw God's Hand in Gujarat Quake Forced to Resign
Politician Who Saw God's Hand in Gujarat Quake Forced to Resign