Last Thursday, after 13 years and 64 episodes, Inspector Morse came to an end. The British import, inspired by a series of novels by Colin Dexter (who was also involved in the TV production) and regularly featured on PBS's Mystery, had gained a faithful following over the years, in large part due to John Thaw's portrayal of the title character. Rarely has an actor inhabited a role with such utter conviction.
The final two-hour episode, archly titled "The Remorseful Day," was preceded by a documentary, "The Last Morse" (which I didn't watch), and the episode itself was bracketed with commentary by Diana Rigg, who intoned with a straight face the pontifications prepared for her by the Mystery braintrust. By the time she wound up, eulogizing Morse with a comparison to Beethoven, more than a few in the audience, I'm sure, were wishing for a rude Monty Pythonesque intervention. This was a self-conscious Television Event.
And yet it truly was an event, if not quite in the sense intended. It offered in concentrated form a taste of some of the oddly jarring flavors of our cultural moment. Like much popular art, the finale of Inspector Morse functions like a dream—a dream of the collective unconscious.
The news from the dreamworld is not good. What we get is an overwhelming sense of belatedness, of structures that once had meaning and authority but now are mere forms. We see this all the way through—as when a lubricious surgeon who enjoys sadomasochism sings Faure's Requiem in an Oxford chapel—but it is most apparent at the level of the "mystery" itself. Morse is a detective, like Holmes and Poirot before him, and there is a crime to be "solved": a brutal murder that ramifies into a series of murders. Morse and his Watson-figure, Lewis (Kevin Whately), go through all the motions: there are Clues and Suspects and a bit of Police Procedure; there are Deductions and Hunches and Red Herrings. But the characters themselves hardly seem to believe in this creaky machinery. It is as if they were performing an ancient ritual, the origin and meaning of which have long since been forgotten.
In this dreamworld the only source of authenticity is the character of Morse himself. If the machinery of the mystery seems about to break down at any moment, Thaw-as-Morse is irreducible selfhood. To get at this we must strip away his trademark quirks: his red Jag, his taste for Wagner, and so on. Like earlier detectives, he is suitably eccentric. Yet he is also—so we are to feel—a secular saint. Resolutely secular, in fact: he specifies with peculiar intensity that when he dies there must be no religious service. And deeply flawed, as a contemporary hero must be. He is scornful of fools, yet compassionate; foolish about his own life, yet wise. He has no ultimate hope, yet he soldiers on.
What a strange brew. Cynicism, a sort of sub-Nietzschean pride, Stoic virtue. The detective as "character," a type of the Genius, mutates into a vulnerable yet heroic Everyman. We cry at his death. But why on earth anyone should act honorably, like Morse (mostly), instead of like the murderer Morse finally identifies, or the Talented Mr. Ripley—that's not even hinted at.
John Wilson is Editor of Books & Culture and Editor-at-Large for Christianity Today.
Related Elsewhere
Visit Books & Culture online at BooksandCulture.com or subscribe here.
The Official Inspector Morse Website has an extensive section on "The Remorseful Day." In addition to the necessary synopsis and video clips, it also has interviews with the actors and a silly tribute message board so visitors can pay their respects to the dearly departed.
PBS's Mystery site, meanwhile, only has a one-sentence description of the episode. Usually PBS Web sites offer much more.
Books & Culture Corner appears Mondays at ChristianityToday.com. Earlier Books & Culture Corners include:
Beware the Women! | A conspiracy theorist claims the church is becoming too "feminized."

Return to the Father's House | Touchstone magazine examines God the Father and human fatherhood. (Feb. 12, 2001)

What's the University For? | In James Davison Hunter's The Hedgehog Review, academics nibble on the hands that feed them. (Feb. 5, 2001)

Mary, Mary, Quite Contrary? | Experiencing Marian devotion as a Protestant (Jan. 29, 2001)

Opening the Mind of Science | Science Goes Postmodern, Part 2 (Jan. 22, 2001)

Science Goes Postmodern | David Foster Wallace creates math melodrama with his essay-review. (Jan. 15, 2001)

On Being Human, Part 3 | Did Natural History swallow an unscientific argument because it explained human experience in evolutionary terms? (Jan. 8, 2001)

On Being Human, Part 2 | Learning from information rather than instinct is often harder than it looks. (Dec. 18, 2000)

On Being Human | Natural History magazine celebrates a milestone. (Dec. 11, 2000)

Are You Re:Generated? | Inside one of the best religious publications on the planet (that's not Christianity Today). (Dec. 4, 2000)

The Promise of Particularity Amid Pluralism | A dispatch from the Annual Meeting of the American Academy of Religion and the Society of Biblical Literature. (Nov. 22, 2000)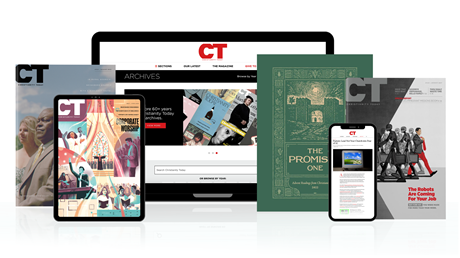 Subscribe to Christianity Today and get access to this article plus 65+ years of archives.
Home delivery of CT magazine
Complete access to articles on ChristianityToday.com
Over 120 years of magazine archives plus full access to all of CT's online archives
Subscribe Now
Had Morse No Code?
Had Morse No Code?