Is Lent for Protestants, too?
"For centuries, the one sure way to tell a Catholic from a Protestant was to look for the dark smudge on the forehead on Ash Wednesday," begins a story in today's Boston Globe. "No more. Reflecting an increasing demand for ritual and decreasing hostility toward Catholicism among Protestants, a growing number of Protestant churches today will be offering worshipers the traditional sign of penitence and mourning." The article notes that the tradition far precedes the Protestant Reformation (and, in a way, even Christianity). But while some Protestants will be eager to reclaim this tradition of repentance despite its association with Catholicism, for others it seems that the association is even more important than what the tradition symbolizes. "There was a time not so long ago when ashes were associated with the Catholic Church, and there was a lot more hostility between Catholics and Protestants," says one United Methodist pastor quoted by the paper. "Now I see us all as being part of one church." Earlier Christianity Today articles examined whether evangelicals should observe Lent. "On one side, our conscience serves to remind us that (if we are the practicing Christians we claim to be) we had better 'do something' about observing the most sacred season in the Christian calendar," a 1960 editorial noted. "On the other hand, a sense of indignation stirs within the Protestant breast, even to the pitch of revolt, at what the Church has done with Lent in the past." But the magazine encouraged evangelicals to observe Lent, leaving the form of that observance up to the reader. "What is all important is that the form support, not obstruct, the way of the Holy Spirit of God who brings life to ritual and free worship alike, and who turns ashes into new men." Fourteen years later, Sherwood E. Wirtalso encouraged evangelicals to at least capture the spirit of the season. "Lent can become a beautiful and deeply moving experience of walking spiritually with Jesus on his pilgrimage to the cross," he wrote. Ironically, though Ash Wednesday and Lent are the subject of several other articles, most focus on foods associated with the season, like fish sticks, pancakes, and pretzels. Isn't the whole point to take our minds off of things like food?
U.S. State Department raps China, other countries for abuses of religious freedom and other human rights
The U.S. State Department released its annual human rights report Monday, and once again religious freedom set the tone for many of the criticisms. China was particularly criticized as it "intensified its crackdowns on religion and in Tibet, intensified its harsh treatment of political dissent, and suppressed any person or group perceived to threaten the Government." Beijing quickly fired back. "This is a typical action showing U.S. double standards on human rights," said the Chinese Foreign Ministry. The U.S. is clearly a "defender of power politics rather than human rights," as evidenced by the "non-stop partisan bickering" in the recent election (not to mention gun control laws and salary differences between executives and employees)," said the foreign ministry's responsive report on human rights in America. "Improve the human-rights record in your own country … and stop ordering other countries on the pretext of safeguarding human rights," it concluded. Besides, criticizing China for cracking down on religious groups while "going so far as to defend openly the anti-humanity evil cult Falun Gong" is itself a double standard. What China is doing to the Falun Gong, said the Foreign Ministry, is akin to a war on drugs. (Sorry, China. Colombia's war on drugs was criticized in the report too.) Meanwhile, Reuters looks at what the report may mean for American politics. "Although compiled from data gathered under former President Clinton, who took what many Republicans consider too soft a line toward Beijing, the report added to the impression of a tougher line emerging under Bush," the news service reported. Israel, Cuba, Myanmar, and North Korea were also criticized in the report, but criticisms weren't as directed on religious freedom issues.
More stories:
Premarital commitments:
Crime and punishment:
Missions and ministry:
Other stories of interest:
Related Elsewhere
See our past Weblog updates:
February 27 | 26

February 23 | 22 | 21 | 20 | 19

February 16 | 15 | 14 | 13 | 12

February 8 | 7 | 6 | 5

February 2 | 1 | January 31 | 29

January 26 | 25 | 24 | 23 | 22

January 19 | 18 | 17 | 16 | 15

January 12 | 11 | 10 | 9 | 8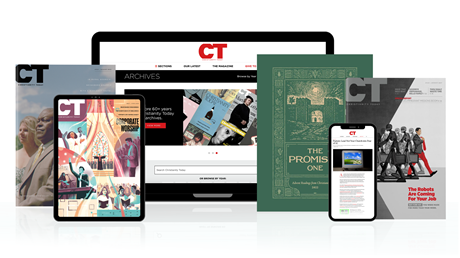 Annual & Monthly subscriptions available.
Print & Digital Issues of CT magazine
Complete access to every article on ChristianityToday.com
Unlimited access to 65+ years of CT's online archives
Member-only special issues
Subscribe
What is the Reason for the Season of Lent?
What is the Reason for the Season of Lent?