The head of a leading Christian action group in the Indian state of Gujarat has called on Christians not to abandon their "evangelical mission" because of threats from Hindu fundamentalists.
"India is a free country, and the people have freedom to preach their religion," Gideon Peter, coordinator of the Gujarat branch of Operation Mobilization India (OMI), told ENI. OMI is an evangelical network based in the southern Indian state of Andhra Pradesh. OMI has 600 active members from various denominations distributing biblical literature, training Christian workers and running community-development programs.
Gujarat is currently in the news in India and abroad because of the earthquake which killed tens of thousands of people in the state on January 26, and is particularly well known to Christians because of attacks on churches by Hindu fundamentalists in Gujarat in recent years.
Interviewed in his office in Ahmedabad, a city of three million people, Peter, who heads 40 OMI staff in Gujarat, said that "true Christians should never be scared of attacks. We should preach what we believe."
Asked by ENI whether mainline churches in India had stopped evangelization because they feared attacks by Hindu extremists, Peter, who is a member of the Church of North India, said: "We are so much self-oriented that we are scared of anything that might come our way. There are many who want to play safe. But it will not solve the problem.
"If they [Hindu fundamentalists] are attacking us without understanding us, we can only counter it by trying to educate them. Maybe we need to suffer for the faith in the process," said Peter whose staff has been attacked in recent months by Hindu groups including the Vishwa Hindu Parishad (World Hindu Council).
In recent years there have been attacks—allegedly by Hindu fundamentalists—in various parts of India against Christians and church buildings, but Gujarat has reported the highest number of attacks, with more than 100 incidents of anti-Christian violence recorded. The incidents included arson attacks on more than 30 churches late in 1998.
Peter said he was aware of the accusation, by many Hindus, that conversion to Christianity was the ultimate aim of Christian aid for the poor and marginalized. But he added: "Our sincere intention is to develop the society and uplift the exploited. In that light, if someone wants to follow the God I believe in, they are welcome."
He said that if Christians were in the "forefront" of those engaged in relief work for the victims of the earthquake that devastated Gujarat, "it is not with an eye on conversion."
OMI has sent two relief teams to Kutch, the district worst affected by the quake, and plans to rebuild an entire village.
Peter was addressing a consultation of Christian workers at a hotel in Gandhidham, 200 miles west of Ahmedabad, when the earthquake struck. Much of the building was destroyed, but he and 27 other participants at the meeting, which had been taking place on the third floor, jumped out of the building. "We did not rush to reach our families," he told ENI. "For the next five hours we rescued people trapped in the building. This is a commitment we have made to God—to help those in need."
He added that Hindu opposition to Christian relief work in the state would "die away soon. How long will they stay on in the villages to serve the affected people and to stop us? But we Christians will stay on for years in the devastated villages."
He claimed that if villagers saw that Hindu activists stayed for only two weeks while Christian social workers stayed for two years, "it is natural that some of them will approach us later with a request to become Christians."
Denying that OMI induced Hindus to convert by giving them aid, he admitted that there might be among the converts some "rice Christians"—a term coined by Mahatma Gandhi to refer to those who converted for materialistic reasons.
"Nobody changes religion for nothing," Peter said. "There are many reasons why others become Christians. For some, it is a new faith. For others, it means better status and freedom from social barriers."
Nearly all of the Christian community of almost 300,000 in Gujarat, homeland of Mahatma Gandhi, are members of low castes.
Related Elsewhere:
The Operation Mobilization site offers more information about the ministry and its work in India, but hasn't been updated since November.
Previous Christianity Today stories about India include:
India's Quake Survivors Need Counseling | Earthquake survivors are desperate for more than material aid, Indian bishop warns. (Feb. 9, 2001)
Quake Rocks Hindu Hotbed | Agencies appeal for funds to aid victims (Feb. 8, 2001)
Politician Who Saw God's Hand in Gujarat Quake Forced to Resign | Civil aviation minister had told Christians that quake was God's judgment against persecution of Christians. (Feb. 5, 2001)
Christians Hammered by Pre-Christmas Violence | 200 Christians driven from a small town in Gujarat, India, and their church converted into a Hindu temple. (Dec. 22, 2000)
Article continues below
Indian Christian Youth Form Protection Group | Non-violent group aims to counter attacks on Christians through peaceful solidarity. (Nov. 12, 2000)
A Chinese Model for India's Churches? | No thank you, say Indian Christians to Hindu proposal for government church regulation. (Oct. 12, 2000)
U.S. Religious Freedom Commission Criticized | Indian churches reject U.S. inquiry, but Pakistani Christians welcome it. (Oct. 3, 2000)
Plans to Resolve India's Interfaith Tensions Face Delays and Accusations | Did India's National Commission for Minorities plan a meeting to discredit Christians? (July 20, 2000)
India's First Dalit Archbishop Holds 'No Grudge' Over Predecessor's Attack | Once "untouchable" Dalits make up bulk of country's Christians. (May 11, 2000)
India's Christians Resist Move to Register Conversions | State's legislation unconstitutional, says leaders. (May 2, 2000)
Build Bridges, but Fight Fanaticism, India's Churches Told | National Council of churches in India will work against strengthening of caste system. (Mar. 9, 2000)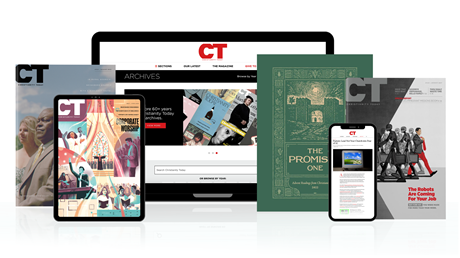 Annual & Monthly subscriptions available.
Print & Digital Issues of CT magazine
Complete access to every article on ChristianityToday.com
Unlimited access to 65+ years of CT's online archives
Member-only special issues
Subscribe
India's Christians Face Continued Threats
India's Christians Face Continued Threats