ChristianityToday: "Not the work of grim, humorless, self-important, easily offended Bible thumpers"
Evangelicals, says Mark I. Pinsky, author of this month's Christianity Todaycover story, want to understand their image. "There has always been interest in seeing themselves as others see them," he tells Chicago Sun-Times columnist Neil Steinberg. "To see how they are viewed by the culture at large, particularly that they are viewed favorably or neutrally. The idea is: 'Here's a view from Hollywood—the Belly of the Beast—and they think we're decent people. How surprising.'" Pinsky was commenting particularly on his article on The Simpsons' television character Ned Flanders. But he could also have been talking about some of the buzz Christianity Today has been getting lately. Notable is Steinberg's column (Weblog readers will remember Steinberg as the subject of a Weblog "How offensive is this article?" contest). After reading Pinsky's article, he writes, "Wow. … This isn't the work of the grim, humorless, self-important, easily offended Bible thumpers who populate the cliche bigotries of my secret heart. This is new, at least to me." Somehow, Steinberg still manages to again bring the whole conversation back to sex, suggesting that evangelicals have only recently discovered that copulation can be fun. That's a little off, but we'll take the compliment.
Our cover story also received notice from Chicago's Fox affiliate, but there's nothing online about the segment to link to. Nor can we link to a New York Newsday piece that noted our Trent Dilfer profile. We can, however, note praise from another source: Contentville.com's "religious and spiritual magazines expert" Winifred Gallagher. "If you want to start your year by reenergizing your tired spiritual regimen, you might consider checking out Christianity Today's January 8 cover story on 'Learning the Ancient Rhythms of Prayer,'" she writes. "That a conservative Christian magazine would feature a story on the 'daily office' is interesting for several reasons. The ritual is most strongly associated with the Catholic church, and historically, evangelicals and fundamentalists have been antagonistic toward Rome. … Furthermore, these straitlaced Protestants are vocal critics of the ubiquitous 'mix-and-match' or 'cafeteria-style' spirituality, in which individuals incorporate elements from more than one tradition into their religious lives. Christianity Today doesn't go as far in that direction as Jewish Buddhists, Zen Catholics, or Episcopalian shamans, but its enthusiasm for the daily office definitely shows a new openness to different forms of Christian spirituality." Such praise may be misplaced (we're still talking about Christian—even Protestant—spirituality here, Ms. Gallagher). But it's nice to be recognized. (Hmmm. Weblog has criticized columns by both Steinberg and Gallagher. Maybe there's a trend there. Look for an upcoming Weblog blasting the front page of The New York Times and the cover of Newsweek.)
Hindus blocking Christians from aiding in Indian earthquake relief, says priest
"Hindu hotheads are trying to dominate the rescue effort," Father Cedric Prakash, director of the Saint Xavier's Social Service Society, tells The Washington Times. "In a situation like this, there should be space for all people to serve. But obviously, there is not." He says he was tossed out of a hospital for trying to help. India's minister for information and broadcasting denies the report. "I do not believe that this is happening. This tragedy is not about religion, it's about humanity," Arun Jaitley tells the paper. "If anyone wants to go in and do relief work, they are welcome. It's not the time or place to talk about these things." Meanwhile, several Christian relief agencies are assisting quake victims, and Indian news agency PTI reports, "The earthquake has proved to be a mighty leveler, both literally and metaphorically, with people donating and receiving blood, cutting across the communal divide between Hindus, Muslims and Christians."
GBY/GBA
"When did they pass the constitutional amendment requiring every president and would-be president to end every speech with the words, 'God bless you and God bless America'?" asks Slate editor Michael Kinsley. The rest of his humorous column is basically a riff on that point. He imagines politicians saying, "Pass the salt, honey. God bless you, and God bless America." He tries to find out where the whole thing started. He notes that no one says "God bless you, and God bless France" (well, of course not). And you can guess how he ends the column.
More stories:
Bush's faith-based initiative:
Other stories of interest:
Related Elsewhere:
See our past Weblog updates:
January 26 | 25 | 24 | 23 | 22
January 19 | 18 | 17 | 16 | 15
December 22 | 21 | 20 | 19 | 18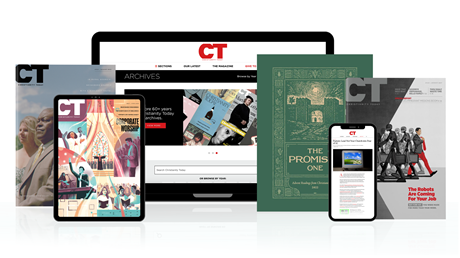 Subscribe to Christianity Today and get access to this article plus 65+ years of archives.
Home delivery of CT magazine
Complete access to articles on ChristianityToday.com
Over 120 years of magazine archives plus full access to all of CT's online archives
Subscribe Now
Christianity Today Isn't Narrow, Self Righteous, and Fun Loathing, Say Columnists
Christianity Today Isn't Narrow, Self Righteous, ...