true

East West
Floodgate / Epic
East West's debut is the perfect blend of hardcore rock with a taste of rapcore elements, along the lines of P.O.D., Korn, and Project 86. This impressive major label debut is destined to bring the band a great deal of success thanks to their polished sound and balance between raw rock intensity and vibrant melodic emotion.
Read the original review here.

Charlie Hall
sixstep / Sparrow
Hall lends his blend of alternative worship straight from the Passion movement to sixstep Records. This sophomore release for the worship label showcases Hall mixing up rock and roll with contemplative meditations. Porch and Altar closes with a breathtaking four-song sequence of peace, cleansing, meditation, and comfort.
Read the original review here.

Shaun Groves
Rocketown
Thankfully there are still a group of singer/songwriters that aren't afraid to wear their hearts on their sleeves and challenge listeners with various themes. Groves is amongst the top new troubadours this year, combining cutting-edge acoustic jams with contemplative coffee-sipping tunes. Songs such as "Damage Done," "Should I Tell Them," and "Welcome Home" are a few poetic highlights from this performer with a promising future.
Read the original review here.

The Elms
Sparrow
Since their debut EP, The Elms have matured tenfold, developing a knack for clever songwriting and a British-inspired rock backbeat. The group abandoned their formulaic acoustic rock sound to incorporate more prominent musical influences, including The Beatles and Radiohead. Songs such as "Hey, Hey" and a new version of "Lifeboat" are undeniably catchy, while the lush orchestration of "Real Men Cry" is timeless.
Read the original review here.

Starflyer 59
Tooth & Nail
The Beach Boys had Pet Sounds for their career masterpiece while Starflyer 59 continues in that tradition with the release of Leave Here a Stranger. The group's mellow acoustic balladry reaches a high level of artistic intricacy and splendor. Consider playing this disc in its entirety to allow the problems of life to float away while the musical magnificence and peace take over.
Read the original review here.

Further Seems Forever
Tooth & Nail
The Moon is Down is without a doubt the year's best release within the emo genre. It sports full guitar-driven arrangements fleshed out with vocalist Chris Carrabba's emotional wails. Although Carrabba left Further Seems Forever to join Dashboard Confessional around the time of disc's release, his remarkable singing style is preserved here with the band's Weezer-meets-The Get Up Kids hybrid.
Read the original review here.

Bebo Norman
Watershed / Essential
Norman shows incredible maturity both musically and lyrically on Big Blue Sky, an album that has enhanced instrumentation and production quality. Norman is able to elevate his acoustic sounds in volume without alienating those who liked his older material's delicate and introspective feel. "I Am" and "Cover Me" are the project's breakaway singles and crowd-pleasers, setting listeners up for the rest of Big Blue Sky's pop sensibilities.
Read the original review here.

Chris Tomlin
sixstep / Sparrow
Straight from the Passion movement, Tomlin releases a touching record of worship set to a mix between acoustic and plugged-in rock and roll. Tomlin is blessed with the ability to lead worship well, and does so with a certain aura of artistic intricateness that hooks and reels listeners into the presence of God.
Read the original review here.

Nicole C. Mullen
Word
Talk About It is a mix between flashy urban dance rhythms, soulful pop, and diva-like ease. Mullen has improved from her debut effort, developing a glossier sound with hearty lyrics that appeal to listeners from any musical or racial background. Mullen gives Whitney Houston and Mariah Carey a run for their money on "Baby Girl" and "Witness," while following up the majesty found on "Redeemer" with the hopeful "Call on Jesus."
Read the original review here.

downhere
Word
This is a rock solid debut rooted in eclecticism and stellar musicianship, guaranteed to be the beginning of an ongoing career for downhere. The band blends a clever hybrid of influences, from the vocals of dc Talk's Kmax to the instrumental sounds of Del Amitri and The Jayhawks. The project is a mix between driving rock songs and stirring ballads that will make the hairs on the back of your neck stand up during every listen.
Read the original review here.

P.O.D.
Atlantic
More than any other band in the Christian music industry, this group has certainly had the most impact on mainstream culture throughout the last few years. They're never ashamed to share their faith, set to the soundtrack of skillfully blended hardcore, reggae, and rap elements. Satellite is packed with hit singles, from the explosive opening sequence of "Set It Off," "Alive," and "Boom" to the stripped-down passion of "Thinking About Forever" and "Youth of the Nation."
Read the original review here.

Steven Curtis Chapman
Sparrow
Steven Curtis Chapman's work seems to get better with time, and this album once again shows the inspirational rocker reinventing his sound just a bit. This is by far Chapman's edgiest album, incorporating big guitar sounds and driving melodies. Of course there are those standard ballads Chapman is also known for, but rather than sounding clichéd or recycled, he shows a certain sense of vigor and life that truly inspire listeners of all ages.
Read the original review here.
Browse All Music Reviews By: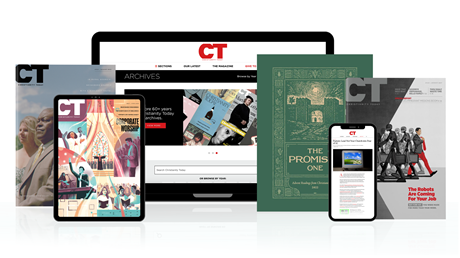 Annual & Monthly subscriptions available.
Print & Digital Issues of CT magazine
Complete access to every article on ChristianityToday.com
Unlimited access to 65+ years of CT's online archives
Member-only special issues
Subscribe
Top 12 Christian Albums of 2001
Top 12 Christian Albums of 2001