NPR looks at how Hollywood is getting religion wrong
National Public Radio's David D'Arcy reports on a spate of recent films with spiritual overtones, including Chocolat, Battlefield Earth, The Legend of Bagger Vance, and The Family Man (apparently spirituality isn't doing too well at the box office—none of these were blockbusters, and several are considered major flops). "Neither the youth audience these new films target nor the filmmakers themselves seem to know much about religious history or practice, or even about Hollywood's epic approach to the Bible," D'Arcy says. "Today's filmmakers are trying to give spirituality to today's icons." Loyola University film historian and Jesuit priest Gene Phillips agrees, saying the message of the films "is therapy rather than faith or spiritual enlightenment." Or, as Phillips says, "the brotherhood of man without the fatherhood of God." D'Arcy also talks to James Twitchell (who's very critical of religion) and Stanley Crouch (who's less concerned with charges of racism in Bagger Vance than he is with gangsta rap). (Listen at 14.4 or 28.8 kbps if you have the RealPlayer.)
More on films:
Left Behind: The Movie
Other Christian films:
Christian music:
Death-metal murder lawsuit:
Television:
Indian politician resigns after calling earthquake God's judgment
The minister of state for civil aviation and infrastructure development in the southern Indian state of Karnataka resigned from his position after a national furor over his comments that the earthquake in Gujarat was divine retribution. "The catastrophe that has befallen Gujarat is God's punishment to the people there for ill-treating Christians and minorities," he said at a televised event organized by the Christian organization Good News Society for Global Peace. "Injustice was done to our people. Churches were destroyed. For this God has punished them." He later issued a statement saying, "I regret this issue. … I am sacrificing my post to ensure that my utterances are not exploited politically or incite people." And he later told The Times of India, "My only intention was to make the people have faith in God."
More on religious freedom abroad:
Religion and politics:
Bush's faith-based initiatives:
Religion in schools:
With discovery of human remains, Madalyn Murray O'Hair's story seems at an end:
Related Elsewhere:
See our past Weblog updates:
January 26 | 25 | 24 | 23 | 22
January 19 | 18 | 17 | 16 | 15
December 22 | 21 | 20 | 19 | 18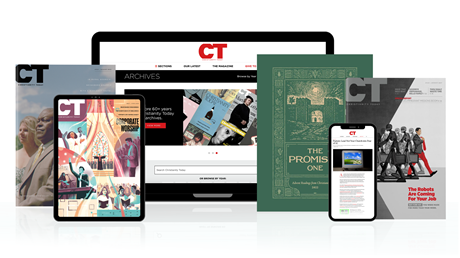 Subscribe to Christianity Today and get access to this article plus 65+ years of archives.
Home delivery of CT magazine
Complete access to articles on ChristianityToday.com
Over 120 years of magazine archives plus full access to all of CT's online archives
Subscribe Now
While Hollywood Flops in its Treatment of Religion, Christian Films Aim High
While Hollywood Flops in its Treatment of ...