"I have been so bad in my lifetime that God could never forgive me—God will never forgive me," the emaciated woman whispers. She lies motionless atop a pile of old blankets on a cold, mud-packed floor, looking off into space as Busi Mdamba, a pastor's wife, encourages her to eat, then leans in close and prays. A lone tear rolls down the woman's face.
As tears fill her own eyes and her usual smile is gone, Mdamba slowly looks away. It's been a rough week in Elukwatini, South Africa. Three people have already died, and this woman most likely will be next.
"People all around us are sick in the prime of their life," Mdamba says. "We cannot sit here and pretend that it is not in the church or [is not] affecting Christians."
Members of the Elukwatini Nhlazatshe Baptist Church weren't used to taking their faith beyond the church walls before Mdamba and her husband, Pastor Sibusiso, arrived a few years ago. The unemployment rate in this town of 30,000 people was high, and people did anything they could to get food, even resorting to theft and prostitution. The township, just kilometers from Swaziland, has the nation's third-highest infection rate. Swaziland, an independent monarchy inside South Africa, also has a very high rate of aids.
The church began a food parcel program. As they distributed food, members found one sick person after another. Most are hidden away by ashamed family members. Members soon saw the great need for ministry, but because of the social stigma surrounding the disease, church leaders decided to care for all of the community's terminally ill, not just aids patients.
Behind Closed Doors
Drawn curtains and a padlocked door don't stop Mdamba from knocking at the simple mud home. She peers into every window and finally sees a man lying on the floor.
"Can you open the door for me?" Mdamba yells. The man shakes his head weakly.
"Okay, I will come back this evening when your son has returned," she says.
"It is like this all of the time," Mdamba says quietly. "No one knows how to handle a sickness like this. AIDS is a very shameful thing to have, so the people are just locked in a back room and forgotten."
In this environment, 12 women from the church's Baptist Women's Association Home-based Care Unit don their trademark red shirts. They have been trained to bathe the sick, administer prescriptions, and evangelize.
"When you show Christ in practical ways through physical and emotional support, people begin to ask questions and wonder why you are different," Sibusiso says.
In sub-Saharan Africa, it is extended families who, according to social tradition, absorb relatives' hardships. But with 12.1 million AIDS orphans in Africa, the extended family is fast becoming overextended. Outside help is welcome.
The women volunteer for as many as 20 hours a week. When their bus-fare allowance runs out, the women walk, sometimes alone and sometimes in pairs, five or six miles just to cook dinner and clean house for one person. When the church's ministry fund runs dry, the women give food from their own meager tables. Other churches in the area have started similar programs.
Thembi Thokozile, a mother of two, has seen the ministry from both sides. After scrubbing a floor, she sits and talks with a woman still strong enough to sit up in a chair. Thokozile tells of Jesus' love and forgiveness. She prays with a reverence and urgency only someone who has personally dealt with the pandemic can muster.
A few months ago, church volunteers came to Thokozile's home while her husband was dying. Not wanting anyone to know what was happening to her family, she was nevertheless drawn to them.
"I watched them come in day after day and show my family love," Thokozile says. "As I learned more and more about Christ, I saw his love through their sweeping floors or playing with my children."
When a woman next door to Thokozile died, the volunteers helped the grieving family buy a pauper's coffin and plan the funeral. The church provided for the five children left behind and found them homes. Thokozile decided to find out why the volunteers gave so much. After one visit to the small church, she asked Jesus to be her Savior. Now Thokozile is sharing the comfort she received.
"When I became a Christian. … I wanted people to see that Jesus' love is here for them, too," Thokozile says. "People are dying every day. They should not die alone behind closed doors. Someone needs to show them love."
Prevention, Education
There are 1,700 new AIDS infections every day in South Africa. Mainly because of the disease, the life expectancy in sub-Saharan Africa is expected to shrink from 59 years in 2005 to 45 in 2010. While life-extending drugs are theoretically available, the best most African countries can hope for now is to prevent new cases by educating people about aids.
Back in Elukwatini, Mdamba and her volunteers try to help those for whom education is too little, too late.
"At first, I used to cry and tell my husband that I was never going back—it was too hard," Mdamba says. "Now I am a veteran, but that does not stop me from asking why on Earth is this happening."
As she speaks, a messenger with a tear-streaked face comes to the door. He whispers something in her ear and then runs to the next house. Mdamba turns to the volunteers gathered in her home and wipes away a tear. Another friend has died.
"Sometimes our efforts seem so worthless, especially when people die without knowing God," Mdamba says. "But when a patient like this [one] dies, we are sad because he is like family, but we are also joyful in his recent decision to follow Jesus Christ."
Related Elsewhere:
The United Nations Population Division has painted a grim picture of the HIV/AIDS epidemic in sub-Saharan Africa—life expectancy will drop by at least 17 years by 2005, according to The Post in Lusaka.
Fifty South African leaders pledge to remove all tariffs and barriers on AIDS programs, but to date none have taken any steps to do so, according to Business Day in Johannesburg.
U.S. drug giant Pfizer could start giving away an anti-fungal drug to HIV-infected patients in Botswana as early as September.
"There are so many funerals, it is chaos," reports U.S. News.
PBS.org's extensive AIDS in Africa special report includes lists of organizations to help, statistics on every country in Africa, and analysis on how this happened.
Time.com also has an extensive, sobering look at the topic.
The General Board of Global Ministries United Methodist Church presents facts and figures, news and views, and a look at children affected by AIDS/HIV in Africa.
For more articles, see Yahoo's full coverage area and allAfrica.com.
Previous Christianity Today articles about AIDS in Africa include:
'Have We Become Too Busy With Death?' | As 4,900 people die each day from AIDS, African Christians are faced with the question. (Feb. 4, 2000)

Few to Receive Generic AIDS Medicines | Pharmaceutical companies drop suit against South Africa, but problems remain. (May 18, 2001)

Zambia's Churches Win Fight Against Anti-AIDS Ads | Church leaders are concerned that condom promotion encourages promiscuity. (Jan. 12, 2001)

Mandela, De Klerk, and Tutu Join to Fight AIDS | South Africa's men of peace call for end of silence and stigmatization. (Dec. 14, 2000)

Speaking with Action Against AIDS | A report from the Thirteenth International AIDS Conference. (July 19, 2000)

'Sexual Revolution' Speeds Spread of HIV Among Africans | An interview with World Relief's Debbie Dortzbach. (Feb. 4, 2000)

Books & Culture Corner: An Open Letter to the U. S. Black Religious, Intellectual, and Political Leadership Regarding AIDS and the Sexual Holocaust in Africa (Jan. 24, 2000)

Africa: Fidelity Urged to Fight AIDS (July 12, 1999)

Global Death Rates May Skyrocket (May 24, 1999)

I Am the Father of an AIDS Orphan (Nov. 17, 1997)
Have something to add about this? See something we missed? Share your feedback here.
Our digital archives are a work in progress. Let us know if corrections need to be made.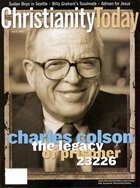 This article is from the July 9 2001 issue.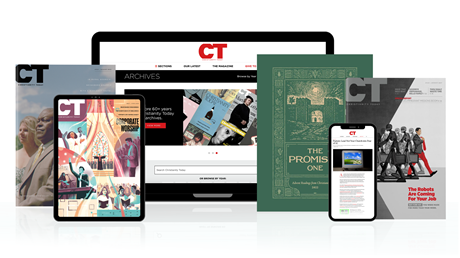 Annual & Monthly subscriptions available.
Print & Digital Issues of CT magazine
Complete access to every article on ChristianityToday.com
Unlimited access to 65+ years of CT's online archives
Member-only special issues
Subscribe
Dying Alone
Dying Alone