Weblog loves a good argument. This week's furor over a leaked Salvation Army memo and a Bush Administration flip-flop on its promise to protect faith-based organizations from local laws that ban discrimination in hiring hasn't produced much good argument. One problem has been the way that reporting has played down the fact that the Salvation Army is a fundamentally a church—not just a social service agency with religious roots. Now comes perhaps the worst argument of the week: Steven Gorelick's op/ed on the Commentary page of Friday's Chicago Tribune. Gorelick, a sociology and media studies teacher at City University of New York, waxes teary-eyed and nostalgic about an ugly leather coat and an orange velour love seat he once owned and then donated to the Salvation Army. But then he lashes out and labels the Army's desire (common to almost all churches) to hire only those people in sympathy with its beliefs and values a "call to hate."
Such hiring practices are common to nearly all church and parachurch groups (including Christianity Today) because they are necessary to the preservation of the group's identity and mission. But Gorelick hasn't stopped to think about this. He compares the Army's strategy to the Shaker "prohibition on procreation," saying, "You might be able to build beautiful furniture for more than 100 years, but eventually you will come up against an insurmountable shortage of staff." Is that what the Shakers are about—furniture building? No more than the Salvation Army is merely about social services.
Gorelick asks what would lead "an organization that has built a solid, 150-year reputation for helping anyone in need to tarnish itself beyond recognition with a single mean-spirited end-run around local anti-discrimination laws."
The answer, of course, is that (a) this is not a call to hate (Is there any organization more devoted to serving the social outcast?) and (b) that the Army's fundamental character is as a community of faith, and that faith precludes the approbation of destructive behaviors (even while lovingly serving those trapped by those behaviors).
Gorelick and many others would do well to study just what the Salvation Army believes. CT recommends Salvation Story, an easy-to-read summary of Army doctrine that puts it in the context of the Christian church (in general) and the Wesleyan Holiness movement in particular.
Other publications use the flap to attack Bush's faith-based initiative in general. "When an all-American charity splatters its political innards all over the valley, it cannot be ignored how the initiative of President Bush is a government subsidy for faith-based bigotry," says a Boston Globe editorial. The Seattle Post-Intelligencer isn't so hateful, but makes the same point: "This controversy illustrates why Bush's 'faith-based' policy is fraught with risks both to individual freedoms and to a faith-based organization's autonomy." The Miami Herald agrees. "Mr. Bush rightly decries discrimination against religious groups as wrong. But the administration-backed regulation would have had the opposite effect of injecting religious views into secular activities." (The Salvation Army would certainly disagree with calling its mission to help the poor and needy a secular activity.)
Meanwhile, The Washington Post continues to drive the story into the ground. Friday's edition detailed the Office of Management and Budget's role, only briefly noting an important new provision in the charitable choice legislation that would allow the government to disburse federal funds in vouchers as well as direct grants. (Regular readers of Weblog will remember questions about why the legislation hadn't added such plans for vouchers even though the White House had pushed for such a measure.) Sunday's edition noted that Bush himself had met with Salvation Army officials but didn't discuss the regulation. Saturday's edition included both an editorial ("The Salvation Army is an institution that performs good works, and it is entitled to its views of homosexuality and any other subject under the sun. But it is not entitled to have those views made public policy.") and a decent article by religion reporter Hanna Rosin explaining who the Salvation Army is and what they believe. And it corrects a lot of the problems in the Post's earlier reports. "The Salvation Army does hire gay people," Rosin reports, "although not for its 5,000 ministerial jobs. Mainly, what the Army objects to in the state laws are not the hiring requirements, but the granting of domestic partnership benefits 'whether for homosexual or unmarried heterosexual couples.'"
Related Elsewhere
See our past Weblog updates:
July 13 | 12 | 11 | 10 | 9
July 6 | 5 | 3 | 2
June 29 | 28 | 27 | 26 | 25
June 22 | 20 | 19 | 18
June 15 | 14 | 13 | 12 | 11
June 8 | 7 | 6 | 5 | 4
June 1 | May 31 | 30
May 18 | 17 | 16 | 15 | 14
May 11 | 10 | 9 | 8 | 7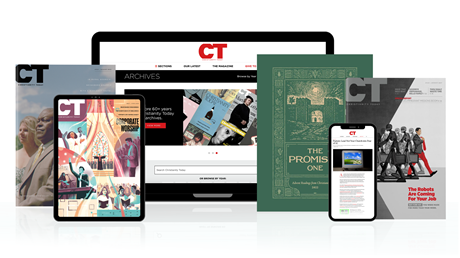 Subscribe to Christianity Today and get access to this article plus 65+ years of archives.
Home delivery of CT magazine
Complete access to articles on ChristianityToday.com
Over 120 years of magazine archives plus full access to all of CT's online archives
Subscribe Now
Salvation Army's 'Call to Hate'?
Salvation Army's 'Call to Hate'?