The Dark Tower is brought into the light … again
If you can't find anything new to report, report the history. That was apparently the decision of The Chronicle of Higher Education when, faced with a lack of information to sort out the controversy about new Narnia books and the reported "secularizing" of C. S. Lewis' legacy, it reported on the history of the controversy. Longtime CT readers and Lewis aficionados will be wearily familiar with the story, but if you're reading Weblog's quazillionth entry on the battle for Lewis's legacy, you're obviously a glutton for this kind of thing. The supposed news hook for "Holy War in the Shadowlands" is the publication of Kathryn Lindskoog's Sleuthing C.S. Lewis: More Light in the Shadowlands, due from Mercer University Press next month. But despite a few new details, the essence is the same: Lindskoog says that Walter Hooper and others associated with the C.S. Lewis estate have conspired to commit a fraud on Lewis fans. Hooper, she says, "circulated misleading stories about the duration and extent of his contact with the author, that he acquired unpublished manuscripts through suspicious means, and that his editions of certain Lewis writings had taken liberties with the original text." Most troubling for evangelicals, the Chronicle reports, "Lindskoog … contends that Mr. Hooper has abused his position to plant homoerotic insinuations in editions of Lewis's work." There are some legitimate questions here, noted by the Chronicle, such as "What are the criteria for including a work in the body of an author's writings? What's the status of a manuscript that a writer might want destroyed? And, most passion-inducing of all: Who is entitled to speak on behalf of an author, to defend the spirit, as well as the letter, of the work?" But this story has been told over and over again. Lindskoog and Hooper are both firmly entrenched where they are; they will continue to make the same claims over and over again. This story will likely be written again, but for now it's a good summary of the original battle for Lewis's legacy. We're still waiting for the fallout of the current clash. (If you're really a glutton, Lindskoog has posted a response to the Chronicle article on the MereLewis list.)
A birth announcement
Weblog has never done a birth announcement before, but readers may be particularly interested in this one. About a year ago, Christianity Today published an article by Nancy Guthrie titled, "Praying for Hope." It told the story of how she and her husband David struggled with their daughter's genetic illness, called Zellweger syndrome, and how they learned to pray for a child who was going to die. Baby Hope died 199 days after she was born. Those who read that article (which appeared in our July 10, 2000 issue) may have also seen last week's Time magazine piece, "When God Hides His Face." It also told the story of the Guthries, but there was a new development: beyond truly astronomical odds, Nancy was pregnant again—and the baby also was diagnosed with Zellweger syndrome. It's really a beautiful story, and Time's David Van Biema really gets the story just right. "Here is the classic evangelical understanding: suffering is not an injustice, nor a punishment," he concludes. "Rather it is a harrowing invitation to a higher dialogue." Gabriel Johnson Guthrie was born yesterday at 11:57 a.m, 6lbs., 13oz., and 18 3/4 inches long. "We chose his name because we believe that he, like the angel Gabriel, is sent from God, and protected by God," David wrote in an e-mail to friends. "We will not be surprised if he has heavenly messages for us to hear, if we will listen. And significantly, whenever Gabriel appeared in the Bible, he reassured his stunned audience: 'don't be afraid!'"
Related Elsewhere
See our past Weblog updates:
July 16

July 13 | 12 | 11 | 10 | 9

July 6 | 5 | 3 | 2

June 29 | 28 | 27 | 26 | 25

June 22 | 20 | 19 | 18

June 15 | 14 | 13 | 12 | 11

June 8 | 7 | 6 | 5 | 4

June 1 | May 31 | 30

May 18 | 17 | 16 | 15 | 14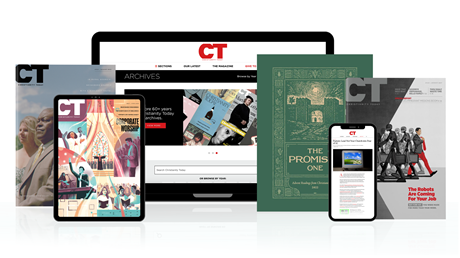 Subscribe to Christianity Today and get access to this article plus 65+ years of archives.
Home delivery of CT magazine
Complete access to articles on ChristianityToday.com
Over 120 years of magazine archives plus full access to all of CT's online archives
Subscribe Now
The War for C.S. Lewis: The Prequel
The War for C.S. Lewis: The Prequel