Dartmouth Christian group "intolerant" for barring Mormon student leaders
It's almost amazing to link to a religion-on-campus controversy not involving homosexuality. Weblog regulars may remember the controversy at Tufts University last fall, when Tufts Christian Fellowship was chastised for denying a lesbian student a leadership position. Now Dartmouth's Summer Christian Fellowship is facing similar charges of discrimination for barring a Mormon student from club leadership. The club, which is sponsored by the school's Asian Christian Fellowship, Campus Crusade for Christ, the Fellowship of Christian Athletes, Navigators, and a nondenominational Christian group called Provision, receives no college funding. Nevertheless, it is officially recognized by the school, and the college's official spiritual life department has launched an official investigation. "Believing that Jesus is our savior who saved us by grace and believing in the Holy Trinity, by prescribing to those beliefs and holding onto that is not intolerant because that is truth," Kari Limmer, one of the club's leaders, told The Dartmouth. "But I can understand … that it was perceived as intolerance, and I think it wasn't handled well by all of us."
Smashing iconoclasm
"Thou shalt not make unto thee any graven image, or any likeness of any thing that is in heaven above, or that is in the earth beneath, or that is in the water under the earth." That commandment has caused an awful lot of trouble over the centuries. Around 726, Byzantine Emperor Leo III started ordering his soldiers to smash icons of Christ. This caused bloody riots and protests, but didn't end the controversy. The Seventh Ecumenical Council tried to settle the issue, but debate continued. Protestants were particularly against images in church. "Not a statue has been left, in the churches … or in the monasteries; all the frescoes have been whitewashed over," wrote Erasmus of the Protestant purging. "Neither value nor artistry prevailed to save anything." Perhaps the tide is turning. At the request of Salvadoran immigrant members of the church, Immanuel Presbyterian Church in Los Angeles is housing a lifesize statue of the Divine Savior of the World. (The original statue, which depicts Jesus on top of a globe, stands in San Salvador's Plaza of the Americas and is El Salvador's national symbol.) "We are receiving the symbol not as an image of the Roman Catholic faith but in solidarity with the Salvadoran people and all immigrants of the world," pastor Frank Alton tells the Los Angeles Times. Most Protestants can embrace that, Weblog believes, but they'll still be disturbed by the response of one Salvadoran congregant, 10-year-old Byron Alerrera. "This figure makes God real," he said. "We can't see him, but we want to see him: what he looks like, what he does." Yeah, that's pretty much what the iconoclasts were afraid of.
Life ethics:
Family:
Crime:
Church and state:
Politics:
Persecution:
Church life:
Denominations:
Eastern Orthodox:
Catholicism:
Deadly bus crash:
Missions & ministry:
Money and business:
Theology:
Bible:
Other stories of interest:
Related Elsewhere
See our past Weblog updates:
July 17 | 16

July 13 | 12 | 11 | 10 | 9

July 6 | 5 | 3 | 2

June 29 | 28 | 27 | 26 | 25

June 22 | 20 | 19 | 18

June 15 | 14 | 13 | 12 | 11

June 8 | 7 | 6 | 5 | 4

June 1 | May 31 | 30

May 18 | 17 | 16 | 15 | 14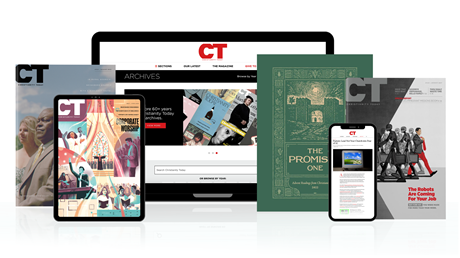 Subscribe to Christianity Today and get access to this article plus 65+ years of archives.
Home delivery of CT magazine
Complete access to articles on ChristianityToday.com
Over 120 years of magazine archives plus full access to all of CT's online archives
Subscribe Now
Must Christianity Include Mormonism?
Must Christianity Include Mormonism?