Church leaders have criticized a controversial suggestion by Kenya President Daniel arap Moi to hang those who "knowingly or deliberately" infect others with the HIV virus.
The president made his remark to reporters on arrival in Nairobi from the United Nations HIV/AIDS summit in New York last month. His statement came after Kenya's attorney general indicated that a bill soon to be brought before the parliament would include harsh treatment for those who deliberately infected others with HIV.
Anglican Archbishop David Gitari said it was imperative that the matter be debated thoroughly before any bill was brought before lawmakers. "The president has initiated an important debate," he said. "This matter requires wide discussion and debate because it would be difficult to know those who have spread HIV deliberately."
"God did not pronounce capital punishment on Cain after he killed his brother Abel," Gitari said, noting that most other countries had abolished capital punishment. Capital punishment exists in Kenya for murder and armed robbery.
The archbishop also took issue with an assertion by Moi that the churches had not done enough about the pandemic disease. He said as early as 1990 the churches had established a program to sensitize people about AIDS. However, the churches did not have sufficient resources to tackle the challenges of the disease. AIDS is currently claiming the lives of about 500 Kenyans every day.
Catholic Bishop John Njue, the chairman of the Episcopal Conference said, "Hanging is capital punishment which the church opposed because life is God given and no authority has the right to take it."
Clergy have previously accused Moi's government of failing to enact laws against what they called outmoded practices that helped to spread Aids, such as wife inheritance.
Some women and gender advocacy groups have rallied to the support of the Kenyan leader's proposal for severe sentences, calling rapists and those who maliciously spread the HIV virus "murderers."
The Federation of Women Lawyers of Kenya supported the president and asked the attorney general to incorporate Moi's proposal into the Criminal Law Amendment Bill 2000.
A member of Women Fighting AIDS in Kenya told the BBC's African Service that instead of sentencing such offenders to death, "they should be allowed to die slowly so that they could themselves experience the pain of full blown AIDS."
According to July 11 newspaper reports, Moi has asked Kenyans to abstain from sex for two years in an attempt to stem the spread of the disease. In another anti-AIDS measure, Kenyan officials have publicized a plan to import millions of condoms, reports said.
Related Elsewhere
Kenya's Sunday Nation reported Moi's reasoning for the punishment: "Because young girls cannot protect themselves from such criminals." The BBC covered the debate that followed.
Moi also accused the Christian Church of failing to educate on HIV/AIDS, according to Integrated Regional Information Networks (IRIN).
Kenya fights AIDS with affordable medicines and 300 million condoms. On top of contraceptives, Moi suggested Kenyans just quit having sex for two years. The Globe and Maildoesn't think that will work.
The United Nations Population Division has painted a grim picture of the HIV/AIDS epidemic in sub-Saharan Africa—Kenya is one of eight countries where life expectancy will drop by at least 17 years by 2005, according to The Post in Lusaka.
"There are so many funerals, it is chaos," reports U.S. News.
PBS.org's extensive AIDS in Africa special report includes lists of organizations to help, statistics on every country in Africa, and analysis on how this happened.
Time.com also has an extensive, sobering look at the topic.
The General Board of Global Ministries United Methodist Church presents facts and figures, news and views, and a look at children affected by AIDS/HIV in Africa.
For more articles, see Yahoo's full coverage area and allAfrica.com.
Previous Christianity Today articles about AIDS in Africa include:
Few to Receive Generic AIDS Medicines | Pharmaceutical companies drop suit against South Africa, but problems remain. (May 18, 2001)

Zambia's Churches Win Fight Against Anti-AIDS Ads | Church leaders are concerned that condom promotion encourages promiscuity. (Jan. 12, 2001)

Mandela, De Klerk, and Tutu Join to Fight AIDS | South Africa's men of peace call for end of silence and stigmatization. (Dec. 14, 2000)

Speaking with Action Against AIDS | A report from the Thirteenth International AIDS Conference. (July 19, 2000)

'Have We Become Too Busy With Death?' | As 4,900 people die each day from AIDS, African Christians are faced with the question. (Feb. 4, 2000)

'Sexual Revolution' Speeds Spread of HIV Among Africans | An interview with World Relief's Debbie Dortzbach. (Feb. 4, 2000)

Books & Culture Corner: An Open Letter to the U. S. Black Religious, Intellectual, and Political Leadership Regarding AIDS and the Sexual Holocaust in Africa (Jan. 24, 2000)

Africa: Fidelity Urged to Fight AIDS (July 12, 1999)

Global Death Rates May Skyrocket (May 24, 1999)

I Am the Father of an AIDS Orphan (Nov. 17, 1997)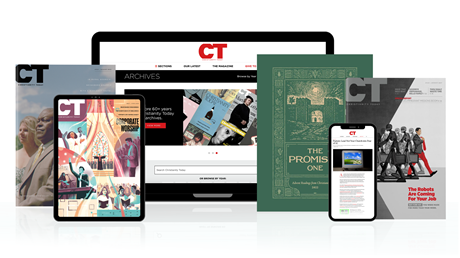 Subscribe to Christianity Today and get access to this article plus 65+ years of archives.
Home delivery of CT magazine
Complete access to articles on ChristianityToday.com
Over 120 years of magazine archives plus full access to all of CT's online archives
Subscribe Now
Kenyan President Suggests Hanging for 'Knowingly' Infecting Others with AIDS
Kenyan President Suggests Hanging for 'Knowingly' ...