Typical church-front signs offer greetings, list service times, and maybe suggest a vaguely inspirational thought. (My recent favorite, at the local Methodist church: "Be the best whatever you are.") But St. Paul's Cathedral in London hopes to lure passers-by with a bolder slogan: "Discover St. Paul's—a spectacular family adventure."
Now, I've been to St. Paul's, and I wouldn't exactly call it a spectacular adventure. I doubt that even the new live-action dramatizations of cathedral artwork and "adventure trails" for children can earn the church exalted marks on the thrill-o-meter, though taking tea in the Crypt Café could raise a few goosebumps. The history of the cathedral, on the other hand, has been a pretty wild ride.
The Christian presence in London dates back at least to 314, when Restitutus became the city's first bishop. The location of his cathedral is unknown, but wherever it was, it probably wasn't very impressive. Christianity didn't start picking up speed in Britain until later that century, and Roman cultic temples from the period tended to be small and simple.
London's first known cathedral dedicated to St. Paul was built in 604. Mostly wooden, the structure burned down in 675. Its replacement—finished 10 years later—was destroyed by Vikings in 962. The next cathedral lasted until a fire in 1087. Cathedral number four was consecrated in 1300, though work continued until 1314. Construction lasted more than 200 years—a little longer than most congregations today would put up with a building campaign.
The seventeenth century was tough on the old cathedral. During the period of Puritan control that followed the execution of Charles I in 1649, St. Paul's (and much else that smacked of papism or high-church formality) took a beating. Horses bedded down in the chancel, and shopkeepers plied their wares in the nave. A road ran through the transept.
Restoration of the state church accompanied the restoration of the monarchy in 1660. King Charles II kicked the moneychangers out of St. Paul's, began repairs, and enlisted architect Christopher Wren to plan for massive reconstruction. But just after Wren's plan met approval, in 1666, London's Great Fire ravaged the stone-walled but wooden-roofed building. The whole thing had to be torn down, mostly with battering rams, because primitive explosives proved too dangerous to workers and bothersome to neighbors. This project qualified as a spectacle. Writer Samuel Pepys observed, "It is strange to see with what speed the people imployed do pull down Paul's steeple—and with what ease."
Though much was lost when St. Paul's came crashing down, some of the church's history was rediscovered. As excavations progressed, Wren noted, "We discovered Quantities of Urns, broken Vessels and Potteryware. … Graves of several Ages and Fashions in Strata, or Layers of Earth, one above another … manifestly shew'd a great Antiquity from the British and Roman Times." I'm not sure what Wren did with the artifacts he unearthed, but unfortunately, even if he had saved them, they'd likely be gone now. A heist in 1810 cleaned out the cathedral's treasury.
The Blitz in World War II posed the last serious threat to the cathedral. St. Paul's didn't survive entirely unscathed, but it avoided major damage, and pictures of its dome rising from the surrounding smoke and rubble symbolized the country's resistance. Wren would have been proud of his creation's heroic stand. "Architecture," he believed, "aims at eternity."
Related Elsewhere
Learn more about St. Paul's at its excellent Web site.
The Daily Telegraph recently reported that St. Paul's Cathedral is repackaging itself as a place of "spectacular adventure" to try to boost flagging visitor figures.
More Christian history, including a list of events that occurred this week in the church's past, is available at ChristianHistory.net. Subscriptions to the quarterly print magazine are also available.
Christian History Corner appears every Friday at ChristianityToday.com. Previous editions include:
Deep and Wide| A dive into Reformation imagery yields striking new insights, while a drive-by church history overview largely disappoints. (July 27, 2001)

Shelling the Salvation Army | If William Booth's church could handle sticks and stones in the 1880s, it should withstand the recent barrage of hateful words. (July 20, 2001)

Historical Hogwash | Two books—one new, one newly reissued—debunk false claims about the "real" Jesus. (July 13, 2001)

Ghosts of the Temple | Soon after Jerusalem fell, the Roman Colosseum went up. Coincidence? (July 6, 2001)

Endangered History | The National Trust's list of imperiled places gives unnoticed gems a chance to shine. (June 29, 2001)

The Communion Test | How a "Humble Inquiry" into the nature of the church cost Jonathan Edwards his job. (June 22, 2001)

Visiting the Other Side | The Israelites spent time on both sides of the Jordan. Now tourists can, too. (June 8, 2001)

Beyond Pearl Harbor | How God caught up with the man who led Japan's surprise attack. (June 1, 2001)

Rivers of Life | In Africa, survival depends on open waterways. Missionary explorer David Livingstone believed that salvation did, too. (May 25, 2001)

Intro to the Inklings | C.S. Lewis's intellect was stimulated at one of the most fascinating extracurricular clubs ever. (May 18, 2001)

How Not to Read Dante | You probably missed the point of The Divine Comedy in high school. (May 11, 2001)

If My People Will Pray | The U.S. National Day of Prayer Turns 50, but its origins are much older. (May 4, 2001)

Mutiny and Redemption | The rarely told story of new life after the destruction of the H.M.S. Bounty. (Apr. 27, 2001)
Article continues below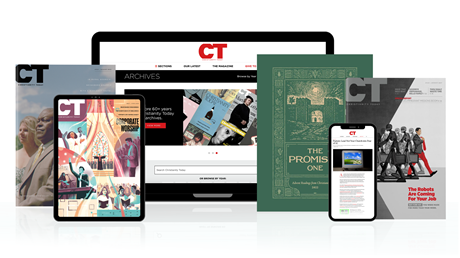 Annual & Monthly subscriptions available.
Print & Digital Issues of CT magazine
Complete access to every article on ChristianityToday.com
Unlimited access to 65+ years of CT's online archives
Member-only special issues
Subscribe
"Thrills, Chills, Architecture?"
"Thrills, Chills, Architecture?"