true
Following our February 15, 1985, article on the mainstream ministry of heavy metal group Stryper, Christianity Today received several letters with strong opinions on the use of "sheep in wolves clothing" and what many readers considered the emulation of mammon to minister God's Word. The letters reprinted in two following issues are a good example of the controversy Stryper found in the Christian church.
Christians and "heavy metal" (letters printed in the April 5, 1985 Christianity Today issue)
Is not the mixing of Christian and heavy metal a contradiction in contrasting ideologies? It seems Christian warriors are now being armed with leather and chains. If we were to evangelize prostitutes, would we be expected to dress like them also?
PHILLIP E. RIZZO
Langhorne.Pa.
Must we act like the stereotyped world in order to win them over to Christianity? Is Jesus Christ reflected in chains, studs, leather, long hair, and skin-tight pants? Is this supposed to make the gospel more appealing and easier to swallow? Apparently music takes priority over theology in the world view of Stryper.
DAVID S.SCHOENFELD
Douglaston, N.Y.
I commend CT for its insightful article on Stryper. I have witnessed firsthand the band's frankness and sincerity in presenting the truth of Jesus Christ. Author Rabey erred in identifying Michael Sweet. Brother Robert is Stryper's drummer and spokesman; Michael is lead singer and a guitarist (Note: The changes have been made in the article posted online).
JAMES AYLARD
Martinez, Calif.
You cannot serve God by emulating mammon! As a Christian and ex-rock musician, I must attest to the fact that "Christian rock" or heavy metal is not an acceptable expression, nor is it an honest means of witnessing to the self-possessed world. Lyrics aside, the anapestic beat and painful volume of rock music drown out the gospel.
DANIEL LARSON
Trego, Wis.
Sheep in wolves' clothing (letters printed in the April 19, 1985 Christianity Today issue)
The Bible is clear concerning how believers are to deal with wolves in sheep's clothing, but how are we to deal with sheep in wolves' clothing? Heavy metal rocker Michael Sweet made a comment which creates irreconcilable tension for the Christian mind: "We're here to show people you can look this way … and you can let Jesus be the Lord of your life." Sweet exposes his own error when he claims that "the problem with other religious rockers is that their theology is stronger than their music."
KELLY KREPS
Stanfordville, N.Y.
James Hitchcock notes in What Is Secular Humanism that rock music assaults people at a deeper, unconscious level. Stryper's heavy metal music (not lyrics) has the same effect on the unconscious level of young people. There are right and wrong ways to present the gospel of Jesus Christ; rock music is perverting "the right ways of the Lord."
DAVID A. NOEBEL
American Christian College Tulsa, Okla.
As a young person I can understand the desire to want to be associated with the world. But this is contrary to the teachings of the Bible. The Christian world as a whole has forgotten what it is to please God. They just please themselves, then add Jesus in where he fits.
JEANETTE R. HUGHES
Miami, Okla.
Our missionaries bringing the gospel to the world do not dress as witch doctors to convert the natives. The rock trend in the church today is a "Trojan horse," made of iron and clay, held together with neologism. This maverick horse is full of compromise and appeasement to the world, the flesh, and the Devil.
W. R. DUNK
Bellingham, Wash.
Please cancel my subscription. An article about a Christian heavy metal band is the same as writing about a "Christian" physician who performs abortions and says he makes an impact on the murderers of America who also perform abortions.
WILLIAM T. PRATT
Oconomowoc, Wis.
Related Elsewhere
Also appearing on the Christianity Today Web site today is the 1985 article that readers wrote in about. It accompanies a current article today on Stryper's first full set since 1991.
Stryper's Official Web Site has articles, biographies and the band's full history.
CDNOW ran a story on Stryper's reunion show at the 2001 Stryper Expo.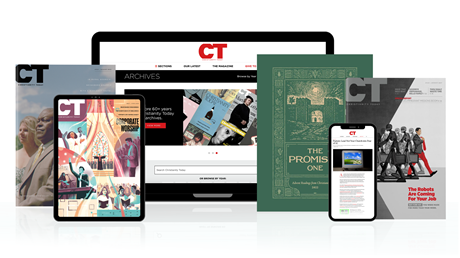 Subscribe to Christianity Today and get access to this article plus 65+ years of archives.
Home delivery of CT magazine
Complete access to articles on ChristianityToday.com
Over 120 years of magazine archives plus full access to all of CT's online archives
Subscribe Now
'You Cannot Serve God by Emulating Mammon!'
'You Cannot Serve God by Emulating Mammon!'