In 1993, Tyndale Seminary professor James A. Beverley traveled from Toronto to Chicago to attend the Parliament of the World's Religions. It was natural for him, as a scholar of world and new religions, to attend this spiritual swap meet. That gathering marked the centenary of a watershed event at which Eastern religions first captured the Western imagination and Swami Vivekenanda went from being, in the words of one unsigned Web article, "a sort of holy vagrant. … to an esteemed holy man who established. … Vedanta centers in a number of American cities."
In 1893, the Parliament's star personality was an apostle of Hinduism; in 1993, the Parliament's most mediagenic figure was a Buddhist who oozed charm and charisma: the Dalai Lama, the leader of Tibetan Buddhists, and spiritual leader for many Western seekers.
In a recent telephone conversation, Jim recalled noticing the Dalai Lama's "incredible drawing power" and his "magnetic personality." "The press conference was an amazing thing to behold," Jim told me, "because he held the media spellbound."
Jim was hooked as an observer and followed the Dalai Lama to New York in 1999. There, in Central Park, he heard the Dalai Lama address 40,000 of the curious and the devoted. "I was fascinated by the way his American teaching was diverse," Jim says, noting that there were technical lectures for devotees, while the public lectures toned down the specific Buddhist content.
"He was basically conveying ethics and his belief in fundamental human goodness," Jim says. "He recognized that explicit religious teaching wouldn't have as much appeal, and his listeners were not ready for it. In the Tibetan Buddhist world, the Dalai Lama speaks with much more focus because he speaks to his own followers."
Indeed, Buddhism and Hinduism have been watered down in the West as elements of those traditions have been folded into New Age teaching. But where these religions have political power or cultural dominance, they can be more militant.
Thanks to special funding from Christianity Today International's Excellence Fund, Jim was able to follow his interest in the Dalai Lama all the way to Dharamsala in India. At 6,000 feet higher than his hometown of Toronto and 11 time zones away, Jim found that he overextended himself at first and felt sick for one day. But he soon acclimated. "Buddhism's Guru," a summary of his interview with the Dalai Lama and his personal observations of what he saw in India, appears today on our site.
Since he returned to Toronto, Jim has often been asked if the Dalai Lama has any aura, whether he sensed anything supernatural in the religious leader's presence. "He is a dynamic person," Jim says, "who has a great sense of humor and a strong will. But I had sensed no magical feeling in his presence."
Jim is impressed with India's being "such a rich site for the holy places of major religions." It was an 18-day dream trip for a student of world religions: En route to visiting the Dalai Lama, Jim was able to visit the Golden Temple of the Sikh faith in Amritsar and take a side trip out of New Delhi to Varanasi, the most sacred Hindu city on the Ganges. In one trip he was able to see the heart of Tibetan Buddhism and Sikhism and traditional Hinduism.
There is something admirably Canadian about Jim's closing observation: "Exploring the influence of the Dalai Lama in the world, and in the U.S. in particular, is a perfect example of the need for Christians to learn to understand the worldviews of other faiths and also to learn how to live their Christian faith in loving and powerful witness in the midst of religious and cultural pluralism."
David Neff is Editor of Christianity Today.
Related Elsewhere
Articles appearing in Beverley's Buddhism series include:
Buddhism's Guru | The Dalai Lama, a spiritual hero to millions, works to liberate Tibet, calls on spirits, and believes Jesus lived previous lives. (June 8, 2001)

Basic Buddhism | What the Dalai Lama and his followers believe about God, Buddha, and other teachings. (June 8, 2001)

Weighed Down by Karmic Debt | Aspects of Tibetan spirituality should give Christians pause. (June 8, 2001)

Blood and Tears in Tibet | The Dalai Lama says he appreciates Christian attempts to address persecution in his homeland (June 8, 2001)
James A. Beverley's other articles for Christianity Today include:
Scholars Dispute Fatima Prophecy | Many question whether attempted assassination of Pope fulfilled prophecy. (Aug. 11, 2000)

The Mormon-Evangelical Divide | Beliefs that set Mormons apart, and evangelicals' response. (Feb. 9, 2000)

Smorgasbord Spirituality | Evangelicals make a thin showing as the world's religions gather to make common cause. (Dec. 14, 1999)

Son's Death Shakes Up Unification Church | Sun Myung Moon calls death 'providential' accident, not suicide. (Dec. 15, 1999)

Dental Miracle Reports Draw Criticism (May 24, 1999)

Moon Struck | Church founder's ex-daughter-in-law pens grim tome about life on the inside. (Nov. 16, 1998)
Have something to add about this? See something we missed? Share your feedback here.
Our digital archives are a work in progress. Let us know if corrections need to be made.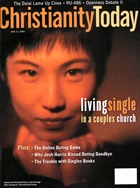 This article is from the June 11 2001 issue.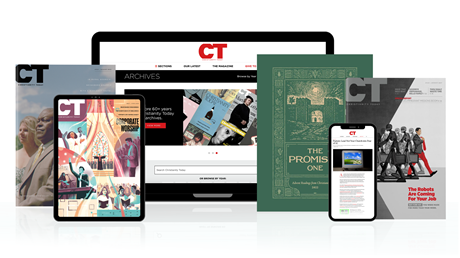 Subscribe to Christianity Today and get access to this article plus 65+ years of archives.
Home delivery of CT magazine
Complete access to articles on ChristianityToday.com
Over 120 years of magazine archives plus full access to all of CT's online archives
Subscribe Now
Straight Outta Dharamsala
Straight Outta Dharamsala