Megachurches getting so mega they're building moons
Between 2 million and 5 million Americans attend a "megachurch" each week, according to ABCNews.com. And that number is expected to increase. "They're still growing very quickly, and there's a lot of them that are springing up," says Brad Smith of the Large Church Network tells the news organization. There's the regular overview of today's seriously huge church: the climbing walls, the coffee shops, the movie theaters, the roller rinks, the auto repair clinics, the poetry workshops, the fancy music … And the worship part gets attention, too. "Experts … insist that most do a good job of putting faith before entertainment," ABCNews' Oliver Libaw reports. "Others are not so sure." The main critique is not over theology, but over attendance. Columbia University's Randall Balmer likens such congregations to a giant chain store (or did he actually use the word Wal-Mart?) "that comes into a town and puts all the little stores out of business."
Meanwhile, the congregation most associated with the term megachurch, Willow Creek Community Church, is getting so big it's planning on spawning satellites. For years, there have been churches both in Willow Creek's back yardand around the world that have associated themselves with Willow Creek either officially or unofficially. But this is no association, and it ain't no traditional church plant—this is a satellite church in almost every sense of the word (okay, so it's not actually orbiting in space, but I said almost every sense). "In a dozen sites across the Chicago area," reports the Chicago Tribune, "Willow Creek hopes to build, rent or remodel auditorium spaces where a pastor, musicians and a congregation can gather for a mix of in-house worship and preaching beamed in via fiber-optic lines."
There's already a precedent. Heartland Community Churchin nearby Rockford, a Willow Creek Association church with 1,400 members, uses videotapes for its sermons. Lead pastor Doug Thiesen explains that his gift is music, not preaching. "I don't know that we have a sense in the congregation that we are missing anything," he tells the Tribune. "When the word of God is taught, there's truth there. The only thing we're changing is the vehicle of how it's being presented."
David Staal, Willow Creek's director of communications, says that even the church's massive expansions—including building a new 7,000-seat auditorium—won't bring in visitors from more than a half-hour from the church. "The purpose of the regional centers is to reach more people in the Chicagoland region who are unchurched," he says. "We want to bring church closer to where they are."
It's sure to be controversial. In fact, it already is. Calvin College's Quentin Schultzeis already suggesting that the satellites "will lack the kind of authenticity of presentation of the gospel that you can have only with a [in-house] pastor," and raises questions of accountability. Larry Eskridge of the Institute for the Study of American Evangelicals is more pensive. A video experience "might be the initial thing to get them in there, but this whole idea will stand and fall on the local support they can build at the individual churches."
If this isn't enough on megachurches for you, check out Christianity Today's extensive earlier coverageof Willow Creek.
20/20 Downtownexamines Religious Obsessive-Compulsive Disorder
"I'm so frightened of hell I cannot enjoy my life right now," Maria Urban tells ABC's 20/20 Downtown. "The thought of going to hell unfortunately doesn't leave my mind." So she often calls every church in her hometown of Danbury, Connecticut, to get priests' assurance that she's still on the straight and narrow. "Religious OCD, also called Scrupulosity, … affects up to 10 percent of all OCD patients," the news program reports. "[But] because a commitment to religious rituals can seem normal, many who suffer from this type of OCD do not get proper treatment." Fortunately, the piece—at least the print version, Weblog hasn't seen the video segment—doesn't go overboard with blaming Christian theology or suggesting that great heroes of the faith suffered from Scrupulosity. It pretty much leaves it as "this thing exists."
Lamenting the loss of Wehmeyer
Now that Weblog has noted two ABCNews religion stories, we remind readers that the network has dropped Peggy Wehmeyer, its only full-time religion correspondent—who was also network television's full-time religion correspondent. "The loss of one religion reporter would be a small story if other influential news-media outlets were doing a good job of covering religion," says the Freedom Forum's Charles Haynes, whose columns are regularly appearing in media outlets nationwide. "But with few exceptions, that isn't the case." Haynes notes a Center for Media and Public Affairs study that found "national media coverage of religion doubled during the 1990s, but most religious news deals with political issues rather than matters of faith or spirituality." More isn't necessarily better. And while for a time it looked like things were getting better, Haynes writes, "cutting funding for the only full-time network religion reporter sends the message that religion coverage is unimportant and expendable. This is the wrong message. If Americans are to have some grasp of the impact of religion on society, and if we are to be adequately informed about a variety of ways—religious and nonreligious—of understanding public policy, then the news media must take religion seriously.
Meanwhile, ABC isn't the only media outlet taking heat for losing its religion. The Daily Telegraphof London reports that the BBC still hasn't found a new head of religious broadcasts. "The failure, disclosed in an internal memorandum obtained by The Telegraph, will embarrass the corporation, which has gone to great lengths to emphasize the significance it attaches to the appointment," Jonathan Petre and Hazel Southam report. "BBC executives have been anxious to find a heavyweight who will command the respect of the Churches and counter criticism that the corporation has sidelined religion. An announcement has been expected for weeks."
Related Elsewhere
See our past Weblog updates:
June 12 | 11

June 8 | 7 | 6 | 5 | 4

June 1 | May 31 | 30

May 18 | 17 | 16 | 15 | 14

May 11 | 10 | 9 | 8 | 7

May 4 | 3 | 2 | 1 | April 30

April 27 | 26 | 25 | 24 | 23

April 20 | 19 | 18 | 17 | 16

April 12 | 11 | 10 | 9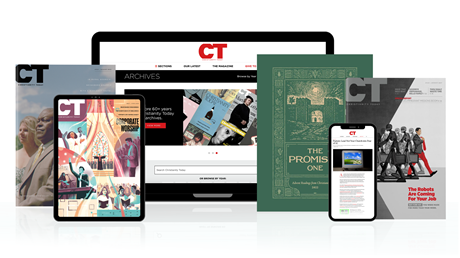 Subscribe to Christianity Today and get access to this article plus 65+ years of archives.
Home delivery of CT magazine
Complete access to articles on ChristianityToday.com
Over 120 years of magazine archives plus full access to all of CT's online archives
Subscribe Now
Forget Televangelists ; How About Going to Church to Watch TV?
Forget Televangelists ; How About Going to Church to Watch TV?