Is this the same charitable choice?
The good news is that charitable choice legislation allowing religious organizations to compete for federal social service funds has made it out of the U.S. House Judiciary Committee by a vote of 20 to 5. The bad news is that the legislation isn't nearly what was promised. Weblog hasn't heard from John DiIulio, director of the White House Office of Faith-Based and Community Initiatives, nor from deputy director Don Eberly, but it seems to Weblog that in large measure, the heart has been ripped out of President Bush's faith-based initiative.
The amended legislation, which is also being debated in the House Ways and Means Committee, now requires that any program receiving federal funds must carefully distinguish its social services from its religious components, including religious instruction, prayer, worship, or evangelism. And it must allow anyone who wants to opt out of such religious activities to do so.
That means that Teen Challenge and other organizations that integrate religion throughout their work won't be eligible for federal funds. (Although it seems like they've been excluded from any discussion of direct grants ever since DiIulio's famous speech to the National Association of Evangelicals. But even then, DiIulio and others were at least talking about substituting direct grants in such cases with vouchers, which seems to have dropped off the table completely.) Wasn't allowing such groups to compete for funding one of the basic points of the faith-based initiative? Weren't drug counseling programs permeated with the yeast of biblical teachings touted as more effective than secular alternatives just a few months ago? Didn't Eberly just tell reporters, "These are the groups where we want to say, 'We're not going to change your character; that's what makes you effective'"? Weblog supposes the Feds are still saying they won't change the groups' character—but they can't receive federal funds, either. And we're right back where we started.
The legislation had already required that secular alternatives be available in any community where there was a federally funded faith-based organization. So if First Baptist Church had a soup kitchen that incorporated prayer before the meal, a secular soup kitchen had to be available down the street. So why take the extra step of requiring First Baptist Church to distinguish between feeding the body and feeding the soul? It's one thing to tell an organization it has to spend federal money on bread, not Bibles; it's quite another to tell it how much of the Bible it can quote if it accepts government funds.
House Republicans stanched an amendment requiring federally funded religious organizations to hire workers of all religions. But while belief is protected, the current bill says religious practices can't be weighed in hiring decisions. (Gender and race can't be considered, either.) Even Democrats are wondering what this legislation does that's not currently allowed by law.
In fact, the current bill may actually limit—not expand—the options open to faith-based organizations. The Supreme Court's recent decision in Good News Club v. Milford Central School is only the latest ruling against viewpoint discrimination: if you open the door to some private organizations, you have to open it up to religious ones as well. The Good News Club wasn't told to distinguish between teaching about religion and actively evangelizing for it. Like after-school clubs, charitable choice is about fairness.
If religious conservatives have been skittish about charitable choice until now (at the time of Weblog's writing, CT's poll on charitable choice was only barely running in favor of the faith-based initiative), expect naysayers to grow in numbers and volume. Marvin Olasky, one of the original architects behind Bush's faith-based initiative, is already launching an attack. "This new dispensation," he writes in the latest issue of World, "may make the world safer for theological liberals, but it tells theological conservatives, 'Get lost.' … What's needed above all is for President Bush to make the case for compassionate conservatism by showing America what groups like Teen Challenge do and why it's unfair and unwise to discriminate against them."
More on Bush's faith-based initiative (news):
More on the faith-based initiative (opinion):
Abducted missionaries still ministering
Back home in Kansas City, friends and family are gathering to support the children of Martin and Gracia Burnham, the New Tribes missionaries taken hostage by Abu Sayyaf rebels in the Philippines. But, reports The Orlando Sentinel, the Burnhams are still working as missionaries—it's just that their mission field has changed. "Filipinos who have escaped or been released by Muslim extremists say the Burnhams … are leading daily prayers and keeping fellow hostages sane by talking about things such as Gracia Burnham's recipe for apple pie," reports Pedro Ruz Gutierrez, who's doing an amazing job at covering the abduction. The Burnhams, Gutierrez writes, "have emerged as a strong force helping their fellow hostages cope with the crisis" despite malaria and, in the case of Martin, shrapnel wounds. But they've also become a bargaining chip for the rebels, who say they may execute the missionaries to destabilize the country's government. "If we chop off the heads of people like Mr. Burnham, the Americans would intervene, and so would the Arabs and [Osama] bin Laden's groups. What will happen then to the Philippines?" Sabaya told the Associated Press. "This problem would never end. Actually, many more of these [attacks] could happen."
In the beginning was the Word—then they changed it to W
Perhaps the company is trying to associate itself more with the President of the United States. Fifty-year-old Word Publishing is changing its name to W Publishing Group. Actually, the company is making the move to "reflect a greater diversification in its publishing program." That is to say, it's now dealing with more than just words. A very clever campaign advertising the change illustrates the point. Amid Chuck Swindoll saying, "Word won't be getting any more grace from me," and Ravi Zacharias saying, "Publish with Word? That's illogical," other authors praise the company for expanding beyond the printed page. Max Lucado ("I'm no longer inspired by Word") notes that He Chose the Nails went from a book to "an industry-wide evangelism initiative, with gift books, curriculum and music." Frank Peretti ("The idea of staying with Word gives me chills") notes how, with The Wounded Spirit, Word found "ways to reach more people with spin-offs like a youth curriculum and video." With the Christian Booksellers Association meeting next week, expect some disgruntled writer to use the name change to again lament how unimportant books seem to be to the Christian book world.
You angel, you
If that statue of St. Michael that sits on top of Nidaros Cathedral in Trondheim, Norway, looks familiar but misplaced, it's because the model is more often seen strumming a guitar than blowing an apocalyptic trumpet. Sculptor Kristofer Leirdal has admitted to the Norwegian daily newspaper Adressavisen that it's an image of Bob Dylan, "a representative of American opposition to the Vietnam war." Well, apparently we know where Leirdal stands on the whole "Is Dylan Saved?" question.
Pat Robertson, oil baron:
Church and state:
Ten Commandments:
Persecution:
Alleged persecution:
Life ethics:
Homosexuality:
Sexual ethics:
War on porn:
Family:
Battles for the soul of the Anglican Church:
Ecumenism:
Catholicism:
LA Weekly on the Universal Church of the Kingdom of God:
Church life:
Pastoral life:
Church history:
C.S. Lewis's Narnia:
Popular culture:
Polling belief:
Science and health:
Other stories of interest:
Related Elsewhere
See our past Weblog updates:
June 28 | 27 | 26 | 25

June 22 | 20 | 19 | 18

June 15 | 14 | 13 | 12 | 11

June 8 | 7 | 6 | 5 | 4

June 1 | May 31 | 30

May 18 | 17 | 16 | 15 | 14

May 11 | 10 | 9 | 8 | 7

May 4 | 3 | 2 | 1 | April 30

April 27 | 26 | 25 | 24 | 23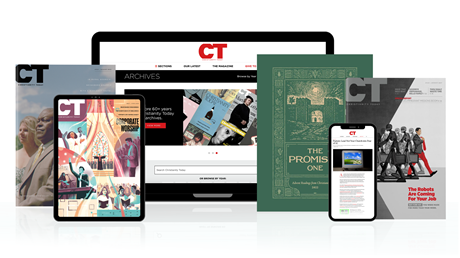 Subscribe to Christianity Today and get access to this article plus 65+ years of archives.
Home delivery of CT magazine
Complete access to articles on ChristianityToday.com
Over 120 years of magazine archives plus full access to all of CT's online archives
Subscribe Now
"Charitable Choice Makes It Out of Committee, But Is It Too Compromised?"
"Charitable Choice Makes It Out of Committee, But ...