The Death of Aslan
Christianity Today Weblog earlier noted reports that HarperCollins/HarperSanFrancisco/Zondervan is commissioning new books based on C.S. Lewis's Chronicles of Narnia. We called it "the really big story." Now comes a development that makes that revelation the mere tip of the iceburg: HarperSanFrancisco says the new books shouldn't be Christian. As one exec puts it, "We'll need to be able to give emphatic assurances that no attempt will be made to correlate the stories to Christian imagery/theology." (The New York Times attributes the quote to "an executive from HarperSanFrancisco," but Christianity Today was leaked the same memo the Times received. It apparently came from the executive of HarperSanFrancisco: Steve Hanselman, senior vice president and publishing director for the HarperCollins religion imprint).
The memo was written by Hanselman regarding a PBS documentary produced by Carol Hatcher (who, the Times reports, had also negotiated contracts to create an illustrated companion book and teaching video for the Narnia series). "I was appalled," says Hatcher. "I think there are ways to approach C. S. Lewis and Narnia that have nothing to do with religious background. However, it is astounding to minimize that part of this; it's like doing a video biography of Hank Aaron and refusing to acknowledge he was a baseball player."
To be fair, Hanselman was referring to how Narnia should be treated in the documentary—not the new Narnia books—but the strategy seems clear. And it reportedly comes from Simon Adley, managing director of the C.S. Lewis Company. Adley denies it: "It's fatuous to suggest that we're trying to take the Christian out of C. S. Lewis. We wouldn't have made the effort that we have with Mere Christianity if we felt that way. It's just crazy. I suppose you could get a little depressed by this. I'm trying to get more people to read."
HarperCollins also says the strategy is part of broadening Lewis's readership. "One of the issues the correspondence addressed was whether the project would appeal to the secular as well as the evangelical market," spokeswoman Lisa Herling said in a written statement. "The goal of HarperCollins is to publish the works of C. S. Lewis to the broadest possible audience and leave any interpretation of the works to the reader."
We'll keep looking into the story for you, but in the meantime, join the lamenting at the alt.books.cs-lewis newsgroup and MereLewis e-mail list.
Missionaries still held hostage
The Philippine military went in with guns blazing Friday to free 20 hostages—including Martin and Gracia Burnham of New Tribes Mission—but only nine escaped. The bodies of two other hostages were found yesterday, one of them headless. One of the escapees was a Roman Catholic priest, Rene Enriquez, who says a shaking Gracia Burnham, asked him, "Can you pray for us so that we will be saved?" The Burnhams were reportedly seen alive during the melee but were under heavy guard.
More articles
Persecution:
Popular culture:
Religion and sports:
Religion online:
Other stories of interest:
Related Elsewhere
See our past Weblog updates:
June 1 | May 31 | 30

May 18 | 17 | 16 | 15 | 14

May 11 | 10 | 9 | 8 | 7

May 4 | 3 | 2 | 1 | April 30

April 27 | 26 | 25 | 24 | 23

April 20 | 19 | 18 | 17 | 16

April 12 | 11 | 10 | 9

April 6 | 5 | 4 | 3 | 2

March 30 | 29 | 28 | 27 | 26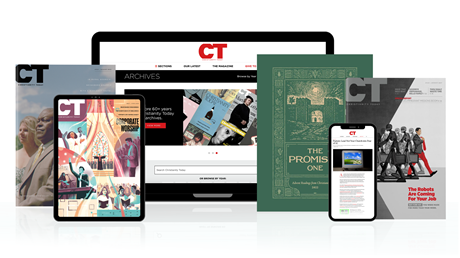 Subscribe to Christianity Today and get access to this article plus 65+ years of archives.
Home delivery of CT magazine
Complete access to articles on ChristianityToday.com
Over 120 years of magazine archives plus full access to all of CT's online archives
Subscribe Now
God Banned from Narnia
God Banned from Narnia