A senior bishop of the Church of England has warned that the Kingdom of God "is grinding to a halt under the multiplicity of consultations and meetings" in the church.
Warning of the dangers of putting meetings before mission, James Jones, Anglican Bishop of Liverpool, said that churches should put the brakes on holding too many meetings.
Jones was speaking to The Church of England Newspaper (CEN) as he took up the chairmanship of the church's Board of Mission.
The bishop's views were later echoed in remarks of Captain Philip Johanson, chief secretary of the Church Army, a leading Anglican society with an evangelical emphasis. Johanson told the society's annual conference that the Church of England and the Church Army had become "bogged down in bureaucracy."
In his interview with CEN, Jones complained that every time a difficult issue arose, someone suggested setting up a consultation. "Nobody ever audits the amount of time and paper, or person hours, that will be spent on this. We have really got to exercise some leadership and say: 'Do we really need as many meetings? Do we really need as much consultation'?"
The bishop suggested that people be given more time with their friends and families so they could "share the lover of life, who is Jesus, with the world."
He said, "One of the problems in our mission is that we berate and beat over the head the people who have been Christians a long, long time—and of course they have got no friends left who are not Christians … Over 80 percent of people who become Christians do so not through a strategy but through a personal relationship."
It was "slightly strange," Jones said, for the church to have a board of mission because "the church is mission." It was like a political party saying: "We've got an officer for politics."
Jones, 52, is an outspoken clergyman who is widely seen as a candidate to be the next Archbishop of Canterbury. He became Bishop of Liverpool in 1998, succeeding David Sheppard, who often spoke out on social matters jointly with his Roman Catholic counterpart in Liverpool, the late Archbishop Derek Worlock.
When Jones's mission appointment was announced last February, he said, "I am optimistic about the future of the Mission of God. There's a spiritual instinct in all of us. We need to have our eyes open to where God is at work in the world. Jesus Christ is the same today as he was yesterday. Christianity was born in a world as richly pluralistic as it is today."
In his opening remarks to the Church Army annual conference, Johanson said: "The church and Church Army have in some respects become so bogged down in bureaucracy. We have become institutionalized … How far removed we are from the early church recorded in the Acts of the Apostles!"
He called for an approach that he described as "Travel light—working in the kingdom."
A spokesman for the Church Army said Johanson's remarks had been well received. "We need to travel light, both as individuals and as a society," the spokesman said. "We have been downsizing [in organization] because we want to put our money into evangelism."
Related Elsewhere
London's The Daily Telegraph covered Jones's lament about meetings.
The Church of England Newspaper is available online, but Jones's article is no longer on its site.
The Church Army site also covered Johanson's remarks.
The Church of England's Board of Mission site, evangelism,uk.net, has extensive resources both for seekers and evangelists.
Leadership Journal and Your Church, two Christianity Today sister publications aimed at church leaders, have examined how to make meetings more effective.
Recent Christianity Today articles on the Church of England include:
Church of England Objects to Vatican Ban on Sharing Communion | The two most senior bishops of the Church of England have branded Vatican communion bans as "hurtful and unhelpful." (March 23, 2001)

In England Many More Church Spires Will Be Home to Mobile Phone Antennae | One quarter of Church of England parishes want to host towers, while some leaders wonder about risks. (March 16, 2001)

Church Attacks Increasing in the U.K. | Insurance figures show attacks on church workers and property are growing. (Jan. 29, 2001)

Church of England's Bioethics Leader Says Human Cloning Is Okay | Briefing paper likens procedure to a heart transplant or fertility treatments. (Dec. 8, 2000)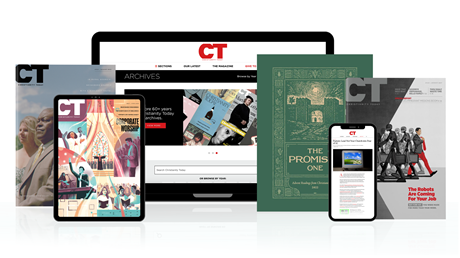 Subscribe to Christianity Today and get access to this article plus 65+ years of archives.
Home delivery of CT magazine
Complete access to articles on ChristianityToday.com
Over 120 years of magazine archives plus full access to all of CT's online archives
Subscribe Now
God's Kingdom 'Is Grinding to a Halt Under Consultations and Meetings'
God's Kingdom 'Is Grinding to a Halt Under ...