Last Friday night my wife Wendy and I met our eldest daughter in the city to see the first two installments of Krzysztof Kieslowski's The Decalogue, a series of ten short films, each about an hour long, inspired by the Ten Commandments. The films were made for Polish television in 1989 and are now available on video from Facets Multimedia.
The drive into Chicago took more than two hours, and it was easy to wonder if it was worth it. We parked and walked in the sleet to the Music Box, a big old-fashioned theater, got our popcorn, and sat through the previews, first stomach-turning, then intolerably pretentious. Finally the main feature began.
From the opening moments of the first installment, we were thankful to be there. I won't try to describe the films. My colleague Agnieszka Tennant, who came to the United States from Poland a few years ago, has already done that better than I could, in the February issue of Christianity Today. But I can say something about the effect of the films.
When we left the theater, the night was transformed. The wet snow on the dark branches was beautiful. Even the expressway, Wendy said, as we crept home in the traffic—even the expressway was touched by magic.
In an essay in the March/April issue of Books & Culture, Eric Metaxas says that when he goes to the movies he wants to be transported, taken beyond himself. Every time we see a film or read a book, we enter that state of cognitive dissonance which Coleridge described as "the willing suspension of disbelief." We enter the realm of fiction, of imagination, so that we are in the familiar world but no longer of it. Instead we are walking the streets of Sherlock Holmes's London, or entering an apartment block in Poland. And yet we know, even as we are reading or watching, that this is a story. If we mistake the story for reality, we are not transported but rather merely deluded. And if we focus too intently on the fictiveness of the story, it won't touch us at all.
As children we enter that state easily. As adults, not so easily—and after decades of stories, books, movies, TV episodes, it becomes harder still. Maybe in our culture we are overdosed with stories. And the stories we're given are too often cheap, shallow, however expensive to produce.
But now and then something better, richer, comes along—something like Kieslowski's The Decalogue. If you have the opportunity to see it at the theater, don't miss it. Ask your local library to get the series on video. In any case see it. You won't regret the effort.
John Wilson is editor of Books & Culture and editor-at-large for Christianity Today.
Related Elsewhere
Visit Books & Culture online at BooksandCulture.com or subscribe here.
Agnieszka Tennant's review, "The Ten Commandments Become Flesh | A Polish director prods European and American audiences to consider God's timeless standards," first appeared online February 14, 2001.
The DecalogueVHS set or DVDs are available from a variety of retailers.
For those living in the Chicago area, the Music Box site offers more information about the films showing and coming up, including showtimes for The Decalogue.
The Kieslowski homepage is a tribute to the director with a biography and listings of all of his films.
Every online review of The Decalogue is lengthy and full of accolades.
The Internet Movie Database has more information about the film, such as credited cast and crew and related recommendations.
Books & Culture Corner appears Mondays at ChristianityToday.com. Earlier Books & Culture Corners include:
Examining Peacocke's Plumage | The winner of the 2001 Templeton Prize for Progress in Religion rejects everything resembling Christian orthodoxy, but that doesn't stop him from co-opting the language. (Mar. 12, 2001)

Are Scientists Taking Orders from Pat Robertson? | A Salon.com essay accuses the Intelligent Design movement of being primarily an arm of "conservative Republicans" and the "religious right." (Mar. 5, 2001)

Had Morse No Code? | Like much popular art, the finale of Inspector Morse functions like a dream of the collective unconscious. (Feb. 26, 2001)

Beware the Women! | A conspiracy theorist claims the church is becoming too "feminized." (Feb. 19, 2001)

Return to the Father's House | Touchstone magazine examines God the Father and human fatherhood. (Feb. 12, 2001)

What's the University For? | In James Davison Hunter's The Hedgehog Review, academics nibble on the hands that feed them. (Feb. 5, 2001)

Mary, Mary, Quite Contrary? | Experiencing Marian devotion as a Protestant (Jan. 29, 2001)

Opening the Mind of Science | Science Goes Postmodern, Part 2 (Jan. 22, 2001)

Science Goes Postmodern | David Foster Wallace creates math melodrama with his essay-review. (Jan. 15, 2001)

On Being Human, Part 3 | Did Natural History swallow an unscientific argument because it explained human experience in evolutionary terms? (Jan. 8, 2001)

On Being Human, Part 2 | Learning from information rather than instinct is often harder than it looks. (Dec. 18, 2000)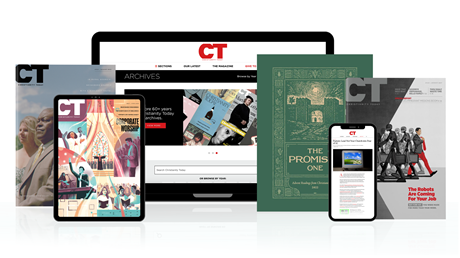 Subscribe to Christianity Today and get access to this article plus 65+ years of archives.
Home delivery of CT magazine
Complete access to articles on ChristianityToday.com
Over 120 years of magazine archives plus full access to all of CT's online archives
Subscribe Now
"To Poland, for an Evening"
"To Poland, for an Evening"