With court decision, Ohio motto is possible
Last April, a three-judge panel of the 6th U.S. Circuit Court of Appeals ruled 2-1 that the Ohio state motto, "With God all things are possible," was unconstitutional. "Simply put, [the words] are an endorsement of the Christian religion by the State of Ohio," wrote Judge Avern Cohn at the time. "No other interpretation in the context of their presence in the New Testament is possible." But this week, the rest of the 6th U.S. Circuit Court of Appeals got a vote, and the motto is back. "The motto involves no coercion," wrote Circuit Judge David A. Nelson for the 9-4 majority. "It does not purport to compel belief or acquiescence. It does not command participation in any form of religious exercise. It does not assert a preference for one religious denomination or sect over others, and it does not involve the state in the governance of any church. It imposes no tax or other impost for the support of any church or group of churches. Neither does it impose any religious test as a qualification for holding political office, voting in elections, teaching at a university, or exercising any other right or privilege. And, as far as we can see, its adoption by the General Assembly does not represent a step calculated to lead to any of these prohibited ends." The dissenting judges countered that Nelson's list was incomplete. "The Establishment Clause forbids much more than the state church that the majority discusses at length," wrote Circuit Judge Gilbert S. Merritt. "It also forbids prayer in public schools, prayer at graduation and high school football games, religious creche sets on the public square, posting the Ten Commandments in public schools and other public places, using public funds to support religious schools, banning the teaching of evolution, requiring creationism to be taught, and other similar efforts to advance Christianity." But Chief Judge Boyce F. Martin Jr. was one of the dissenters, but added this note of concern: "When Jesus' key to eternal salvation is lumped in the Ohio statutes with the Buckeye tree and tomato juice, the signal sent is that religion is no more important than those two nice but ultimately inconsequential things. To many, religion is much more important, perhaps the most important force in their lives. I fear that Ohio has given Christianity a crutch it is better left without." (See coverage in The Cincinnati Post (which also editorialized, "This is a time to celebrate"), The Cincinnati Enquirer, The Cleveland Plain Dealer, and the Associated Press.)
Valedictorian's graduation "religious sermon" case denied hearing at Supreme Court
Public religion got a setback this month, too, as the Supreme Court refused to hear Chris Niemeyer's case against his former high school district. As noted earlier in Weblog, Niemeyer was one of two co-valedictorians at Oroville (California) High School, but wasn't allowed to give the speech he wanted. Characterized by the 9th Circuit U.S. Court of Appeals as a "religious sermon," the speech "advised the audience that 'we are all God's children, through Jesus Christ [sic] death, when we accept his free love and saving grace in our lives,' and requested that the audience accept that 'God created us' and that man's plans 'will not fully succeed unless we pattern our lives after Jesus' example.' Finally, Niemeyer's speech called upon the audience to 'accept God's love and grace' and 'yield to God our lives.'" Cut the evangelistic parts, the valedictorians were told. No references to "God" or "Jesus" or use of any other "nondenominational" language would be permitted. When the co-valedictorians refused to change their remarks, they were prohibited from speaking. In October, the 9th Circuit U.S. Court of Appeals ruled for the school district, saying the speech "would have borne the imprint of the district. … An objective observer familiar with the district's policy and its implementation would have likely perceived that the speech carried the district's seal of approval." The Supreme Court's denial of certiorari lets that decision (available in Adobe Acrobat and HTML formats) stand.
Related Elsewhere
See our past Weblog updates:
March 16 | 15 | 13 | 12

March 9 | 8 | 7 | 6 | 5

March 2 | 1 | February 28 | 27 | 26

February 23 | 22 | 21 | 20 | 19

February 16 | 15 | 14 | 13 | 12

February 8 | 7 | 6 | 5

February 2 | 1 | January 31 | 29

January 26 | 25 | 24 | 23 | 22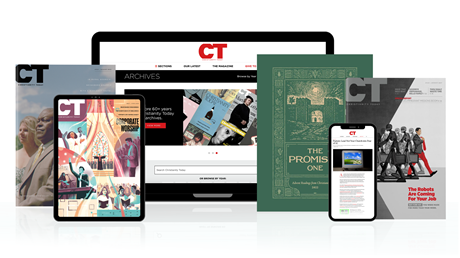 Annual & Monthly subscriptions available.
Print & Digital Issues of CT magazine
Complete access to every article on ChristianityToday.com
Unlimited access to 65+ years of CT's online archives
Member-only special issues
Subscribe
With God All Things Are Possible Made Possible as State Motto
With God All Things Are Possible Made Possible as State Motto