Pope goes on another tirade against the number seven
Okay, so Pope John Paul II probably didn't really attack the digit. But that's what it looked like when Weblog tried to translate a potentially controversial homily. As frequent readers know, Weblog is skeptical of many news reports summarizing statements by Roman Catholic leaders—especially when the statements aren't in English. So an Associated Press story reporting that John Paul II "renewed his appeal to the faithful Sunday to combat competition from evangelical sects" caught Weblog's attention—and suspicion. As the AP notes, the pope rarely harangues against "evangelical sects" unless he's in Latin America. In Rome, he's usually all about unity. So Weblog tried to translate the homily, delivered in Italian, using the Babelfish translator. Not so good. What the Associated Press had as the big controversial sentence, "In your neighborhood, in fact, the challenge of sects isn't absent," came out as "In your quarter, in fact, the challenge of the seven is not absent." And that's even one of the most understandable sentences Babelfish produced. Yikes. The Vatican has translated the homily into Spanish and French, both of which fare better through Babelfish, but why doesn't the Vatican offer an English translation itself? Of course, maybe the Pope just lost a bunch of Vatican money at a craps table lately, but that doesn't seem likely.
Italy threatens to cut power to Vatican Radio:
More stories about Catholicism:
Brigham Young University suspends gay students—but without allegations of sex
The Mormon school suspended two students last week for "homosexual conduct"—but not for gay sex. A sophomore was reportedly suspended for visiting gay-oriented chat rooms online, going on three "dates" with men, and embracing another man on campus (he disputes the allegations). A senior, meanwhile, says all he did was hold hands with another man (though his suspension reportedly also was based on charges of kissing). But at least one of the students thought the school's prohibition on homosexual conduct referred only to sex. The school won't elaborate on "how far is too far." "The Honor Code is not a laundry list of do's and don'ts," BYU spokeswoman Carri Jenkins told The Salt Lake Tribune. "It's not going to go through and spell out everything involved. Students have the maturity to decipher that and listen to what church leaders are telling us." (The Deseret News also has an article on the suspensions.) The suspension raises questions for other religious schools that have similarly vague prohibitions on homosexual conduct, and for Christians who believe that homosexual Christians should remain celibate. How far is too far?
More stories about the Mormon Church:
More stories about higher education:
James Kopp, suspected of murdering abortionist, captured in Paris
Those concerns that prolife Republican John Ashcroft wouldn't do his job as attorney general are looking pretty silly now. The French police, acting on information from the Federal Bureau of Investigation, arrested fugitive James Kopp yesterday for the murder of a New York abortionist and the wounding of three Canadian abortionists. A New York couple was arrested for harboring him. And Ashcroft is committed to prosecuting both. "Enforcing the law doesn't pose challenges for me," he said at a press conference yesterday. "These charges are charges of violence that ended in the tragic death of an individual. If these charges are proved properly, they reflect a very serious breach in the law. I am totally committed to enforcing the law in settings like this, or any time the law is infringed."
In other life ethics news, President Bush on Wednesday signed, as promised, a special memorandum barring U.S. foreign aid to family planning groups involved in abortion.
Other articles of interest:
Related Elsewhere
See our past Weblog updates:
March 29 | 28 | 27 | 26

March 23 | 22 | 21 | 20 | 19

March 16 | 15 | 13 | 12

March 9 | 8 | 7 | 6 | 5

March 2 | 1 | February 28 | 27 | 26

February 23 | 22 | 21 | 20 | 19

February 16 | 15 | 14 | 13 | 12

February 8 | 7 | 6 | 5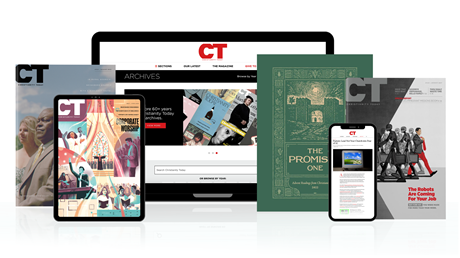 Annual & Monthly subscriptions available.
Print & Digital Issues of CT magazine
Complete access to every article on ChristianityToday.com
Unlimited access to 65+ years of CT's online archives
Member-only special issues
Subscribe
Pope Tells Roman Catholics to Combat Protestant Sects. Maybe.
Pope Tells Roman Catholics to Combat Protestant Sects. Maybe.