Ja'Marc Davis, member of Christian band Raze, jailed on charges of rape and molestation
The Christian dance band Raze says it will continue to tour despite the arrest of one of its four members, Ja'Marc Antoine Davis. Davis, 25, was arrested after the band's first concert in a scheduled 30-city tour, and charged with five counts of lewd molestation, three counts of rape by instrumentation, and three counts of forcible sodomy. Police say that in 1998, Davis (then 22) began a sexual relationship with a 13-year-old girl he was asked to tutor; she soon became a backup dancer for Raze.
Christian music in trouble, says TheWallStreetJournal
"Since 1997, [Christian music] sales have lagged behind that of the general music marketplace, with album units down 6 percent last year, compared with 4 percent growth for the overall industry," reports Rodney Ho in The Wall Street Journal. "Christian music's market share is now 5.6 percent, with 44 million albums sold in 2000, down from a peak of 6.5 percent in 1997." The problem, according to Ho? Christian music grew big in the mid-1990s "thanks to mostly middle-aged Christian adults [who] favored softer adult contemporary sounds, and the labels catered to them with recordings by such artists as Michael W. Smith and Amy Grant." But that's not really where the music money is to be made; as a general rule, the older the listener, the fewer CDs purchased. To stem the tide, Christian music labels are trying to sign Backstreet Boys/N'Sync clones like Plus One. But even that might not be enough, says Ho; acts like N'Sync are made through radio play, and there just aren't enough Christian music radio stations catering to youth. Frank Breeden, president of the Christian Music Trade Association, estimates that only 30 to 35 stations nationwide have enough listeners to actually influence what albums get bought.
In related Christian music news, what's being billed as the first Christian rock touring festival—Festival Con Dios—will launch May 17 in Fort Myers, Florida. The brainchild of Newsboys (who last year toured in a giant inflatable arena) the Christapalooza will also include Audio Adrenaline, O.C. Supertones, and other acts.
Future of environmental debate lies in religion, says Outside magazine
In a lengthy (7,815 words) essay, Outside magazine contributing editor Bruce Barcott profiles Christian environmentalism past, present, and future, and suggests that religious activists on both sides of environmental debates will be extremely important, especially during the Bush presidency. "The assault on the Endangered Species Act moved faith-based environmentalists to enter the political fray," Barcott writes. "Of course, religious environmentalists didn't single-handedly save the Endangered Species Act … But their activism reinvigorated an argument that eco-activists had let fall into disuse: the moral right." The two main groups in his story are both predominantly evangelical ones: the Christian Environmental Council (an offshoot of the Evangelical Environmental Network) and the Interfaith Council for Environmental Stewardship. The latter is largely cast as one of the story's villains, a kind of pro-business, anti-environment group that may "provide exactly the sort of political cover to conservative policymakers that progressive eco-religious groups have been giving green politicians for the last few years." At times, Barcott treats the organizations and the "religious right" too monolithically. He could have used a few of those 7,815 words to note that the leaders of the two groups have stood together on many nonenvironmental issues. It's not until the last few paragraphs that he lets on, "The central irony of the religious green movement is that there is no single movement. There are hundreds." But overall, it's a very insightful and comprehensive article. Catholics (Pope John Paul II began the healing of "the green-Christian rift" in 1990, Barcott says) and the Orthodox ("Nobody better embodied the new enviro-friendly Christianity than [Patriarch] Bartholomew I") come off smelling sweeter when the article is done, but evangelical readers will find a lot here to chew on.
Earlier Christianity Today articles on environmentalism:
Related Elsewhere
See our past Weblog updates:
March 2 | 1 | February 28 | 27 | 26

February 23 | 22 | 21 | 20 | 19

February 16 | 15 | 14 | 13 | 12

February 8 | 7 | 6 | 5

February 2 | 1 | January 31 | 29

January 26 | 25 | 24 | 23 | 22

January 19 | 18 | 17 | 16 | 15

January 12 | 11 | 10 | 9 | 8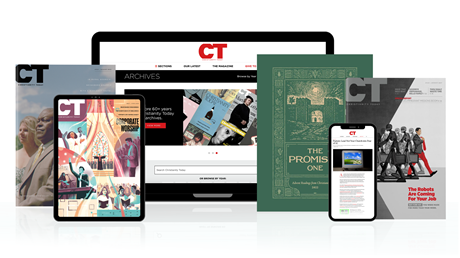 Subscribe to Christianity Today and get access to this article plus 65+ years of archives.
Home delivery of CT magazine
Complete access to articles on ChristianityToday.com
Over 120 years of magazine archives plus full access to all of CT's online archives
Subscribe Now
"As Christian Singer is Arrested for Rape, More Troubles for Christian Music Loom"
"As Christian Singer is Arrested for Rape, More ...