DiIulio tells evangelicals to get on board faith-based initative
Weblog readers may have picked up from other publications a notion that evangelicals don't like Bush's plan to allow faith-based charities and organizations to compete for federal grants. In fact, Weblog believes most of these concerns have been mischaracterized as criticisms, rejections, and rebukes to the plan when in fact "critics" like Pat Robertson, Jerry Falwell, Richard Land, Marvin Olasky, and others have all repeatedly supported Bush's plan. Still, the mainstream media has been busy characterizing religious conservatives as united in opposition. This week, evangelicals did unite, and actually came out supporting the concept of charitable choice—the underlying framework behind Bush's faith-based initiative. The resolution came out of the National Association of Evangelicals (NAE) annual convention, which wrapped up in Dallas yesterday.
Also attending the NAE gathering was John DiIulio, head of Bush's Office of Faith-Based and Community Initiatives, who was apparently doing some damage control. DiIulio spent most of his time answering critics of his plan. "With all due respect, and in all good fellowship, predominantly white, exurban, evangelical and national parachurch leaders should be careful not to presume to speak for any persons other than themselves and their own churches," he said in a sharp response to some of his religious critics. "It's fine to fret about 'hijacked faith,' but to many brothers and sisters who are desperately ministering to the needs of those who the rest of us in this prosperous society have left behind, such frets would persuade more and rankle less if they were backed by real human and financial help." Many churches have already demonstrated the plan can work, he said. "Urban African American and Latino faith communities have benevolent traditions and histories that make them generally more dedicated to community-serving missions, and generally more confident about engaging public and secular partners in achieving those missions without enervating their spiritual identities or religious characters."
In the most detailed presentation of what the Bush plan will look like, DiIulio explained that the federal government will likely move to a two-tier system, with direct grants going to some religious organizations that feel they can separate evangelism from social ministry, and a voucher system for those that feel they can't.
"At one end, the least problematic end from a church-state perspective, you have, say, faith-based organizations that do housing rehab work," DiIulio explained. "They mobilize their volunteers from churches. They park their lumber in the church parking lots. They may pray for good weather when working outdoors, but it's all about faith-motivated good works in the form of hammering and plumbing. And, at the other pole of the continuum, there is, say, a faith-based drug treatment program that is all about urging each beneficiary to accept Jesus Christ as Lord and Savior. The indivisibly conversion-centered program that cannot separate out and privately fund its inherently religious activities, can still receive government support, but only through individual vouchers."
Olasky, who sat on a panel with DiIulio, later told The New York Times that he's wary of the voucher idea. "That seems to me to be discriminatory and wrong. There already is so much suspicion in the evangelical community about government activity, and this will only intensify it." Expect Olasky to have a piece in this week's World magazine (which will likely be posted on Friday afternoon) further detailing his concerns, and whether he's still five-sixths in support of the faith-based initative.
More on Bush's faith-based initiative:
After NewYorkTimes article, USAID will closely monitor Samaritan's Purse
Yesterday's Weblog discussed a New York Timesarticle accusing Christian relief organization Samaritan's Purse of "blurr[ing] the line between church and state as its volunteers preach, pray and seek converts among people desperate for help." Weblog concluded that the organization had made a convincing argument that the newspaper blew the story, but there's still no correction, clarification, or apology in the Times corrections page. However, the Associated Press reports that the U.S. Agency for International Development (USAID) is taking steps to ensure that Samaritan's Purse has "adequate and sufficient separation between its prayer sessions and its USAID-funded activities." The agency is "warning the organization that it cannot mix evangelism and government-funded assistance," the AP reports. But Samaritan's Purse says it never did so anyway.
More stories:
Lent:
Church life:
Christian films:
Politics and law:
Criminal courts:
Gay tourism:
Changes in the Church of England:
Catholicism and the Internet:
Mormonism:
Related Elsewhere
See our past Weblog updates:
March 7 | 6 | 5
March 2 | 1 | February 28 | 27 | 26
February 23 | 22 | 21 | 20 | 19
February 16 | 15 | 14 | 13 | 12
February 8 | 7 | 6 | 5
February 2 | 1 | January 31 | 29
January 26 | 25 | 24 | 23 | 22
January 19 | 18 | 17 | 16 | 15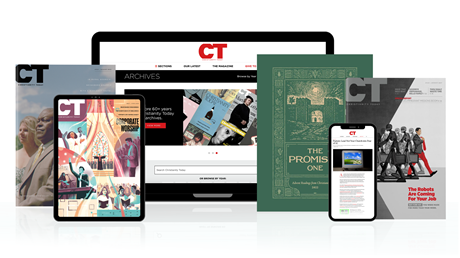 Annual & Monthly subscriptions available.
Print & Digital Issues of CT magazine
Complete access to every article on ChristianityToday.com
Unlimited access to 65+ years of CT's online archives
Member-only special issues
Subscribe
"At NAE Convention, DiIulio Offers Feisty Defense, Outline of Faith-Based Plans"
"At NAE Convention, DiIulio Offers Feisty Defense, ...