Confessions of a "Bible snob"
"I confess that I am a Bible snob," writes The Boston Globe's Alex Beam. "The King James Version, committee-written in 1611, is the best of the Good Books for me." But Beam acknowledges that it's an issue of taste for him, not authority. And truth be told, it's less an issue of translation than it is of packaging. Christianity Today columnist Andy Crouch recently complained, "To be sure, the hundreds of lifestyle-oriented Bibles do include the original text, but too often the tedious, dead-author part of the Bible is in the smallest, least appealing type, while the easy-to-read study notes, helpful hints, and contemporary stories offer their assistance with lively type and colorful graphics." Beam goes a step further and actually samples some of the study notes from Zondervan's Teen Devotional Bible (published in partnership with Youth Specialties and Christianity Today sister publication Campus Life):
Like Game Boy, it is sold with translucent plastic carrying cases, and it is in fact ridiculous. The workmanlike New International Version text is interrupted with explanatory "Backstage Passes," asides on "Extreme Faith," or witless "What's Up With That?" commentaries. Sample 1: "One day King Saul thinks David's an OK guy; the next he's trying to shish-kebab David on a spear." Sample 2: "Adam was a lonely dude until (drum roll please) God created the perfect companion."
Beam clearly got the idea for his column from the May issue of Harper's, which also mocks the Teen Devotional Bible. He even notes that it has been "mocked as the 'Britney Spears Bible' for young people," but doesn't note Harper's as the mocker.
You'd better watch out, you'd better not cry … Marilyn Manson is coming to town. To ...
1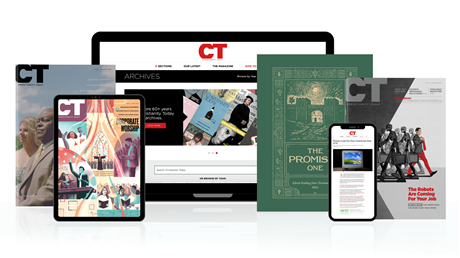 Subscribe to Christianity Today and get access to this article plus 65+ years of archives.
Home delivery of CT magazine
Complete access to articles on ChristianityToday.com
Over 120 years of magazine archives plus full access to all of CT's online archives
Subscribe Now
The Bible Is Big
The Bible Is Big