Despite major obstacles, Pope John Paul II has made history during his pilgrimage to Athens and Damascus, with a series of symbolic gestures and speeches which forge new links with both Orthodox Christians and Muslims.
On Sunday, May 6, in Damascus, Pope John Paul became the first pontiff to enter a mosque when he visited the Umayyad Mosque in the company of Mufti Ahmed Kuftaro of Syria. The Pope urged forgiveness between Christians and Muslims, but, out of deference to Muslim sensitivities, no formal prayer was said.
On Friday, May 4, John Paul made the first visit to Greece by a pope in 1291 years. In recent weeks, plans for his visit had been strongly criticized by Greek Orthodox clergy and laity, but in Athens Pope John Paul defused at least some of the hostility by asking God to forgive Roman Catholics for sins committed against Orthodox Christians over the past 1,000 years.
Pope John Paul, who will celebrate his 81st birthday on May 18, is following in the "steps of St Paul" as he visits Athens, Damascus and Malta on his six-day pilgrimage. He returns to Rome today.
The Pope was invited to visit Greece by the country's president, Costis Stephanopoulos, and not by the Church of Greece, to which most of the country's 10.6 million citizens belong. When John Paul arrived at Athens airport on May 4 he was welcomed by government officials, and by bishops from Greece's Catholic minority—but no Orthodox bishop was there to greet him.
The Roman Catholic leader, accompanied by four cardinals, went immediately to the presidential residence in Athens and then made a "courtesy visit" to 61-year-old Archbishop Christodoulos of Athens and All Greece, head of the Church of Greece. Several leading metropolitans of the Greek church were present.
After a private meeting of 30 minutes, Pope John Paul and Archbishop Christodoulos spoke publicly. Speaking Greek, the Greek archbishop said the Pope's visit "brings us joy. Our joy is, however, overshadowed by the fact of our division."
Archbishop Christodoulos then referred to religious differences between the Orthodox and Roman Catholics, some of which date back more than 1,000 years. He mentioned in particular the crusaders' sacking of Constantinople, capital of the Byzantine Empire, in 1204, and a more recent source of tension between Greece and the Catholic Church, the Vatican's failure to condemn the partition of Cyprus, following the Turkish invasion of 1974.
The archbishop also mentioned problems regarding Eastern Catholic churches—which celebrate Orthodox liturgy but are linked to Rome, and are viewed by many Orthodox as a Vatican ploy to entice Orthodox Christians into the Roman flock. The Vatican used to view the Eastern Catholic churches as a possible means to unite western and eastern Christianity, but in recent years, in face of the Orthodox hostility towards the policy, this view has been dropped.
Pope John Paul replied: "For the occasions past and present, when sons and daughters of the Catholic Church have sinned by action or omission against their Orthodox brothers and sisters, may the Lord grant us forgiveness. … I am thinking of the disastrous sack of the imperial city of Constantinople, which was for so long a bastion of Christianity in the East."
The Pope said nothing about Cyprus, but indirectly referred to the Eastern Catholic issue, stating simply that "certain models of reunion of the past no longer correspond to the impulse towards unity which the Holy Spirit has awakened in Christians everywhere in recent times."
On Friday afternoon, Pope John Paul and Archbishop Christodoulos met again, at a spot where St Paul preached about 1950 years ago, to sign a "common declaration." Referring to the process of European unification, they agreed: "We shall do everything in our power, so that the Christian roots of Europe and its Christian soul may be preserved. … We condemn all recourse to violence, proselytism and fanaticism, in the name of religion."
The two religious leaders then said the Lord's Prayer together.
On Friday evening, the archbishop returned the courtesy visit to the Pope, whom he visited at that papal nuncio's residence in Athens. On Saturday John Paul said mass for Greece's Catholic community before leaving for Damascus.
The head of the (Catholic) Bishops' Conference of Greece, Bishop Nikolaos Foscolos, told journalists: "We are very, very happy. We now hope to improve our dialogue with our Orthodox brothers and sisters, and also the legal position of the Catholic Church [which is not officially recognized by the Greek government]."
Metropolitan Chrysostomos of Persiterion, near Athens, told ENI: "There are two sides to the Pope's visit. One is very positive—it's the first time a bishop of Rome visits Athens, meets our archbishop, and signs with him a joint declaration condemning proselytism and fanaticism. All of that is very important, but there are also negative aspects."
The metropolitan said that the Pope had made no concrete statements on the Eastern Catholic controversy, which was "now the main obstacle to official dialogue between the Orthodox as a whole and the Catholic Church." And, Metropolitan Chrysostomos added, despite the request by Archbishop Christodoulos, Pope John Paul had not said a single word about Cyprus.
In Syria's capital, Damascus, Pope John Paul made similar efforts to build bridges by reaching out to Muslims and their leaders. After exchanging gifts with Mufti Kuftaro—a picture of the Virgin Mary for the Islamic leader, a Koran for the Pope—John Paul said in a speech to dozens of Syrian Christian and Islamic leaders and scholars: "For all the times that Muslims and Christians have offended one another, we need to seek forgiveness.
"It is my ardent hope that Muslim and Christian religious leaders and teachers will present our two great religious communities as communities in respectful dialogue, never more as communities in conflict."
The Pope's visit to the mosque was clearly part of his plan to build deeper links and dialogue between the three monotheistic faiths—Judaism, Islam and Christianity. In 1986 John Paul became the first pontiff to visit a synagogue.
The Pope also celebrated mass for a congregation of 30,000 Christians in Damascus on Sunday. Unlike Greece, where so many Orthodox opposed John Paul's pilgrimage, the minority Orthodox communities in Syria encouraged their members to attend the Sunday service, at which Orthodox leaders were also present.
Commenting on the Pope's visits to Athens and Damascus, The Times of London stated: "Both form part of what is emerging as the 80-year-old Pope's final goal in the twilight of his long papacy: to heal the divisions within Christianity through his drive for ecumenism, and simultaneously to achieve reconciliation between the world's three main monotheistic religions."
But the Observer newspaper, also published in London, pointed out that in Syria as in Greece, there was stiff opposition by some Muslims to the Pope's visit.
"History teaches us that Western pilgrimages have covert political motives," said Bouti, Syria's leading Sunni preacher, one of several key Muslim conservatives who blocked the Vatican's attempt to hold a common Christian-Muslim prayer in the Umayyad Mosque.
Sheikh al-Hout, of the Amara Mosque in Damascus, told the Observer: "Would the Pope let us give the Muslim call to prayer at St Peter's [Basilica in Rome]?"
The Umayyad Mosque has at times been a Christian church and still houses what is believed to be the tomb of St John the Baptist, at which the Pope made a silent prayer on Sunday.
Some Muslim clerics suggested that the Vatican could in fact be preparing to revive ancient battles over such holy places shared by the two faiths.
Related Elsewhere
Yahoo's Pope John Paul II full coverage area offers dozens of links to news stories about the visit.
The BBC also has many news links on the subject.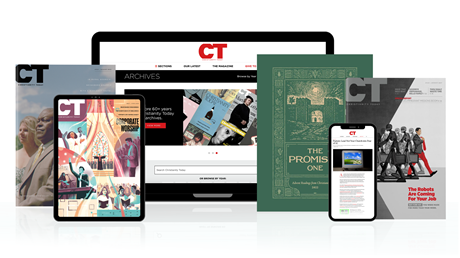 Annual & Monthly subscriptions available.
Print & Digital Issues of CT magazine
Complete access to every article on ChristianityToday.com
Unlimited access to 65+ years of CT's online archives
Member-only special issues
Subscribe
"In Greece and Syria, Pope John Paul II Tries to Heal Ancient Wounds"
"In Greece and Syria, Pope John Paul II Tries to ...