Like hundreds of thousands of Americans, I was far from home on the morning of September 11, finishing up a breakfast meeting at an office near Washington, D.C. After learning of the morning's events, I immediately wanted to call my wife and tell her I was unharmed. But the cell-phone circuits were jammed. My friends and I took over a vacated cubicle and tried over and over to make long-distance calls to our families, finally getting through and leaving emotional messages in response to eerily placid voicemail greetings. Then we set about making our plans to return home, only to realize that, for a few days at least, we were grounded.
Modernity is built in no small part on technologies of presence. From the cellular telephone to television to air travel, we are embedded in a web of devices that make us seem to be somewhere we are not, or that remove us from one place and take us to another with speeds that would have seemed supernatural to our ancestors.
On normal days these technologies inspire gratitude and even wonder. They give us a sense of connection across space and time, paradoxically encouraging us to travel farther and more often, to readily move across the country or to the other side of the globe for the sake of new opportunities. How many partings are eased by "I'll call you when I get there"?
But on September 11, our various technologies shuddered briefly, ground to a halt, or, most awful of all, were turned into weapons of terror. For a few hours in the Northeast, all that was really working was the tv. Workers and travelers shared a common cup of televised suffering, cut off from their families and friends across the city or across the country, their technologies of presence suddenly impotent. The calls that did go through were suffused with longing. My friend Annie Young moved a few years ago from Baltimore to an apartment one mile from the World Trade Center. Her mother's first words on the 11th, when they finally made contact, were "I want you to come home."
Nearly every cell-phone conversation begins with a phrase that has become curiously ritualistic: "Where are you?" (Eavesdrop on a phone conversation the next time you're on a bus or train, and if the caller isn't asked that question, you'll almost certainly hear her break in and say, "Do you know where I am?")
That question must have been asked millions of times on September 11. For all our gnostic impulses, so freely encouraged by cell phones and wireless Internet connections, we know deep down that it matters where we are. We are embodied creatures who have a place. The unspeakably moving calls from passengers and workers about to die were reminders that simulated presence is fleeting. The real persons, the real bodies, behind those calls and voicemails were soon gone, and their place, as the psalmist said, remembered them no more.
"Where are you?" That perennial cell-phone question was first asked in a garden. Clinging to their fig leaves, Adam and Eve made the first human attempt to evade God's sorrowful judgment, "You are dust, and to dust you shall return." In our endless human attempt to outrun the consequences of the Fall, technology has played a starring role. That is nowhere more true than in the technologies that allow us—or allowed us before September 11—to blithely pretend that we have no limits, that we can be present anywhere and everywhere, that we can be like God.
The Greek fable of Icarus warned of the dangers of flying, and by extension attempting to taste the unfettered life of the gods. His technology allowed him to soar—but it was also destined to fail, returning him abruptly and fatally to his original human condition.
Today affluent Westerners are all passengers on Icarus's flight, and there is no easy way out of our predicament. Cantilevered over the dusty abyss, swaying unsteadily while we cling to our technologies of power, communication, transportation, and consumption, we can only look down with queasy vertigo at the billions who still live in one place, rooted to the Earth.
If we are honest, we are perplexed that out of all the moments of history, the divine Son chose to become incarnate in a place and time almost completely bereft of the technologies we cherish. He spent every day of his 30-odd years within 100 miles of his birthplace. He was human—of the earth, dusty, grounded, exactly what Icarus and Adam hoped they would not have to be.
Yet he also knew the presence that our technologies promise but never quite deliver. His Father never had to ask, "Where are you?"
Related Elsewhere

For more perspective on the September 11 terrorist attacks, see Christianity Today's previous essays and editorials:
Blame Game | Seeking mercy is a better response to 9/11 than seeking meaning. (Nov. 8, 2001)
Blood, Sweat, and Prayers | One man's journal of ministry among New York City's firefighters and police officers at Ground Zero. (Nov. 8, 2001)
Article continues below
Rally Round the Flag | America may not be God's chosen nation, but it does have a mission that churches can support. (Nov. 7, 2001)
Wake-up Call | If September 11 was a divine warning, Charles Colson says it's God's people who are being warned. (Nov. 5, 2001)
Where Was God on 9/11? | Philip Yancey's reflections from Ground Zero and beyond.
Judgment Day | God promised that calamity would follow disobedience. So why are we quick to dismiss it as a reason for the September 11 attacks? (Sept. 25, 2001)
Now What? | A Christian response to religious terrorism. (Sept. 21, 2001)
To Embrace the Enemy | Is reconciliation possible in the wake of such evil? (Sept. 21, 2001)
After the Grave in the Air | True reconciliation comes not by ignoring justice nor by putting justice first, but by unconditional embrace. (Sept. 21, 2001)
Taking It Personally | What do we do with all this anger? (Sept. 14, 2001)
A Wake-Up Call to Become Global Christians | The deadly attacks on America will provoke many responses, but Christians are commanded to love our neighbors. (Sept. 12, 2001)
God's Message in the Language of Events | In the face of evil, we must focus on keeping our hearts right. (Sept. 11, 2001)above all else.
When Sin Reigns | An event like this shows us what humans are capable of becoming—both as children of darkness and of light. (Sept. 13, 2001)
Crouch is editor-in-chief of re:generation quarterly.
Many of Crouch's other writings are available at his and his wife's Web site.
Earlier Andy Crouch columns for Christianity Today include:
Zarathustra Shrugged | What apologetics should look like in a skeptical age. (Sept. 5, 2001)

Consuming Passions | One man's "testimony" from the First Great Mammon Awakening. (July 10, 2001)

Generation Misinformation | Forget the latest PowerPoint seminars on Generations X-Z. (May 16, 01)

Dead Authors Society | We're no longer interested in tasting death but only little morsels of cheer. (Mar. 28, 2001)

Promises, Promises | Our technology works. But all idols do at first. (Feb. 21, 2001)

A Testimony in Reverse | I have discovered how inconvenient it can be when God actually does speak. (Feb. 5, 2001)

Crunching the Numbers | A modest proposal for measuring what really matters in church life. (Dec. 20, 2000)
Have something to add about this? See something we missed? Share your feedback here.
Always in Parables
Andy Crouch is an editor at large for Christianity Today. Before working for CT, Crouch was chief of re:generation quarterly, a magazine which won the Utne Reader's Alternative Press Award for spiritual coverage in 1999. He was formerly a campus minister with InterVarsity Christian Fellowship at Harvard University. Crouch and his wife, Catherine, a postdoctoral fellow at Harvard, have two children. His column, "Always in Parables," ran from 2001 to 2006.
Previous Always in Parables Columns:
Our digital archives are a work in progress. Let us know if corrections need to be made.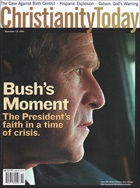 This article is from the November 12 2001 issue.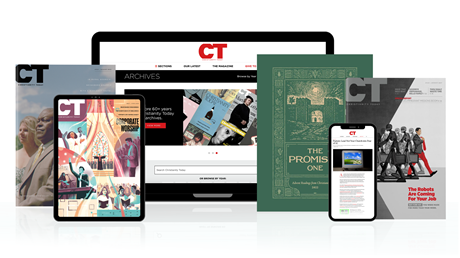 Subscribe to Christianity Today and get access to this article plus 65+ years of archives.
Home delivery of CT magazine
Complete access to articles on ChristianityToday.com
Over 120 years of magazine archives plus full access to all of CT's online archives
Subscribe Now
Grounded
Grounded