Plug pulled on Christianity.com
The CEO of Christianity.com, the Pat Robertson-backed Web site that hosts major churches and ministries like Chuck Colson's Prison Fellowship, the Salvation Army, and Jews for Jesus, told employees yesterday that the site was unable to find further financing. The site is closing down and will lay off almost all of its three dozen or so employees by November 15. Word on the street is that they're going to try to keep the site running for a few months more so ministries can have some time to find somewhere else to go. A few employees will stick around to make sure nothing breaks.
What Weblog hasn't heard yet is what's going to happen to Crosswalk.com. Christianity.com's demise can't be good news for the publicly traded company. In a radical effort to cut costs, Crosswalk partnered with Christianity.com this summer: Christianity.com got Crosswalk's content, Crosswalk got Christianity.com's Web site management software. The move allowed Crosswalk to drastically reduce its technical staff and programmers. But now that Christianity.com is going away, who will run Crosswalk's infrastructure? The company doesn't have the funds to hire programmers back. According to its most recent press release, the company is burning through $255,000 a month. At that rate, it'll go through the rest of its assets in only a few months: "At September 30, 2001 the Company had cash and invested funds of $801,298 and working capital of $627,840," the company says. "As a result of the upturn in cash burn, even with the outlook for a cash positive fourth quarter, the company may pursue an additional capital infusion, and new business opportunities that may result in increased liquidity and value to shareholders."
In other words, it's a dark day in the for-profit Christian Web site world. (As always, if anyone knows anything else—or is just upset that Weblog is sharing bad news—feel free to send an e-mail.)
A sigh of relief for C.S. Lewis fans
Did you happen to catch the PBS documentary "The Magic Never Ends: The Life & Work of C.S. Lewis"? Here in Chicago, it aired on Sunday night. But it will probably air on other PBS stations at other times. It was pretty good, with solid interviews from Debra Winger (who played Joy Gresham in Shadowlands), Wheaton College's Lyle Dorsett (who also happens to be senior pastor at Weblog's church), Douglas Gresham (Lewis's stepson), Christopher Mitchell, Walter Hooper, Dabney Hart, and Colin Manlove. Ben Kingsley narrated. Weblog won't offer a full review here (one is likely forthcoming with the next PBS Lewis documentary), but would like to note how evangelical—actually, evangelistic—the documentary was. Lewis's Christianity was focal, and contained some very explicit presentations of the gospel. So why all the fuss earlier this year about Carol Hatcher's planned documentary and the supposed de-Christianizing of Lewis's works? Hatcher claimed her film was sabotaged by the Lewis estate because it was too Christian. After "The Magic Never Ends," which was produced with obvious assistance and approval from the Lewis estate and Gresham (who was portrayed as a villain in the Hatcher saga), that claim is a lot more dubious.
Copies of the "Magic Never Ends" video and tie-in book are also available.
Other stories of interest:
Related Elsewhere:
See our past Weblog updates:
November 6 | 5

November 2 | 1 | October 31 | 30 | 29

October 26 | 25 | 24 | 23 | 22

October 19 | 18 | 17 | 16 | 15

October 12 | 11 | 10 | 9 | 8

October 5 | 4 | 3 | 2

September 28 | 27 | 26 | 25 | 24

September 21 | 20 | 19 | 18 | 17

September 14b | 14a | 13 | 12 | 10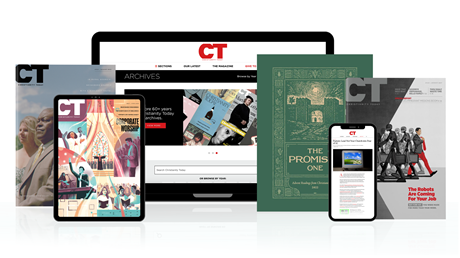 Subscribe to Christianity Today and get access to this article plus 65+ years of archives.
Home delivery of CT magazine
Complete access to articles on ChristianityToday.com
Over 120 years of magazine archives plus full access to all of CT's online archives
Subscribe Now
Christianity.com Falls. Is Crosswalk.com Next?
Christianity.com Falls. Is Crosswalk.com Next?