Caught in the escalating violence in Israel and the West Bank, Christian leaders are facing grave risks in continuing their ministries. At the Bethlehem Bible College (BBC), dean of students Alex Awad describes the atmosphere as "a pressure-cooker situation."
Although Bethlehem is under Palestinian control, life for Bethlehem's 150,000 residents remains difficult. The college helps families buy food and pay for utility bills and school tuition. "We also have a counseling program in place to offer support for children and adults traumatized by the shellings and shootings," Awad says.
Many overseas Christian groups have stayed away, Awad says, lowering the college's income that comes from academic instruction, conferences, and donations. During the academic year, Awad says, "Many of our students and their families faced periodic bombardment by tanks and helicopters, electrical outages, water shortages, closures, travel restrictions, and other challenges." Still, 15 students received degrees on June 6.
Meanwhile, World Vision reports that Israeli shells damaged its water tank for the town of Salfeet and three other Palestinian villages. After the lethal bombing of a Jerusalem pizza parlor in August, Israel blocked World Vision staffers from entering the agency's East Jerusalem office, which is near the Palestinian political headquarters that Israeli soldiers occupied.
Samia Khoury, a member of the executive committee of the Palestinian Sabeel Ecumenical Liberation Theology Center in Jerusalem, says that the number of international visitors to Sabeel has dwindled.
"It is sad and scary to see people gloating over the suffering of other people, whether as a result of the attacks of the Israeli army and the settlers, or whether as a result of a suicide bomber," Khoury says.
"Some of us continue to be scared and to worry daily about our children and grandchildren, and the morality of our people, because we have been left without options."
Related Elsewhere

Also in the West Bank, fighting raged in and around the Evangelical Lutheran church and orphanage in Beit Jala where 45 Palestinian children huddled for safety. The Israeli troops pulled out on August 30.
The Bethlehem Bible Collegesite includes academic informationand its historical setting.
World Visionis an international Christian relief and developmentorganization working to promote the well-being of all people - especially children.
Article continues below
Sabeel Ecumenical Liberation Theology Centeris an ecumenical grassroots liberation theology movementamong Palestinian Christians.
On Jan. 12, the U.S. Department of State warned againsttravel to Israel, the West Bank and Gaza.
For current articles on the Palestinian and Israeli conflict, see Yahoo's full coveragearea.
Previous Christianity Todayarticles on violence in the Holy Land:
Amid Fears for Future, Jerusalem's Churches Embark On Prayers for Peace | Week of prayer launched with services held in various congregations. (Aug. 22, 2001)

Strengthen Christian Presence In The Holy Land, Carey Pleads | Middle-East leaders asked to help tone down violence that has killed 650 in 10 months. (August 2, 2001)

Greek Orthodox Priest Falls Victim to Middle East Conflict | Monks worry they may appear as threats to each warring side. (June 21, 2001)

Violence Puts Archaeologists Between Rocks, Hard Places | About half of the planned excavations in the Holy Land this summer have been canceled. (June 27, 2001)

Pilgrimages Drop and Workers Lose Jobs as Middle East Violence Continues | Silence fills places normally crowded with pilgrims, reports British group. (April 11, 2001)

Holy Land Roadblocks | Christian pilgrims learn about Palestinians' everyday indignities. (Apr. 9, 2001)

Christian Zionists Rally for Jewish State | More than 600 Christians from around the world flock to Jerusalem to show solidarity with Israel as peace process collapses. (Apr. 9, 2001)

Between a Rock and a Holy Site | Muslims have stepped up their efforts to take control of places revered by Jews and Christians. (Feb. 13, 2001)

The Peace Regress | What's behind the current outbreak of hostilities in the Holy Land? (Jan. 11, 2001)

Conflict in the Holy Land | A timeline of trials for the most contested piece of real estate in the world.

Christmas in Palestine: Hunger and War | Starvation threatens Palestinian villages if U.N. aid continues to be delayed, Vatican official warns. (Dec. 13, 2000)

Between the Temple Mount and a Hard Place | Palestinian Christians want both peace in their villages and justice for their Muslim brothers. (Dec. 5, 2000)

Christmas Plans for Bethlehem Scrapped | Escalating violence cancels millennial celebration in town of Christ's birth. (Dec. 1, 2000)

Lutheran Bishop's Appeal from Jerusalem | Religious leader's letter requests prayer for Christians, Jews, and Palestinians in troubled region. (Nov. 10, 2000)

Latin Patriarch tells Israel to Surrender Lands to Palestinians | Catholic leader says Israel will never have peace unless it "converts all of its neighbors to friends." (Nov. 1, 2000)

Fighting Engulfs a Christian Hospital in Jerusalem | Lutherans call conflict on their hospital grounds "an affront" to humanitarian purposes. (Oct. 16, 2000)

Israelis and Palestinians Pay Tribute to Pope's Pilgrimage to Holy Land | Though some at grassroots remain unappeased, leaders of both groups are full of praise. (March 29, 2000)

Prepared for Pilgrims? | As Christian tourism surges, Holy Land believers brave troubled future. (Feb. 10, 2000)

Apology Crusaders to Enter Israel (April 15, 1999)

West Bank Squeezed by Warring Majorities | (Nov. 16, 1998)

Squeezed by Warring Majorities (November 6, 1998)

How Evangelicals Became Israel's Best Friend (Oct. 5, 1998)

Jerusalem as Jesus Views It (Oct. 5, 1998)

Temple Mount on Shaky Ground? | (April 6, 1998)
Article continues below
Have something to add about this? See something we missed? Share your feedback here.
Our digital archives are a work in progress. Let us know if corrections need to be made.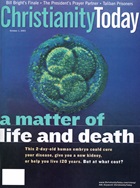 This article is from the October 1 2001 issue.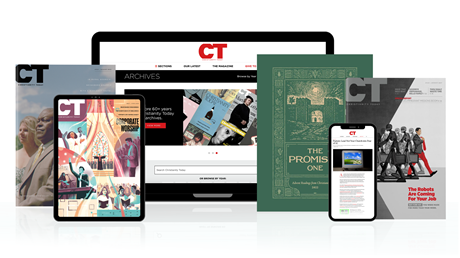 Annual & Monthly subscriptions available.
Print & Digital Issues of CT magazine
Complete access to every article on ChristianityToday.com
Unlimited access to 65+ years of CT's online archives
Member-only special issues
Subscribe
West Bank: Palestine's Christians Persist Despite Pressures
West Bank: Palestine's Christians Persist Despite Pressures