Two miles away from the lofty "dreaming spires" of Oxford University, an unprepossessing brick church rests in the shadow of a bland, four-story parking garage. Six years ago, when James Grote assumed the pastorate of John Bunyan Baptist Church in this gritty industrial suburb, it looked like a most unlikely site for an arts center.
But an arts center has grown here despite the odds. At one end of the spacious hall of the church, young drug addicts and runaway teens learn to hone their own music in a recording studio. Artists like textile sculptor Clare Jackson work in studio spaces in an unused choir loft. Seven times a week, a dancer choreographs new works on a sprung wooden floor that professional dancers would covet.
In the sanctuary, a concert pianist rehearses on a Steinway grand, reveling in the excellent acoustics. Visitors can ruminate over the original art and poetry in the church gallery and winding corridor. A small office has become a computer media center, where teenagers learn the salable skill of designing Web sites and CD jackets. Evidence of creativity by parishioners of all ages festoons the walls, and fills the corners of the sanctuary. This is not your typical English Baptist church.
Grote is pastor to 60 white and West Indian Britons, generally 50 and older, many of them connected to the suburb's auto industry. Six years ago, he transferred his family from a mission in El Salvador to the pastorate in Oxfordshire. "We had no money, we had a minimum of resources to offer, and hardly any staff but we did have space," Grote says. "So we offered space."
Grote sensed that the church would fail unless it could "find its center outside the center—not find its identity within an inside core and work out, as many churches do, but to work from the outside in," he says. So Grote, now 44, collaborated with Peruvian painter Ernesto Lozada-Uzuriaga and conceived the Ark-T Center.
The center's goal is not just to make art, to flatter artists, or to make "Christian art," but to incorporate artists into its Christ-anchored community. Aspiring artists need not be Christian to use the center's
facilities, and the center tries to assure victims of abuse, teenage offenders, single mothers, and abandoned elderly people know that they belong.
The center believes it offers marginalized people access to personal relationships—both with God and with people. "We believe that creativity through the arts allows people to discover new things about themselves and each other, and so unlock the potential for change," according to Ark-T literature.
Some teenagers, convicted of minor offenses or drug-related crimes, come to the center for court-prescribed projects. While recording music, or making wall murals for the community, young people develop healthy adult relationships. Christian Survivors of Sexual Abuse recently collaborated with Clare Jackson on "White Stones," an exhibit of poetry and works on paper by abused women. Inspired by Revelation 2:17 —"to those who overcome, I will give. … a white stone with a new name written on it"—artist in residence Olympia Sutherland designed assemblages of sculpted papier-mâché stones. Individuals were invited to place their petitions, pleas, and private thoughts through a narrow slit in one stone, which was ceremonially sealed and surrendered to God during a worship service marking the gallery opening.
Another artist introduced energetic teenagers to elderly patients from a nearby residential nursing home. Projects helped the teenagers relate to people with dementia or Alzheimer's by learning and illustrating their life stories. A photographer mounted an exhibition by a multicultural group of teenagers who learned how to respect each other's differences while they mastered cameras. During the opening, they shared in the combined triumph of seeing their art on the wall in front of family, friends, and community leaders.
Building Confidence
Projects at the center strive to build self-confidence in participants. "Our model is based on confidence, reality, and understanding," says Stewart Ford, an intern from Oxford Brookes University who works in the recording studio. "Confidence grows as the musicians experience a number of takes, and learn to improve their sound. Encouraged to develop, they play at an Ark-T Live or Unplugged session, with the hall set up as a club. This session is recorded live and videotaped; then they receive an in-depth critique, sometimes from professionals. That's as real as it gets."
Lozada-Uzuriaga, an exile from Peru now in his 30s, adopted England as his home in 1990, and is studying at Wy-cliffe Hall, Oxford, for ordination in the Church of England.
Many of his compositions are reproduced in Image and Word, an elegant booklet published by the center. In the preface, American author Eugene Peterson writes, "Writers and artists are major allies in furnishing our imaginations with accurate sounds (words) and forms (images) that keep us in touch with the invisible. Without them, we miss a lot that is going on around us, and forget even more. But we cannot afford to either miss or forget if we are going to live fully in the present."
"This whole program is extremely fragile," Grote says. "We could disappear tomorrow. But that fragility is, in a sense, our creative heart. It's not necessarily negative." Lack of funds didn't stop Lozada-Uzuriaga and the center's students from thinking about redeeming the concrete car park next door. In Cowley, a sooty town noted for its car factories and its high car-theft rate, the artists once hoped to transform the remnants of demolished cars into an open-air exhibit on the parking structure's roof.
"We want to do something that will capture the attention and the imagination," Lozada-Uzuriaga wrote in a London Arts Center Group magazine article, "[as] a way of redeeming the destruction done to those cars, the hurt suffered by their owners, [and] to show how we can recycle rubbish that is to be destroyed and redeem it into something beautiful."
What some would call junk becomes, in the hands of willing artists, a vivid metaphor for the saving grace of Christ.
Karen L. Mulder is CT's arts editor. The Ark-T Center is on Crowell Road, Cowley, Oxford England OX4 3LN; phone 011.44. 1865. 773.499; email: ark-t@can-online.org.uk; Web site: www.ark-t.org.
Related Elsewhere:
The official site for the Ark-T Center includes information on its history, current exhibits, and Ernesto Lozada-Uzuriaga.
See more Christianity Todayart reviews and articles.
Have something to add about this? See something we missed? Share your feedback here.
Our digital archives are a work in progress. Let us know if corrections need to be made.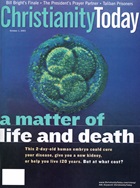 This article is from the October 1 2001 issue.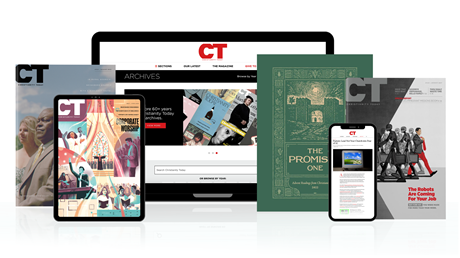 Annual & Monthly subscriptions available.
Print & Digital Issues of CT magazine
Complete access to every article on ChristianityToday.com
Unlimited access to 65+ years of CT's online archives
Member-only special issues
Subscribe
An Ark for the Arts
An Ark for the Arts