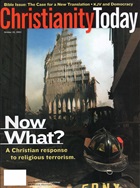 This article is from the October 22 2001 issue. Subscribers can read all of CT's digital archives.
Predictions that the scandals in the late 1980s involving Jim Bakker and Jimmy Swaggart would be the death knell for television ministries have proven wrong. Though the number of viewers and contributions have dropped by almost three-fourths compared to televangelism's peak in the early '80s, dozens of TV ministries from that decade remain on the air today. Even Bakker, during his frequent appearances on Larry King Live and Dallas preacher James Robison's program, shares his plans to return to religious television.
Twenty years ago, under the direction of my graduate professors at the University of Minnesota, I began monitoring how televangelists used their airtime. Seven studies later, I remain fascinated by the virtues and perils of merging ministry and television.
To get a handle on the current state of televangelism, I monitored 150 broadcasts of 22 different television ministries from September to November of 2000. Ministries were selected based on ratings, reputation, and availability via national cable outlets. Whites hosted about 90 percent of the ministries I monitored, and males about 80 percent.
Program segments were categorized and timed by theme in four ways: fundraising (which involves requests for money), promotion (the marketing of free ministry-related items such as gospel tracts or telephone help lines), politics (commentary specifically on the two hot topics of the month, the presidential election, and the peace process in the Middle East), and ministry (including music, prayer, preaching, and testimonies).
Two common criticisms of televangelists are that "they're always asking for money," or "they're always talking about conservative politics." Here is what I discovered about how the televangelists actually ...
1
Televangelist Report Card
Televangelist Report Card