The Evangelist Went Down to Fresno
In most ways, the Central Valley Billy Graham Crusade in Fresno, California, was like Graham's other evangelistic meetings. There were the special services for kids and teens, the testimony and music from celebrities (like Charlie Daniels, the bearded country singer of "The Devil Went Down to Georgia"), the humorous anecdote from Graham about the moth that flew into his mouth while preaching (Graham was preaching, not the moth).
But this was also Graham's first crusade since September 11, beginning exactly one month after the attacks. Attendees had questions and fears—and so did non-attendees. Only 40,000 or so showed up on Thursday, October 11: not enough to fill Fresno State University's Bulldog Stadium. But by Saturday's youth night, Graham was back to his usual breaking of attendance records, with more than 47,000 at Bulldog Stadium and another 15,000 at a nearby stadium. Weblog hasn't yet seen numbers from last night's meeting, but by Saturday night, 13,430 had responded to altar calls. At Graham's last crusade, in Louisville, 10,500 came forward over four days.
Graham has always used current news stories as sermon illustrations, but in Fresno he emphasized that's there's more going on in the world than terrorism. "Much of the world is feeling the effects of terrorism and war right now," he said Thursday night. "But there are other things that are bothering us: disease, poverty, racism, hate, loneliness, AIDS, unemployment, divorce, psychological problems, boredom, murder statistics—the world didn't stop sinning or getting bored after September 11."
One very specific way that Graham and his organization are feeling the effects of September 11 is in language: the Central Valley Crusade will be Graham's last to use the word crusade. "We don't want to take the chance of offending anyone," Graham's spokesman, Larry Ross, tells the Fresno Bee. It was too late to change billboards and printed material, but speakers at the Fresno meetings were told to avoid using the word from the stage. "It doesn't mean there's something negative meant if someone slips and uses the old nomenclature," Ross said before the meetings started. Future events will use words like mission, outreach, or campaign. The June 2002 services in Cincinnati, for example, are being called the Greater Cincinnati and Northern Kentucky Billy Graham Mission.
Hundreds dead in renewed Nigeria riots
Nigerian Muslims in Kano, protesting the bombing of Afghanistan, turned violent over the weekend. The Washington Post reports, "The violence in Kano began after a peaceful march by Muslims after Friday's prayers at the mosque, residents said. But then a group of angry Muslims, many carrying posters of bin Laden and anti-American banners, came across a small group of Christians and attacked them." At least 200 are unofficially reported dead, though Nigerian authorities are notoriously reluctant to release figures for fear of inflaming the violence (the official death toll is a mere 18). These riots were only superficially about bin Laden and Afghanistan—tensions between Christians and Muslims have been high ever since northern states began imposing Shari'ah law. Hundreds were killed during riots in Jos last month, and the BBC reports that more than 2,000 were killed during Kaduna riots in February 2000.
Abu Sayyaf says they will kill Burnhams
It just got a lot worse for Martin and Gracia Burnham, the New Tribes missionaries being held by Muslim guerrillas somewhere in the southern Philippines. For the first time, the Abu Sayyaf rebels put Martin on the radio. "I am always tied or kicked, I'm always in the center of the group," Reuters quotes him as saying. "I'm always chained so I cannot escape. I am very tired, weak and frightened. … We have lost a lot of weight and … I was wounded at one early rescue attempt by a grenade but [it's] only a superficial wound and it is healed. My wife's … feet are very blistered and sore." Sobbing, Martin Burnham also said the rebels had repeatedly threatened to kill them, orphaning their children—a threat Abu Sayyaf leader Abu Sabaya confirmed after Martin spoke. "In a rescue operation, we might release the Filipino hostages since they don't mean anything to us," Sabaya said. "The two Americans … might be executed before being released. … It would be very embarrassing if President Arroyo goes to the U.S. with the bodies of Martin and Gracia." (More coverage is available from the Associated Press, ABS-CBN, and elsewhere. Keep checking Yahoo's full coverage for updates throughout the day.)
Related Elsewhere
See our past Weblog updates:
October 12 | 11 | 10 | 9 | 8

October 5 | 4 | 3 | 2

September 28 | 27 | 26 | 25 | 24

September 21 | 20 | 19 | 18 | 17

September 14b | 14a | 13 | 12 | 10

September 7 | 6 | 5 | 4

August 31 | 30 | 29 | 28 | 27

August 24 | 23 | 22 | 20

August 17 | 16 | 15 | 14 |13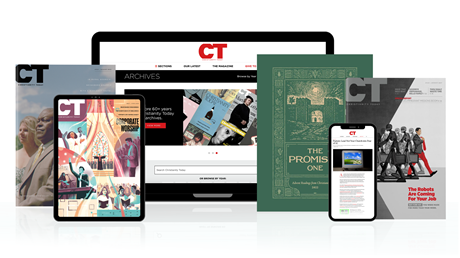 Annual & Monthly subscriptions available.
Print & Digital Issues of CT magazine
Complete access to every article on ChristianityToday.com
Unlimited access to 65+ years of CT's online archives
Member-only special issues
Subscribe
Billy Graham's Last Crusade—Really
Billy Graham's Last Crusade—Really