Those who knew Todd Beamer as a boy and young man in Wheaton, Illinois, did not foresee how he would become a national hero on September 11. But his teachers, friends, and coaches say the easygoing Beamer had a competitive streak and strong faith that prepared him to act decisively in an emergency.
Beamer, 32, was one of several passengers who interfered with hijackers on United Flight 93, causing the Boeing 757 to crash into a Pennsylvania field instead of into a presumed target 20 minutes away in Washington, D.C. His last known words, "Let's roll," have become a rallying cry for many in the wake of the terrorist attacks.
Until he died, Beamer was a resident of Cranbury, New Jersey. A sales account manager for Oracle Corporation, Beamer was traveling on business. Beamer was born in Flint, Michigan, and attended grammar school, most of high school, and college in Wheaton, a prosperous suburb of Chicago.
David Kohlmeyer, a friend and teammate through grammar school and high school, said he was glad Beamer was on his team. Beamer always seemed to come out on top in their friendly one-on-one competitions.
"He was just tough to beat," Kohlmeyer said, chuckling. "We were close in skill, but whenever we played, he just seemed to have my number."
Although Beamer was ruthless on the court or field, friends say he was friendly and relaxed when the game was over.
Steve Clum, who taught Beamer in fifth grade at Wheaton Christian Grammar School, remembered Beamer as a "quiet young man with inner strength." Clum said Beamer defended classmates who were teased.
T.J. Bean, who played pickup games with Beamer at Wheaton College, noted the same combination of resolve and gentleness.
"He was intense when he competed, but as soon as he was out of the athletic arena, he was a really sweet guy," Bean said.
Beamer's college roommate, Keith Franz, said Beamer was "the kind of guy everybody wanted to be friends with—and I think everybody was." Franz and Beamer served as "close dating advisers" and were best men at each other's weddings, Franz said.
When their families got together just 10 days before Beamer's death, Franz said, Lisa Beamer told his wife that David, 3, and Andrew, 1, "would go ballistic every time he walked in the door."
Lisa Beamer is expecting the couple's third child in January. The Beamers had been married for seven years.
Friends say Beamer had pulled through in smaller crises before.
Roger Burgess coached Beamer and Kohlmeyer in junior high soccer and basketball. "When the game was on the line, you wanted him to have the ball," Burgess said. He opened a worn green record book to an especially memorable game for Beamer's seventh-grade basketball team. Beamer was fouled with two seconds left in the game, and the team was down by one point. Beamer made two foul shots to win the game.
Kohlmeyer remembers the same game. "He always made it in a clutch," he said.
Bean said that Beamer's determination made him a hero. "When it came down to the last minutes on Flight 93, he was the one you wanted on that plane," Bean said. "When you needed someone to get the job done, he was the one."
Those who knew him agree that Beamer's belief in God helped him in the crisis.
During his last phone call, Beamer recited the Lord's Prayer with Lisa Jefferson, a gte Airfone operator. Stan Ueland, another friend from Wheaton College, noted that Beamer's priorities were clear in his final conversation. Beamer spoke of his family and faith, Ueland said, "then he did what he had to do."
Clum said Beamer's actions were a reflection of his everyday faith: "When his character and courage were tested, he responded in a way that honored the God he loved."
LaTonya Taylor is editorial resident for Christianity Today.
Related Elsewhere:
Christianity Today first covered Beamer's story in "Active Christian on Flight 93 Hailed as a Hero."
Media coverage of Beamer's heroism and United flight 93 include:
Friends, strangers honor man who helped foil hijackers' plans — The Daily Herald (Oct. 7, 2001)

Services mirror grieving of nation — Chicago Tribune (Oct. 7, 2001)

A Sky Filled With Chaos, Uncertainty and True Heroism — The Washington Post (Sept. 17, 2001)

Hero's final phone call — BBC (Sept. 17, 2001)

Flight 93 Hero Heard on Black Box — The Washington Post (Sept. 16, 2001)

The phone line was still open when Todd Beamer said: 'Are you guys ready? Let's roll' — Post-Gazette (Sept. 16, 2001)
The Todd M. Beamer Foundation is a nonprofit organization designed to help the families of flight 93, combat future terrorism, and expand the message of hope and peace to our youth.
Wheaton College has posted a prayer request for members of the Wheaton family who were lost and all those touched by the tragedy.
Christianity Today's previous articles on the September 11 attacks include:
Day of Terror, Day of Grace | In the wake of fatal attacks killing thousands, Christians steer America toward prayer, service, and reconciliation. (Sept. 25, 2001)
Article continues below
Where I Minister, Grace Abounds Over Sin | At Ground Zero, a New York pastor becomes a symbol that God is present and available. (Sept. 24, 2001)
Now What? | A Christian response to religious terrorism. (Sept. 21, 2001)
To Embrace the Enemy | Is reconciliation possible in the wake of such evil? (Sept. 21, 2001)
After the Grave in the Air | True reconciliation comes not by ignoring justice nor by putting justice first, but by unconditional embrace. (Sept. 21, 2001)
With Grief and Anger, the U.S. Mourns Its Losses | A week of official services and impromtu demonstrations follows shocking attacks. (Sept. 18, 2001)
Church Mourns 'Father Frank' | Fond memories comfort those who knew retired priest killed in World Trade Center attack. ? (Sept. 17, 2001)
Taking It Personally | What do we do with all this anger? (Sept. 14, 2001)
Shaken Christians Turn to Prayer | Impromptu services usher in the bereaved by word of mouth, road signs, and e-mail. (Sept. 13, 2001)
Illinois Pastor on Fatal Flight | Jeffrey Mladenik, 43, was involved in workplace ministry, international adoption. (Sept. 13, 2001)
Reflections on Suffering | Classic and contemporary quotations for dark times. (Sept. 13, 2001)
When Sin Reigns | An event like this shows us what humans are capable of becoming—both as children of darkness and of light. (Sept. 13, 2001)
In the Belly of the Beast | Christians, calling terrorist attack "satanically brilliant," minister at epicenter of World Trade disaster. (Sept. 12, 2001)
Church Leaders Around World Deplore 'Unspeakable Horror' of Attack | Christians urged to unite in prayer as they unite in shock and denunciation. (Sept. 11, 2001)
Experts Say Spiritual Roots Will Aid in Coping With Catastrophe | Pray and connect with others, advise nation's chaplains. (Sept. 11, 2001)
Fear and Hate | In times like this, as in all other times, Christians have a responsibility to love above all else. (Sept. 11, 2001)
God's Message in the Language of Events | In the face of evil, we must focus on keeping our hearts right. (Sept. 11, 2001)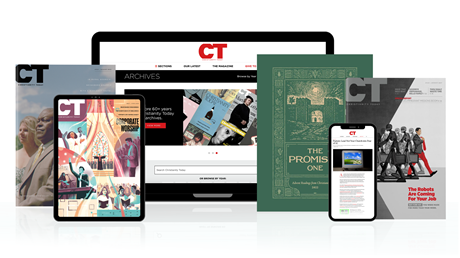 Subscribe to Christianity Today and get access to this article plus 65+ years of archives.
Home delivery of CT magazine
Complete access to articles on ChristianityToday.com
Over 120 years of magazine archives plus full access to all of CT's online archives
Subscribe Now
"Beamer's Faith, Competitive Streak Set Scene for Flight 93 Heroism"
"Beamer's Faith, Competitive Streak Set Scene for ...