U.S. judge kicks Episcopal priest out of parish
A federal judge yesterday handed the Episcopal church hierarchy a victory in the long battle for control of Christ Church in Accokeek, Maryland. Bishop Jane Holmes Dixon opposed the parish's appointment of Samuel Edwards as rector, but Edwards said she missed the 30-day deadline to do so. According to U.S. District Court Judge Peter J. Messitte, missing the deadline doesn't matter; Dixon is the boss, and what she says goes. "She is the highest ecclesiastical authority of the Washington Diocese of the Episcopal Church," he wrote. "Even if her decisions … were arbitrary (and the Court in no way means to suggest they were), they were decisions for her, as Bishop, to make. The Court had and has no say in the matter. … By law, the Court must defer to her actions." Chuck Nalls, attorney for the parish, tells The Washington Times it is likely to appeal the decision. The Washington Post, meanwhile, says the decision "represents a major victory for the Episcopal Church's hierarchy in its nationwide dispute with a conservative faction that is seeking to secede from the denomination along with the assets of some parishes."
United Methodist Church council: No homosexual pastors
The United Methodist Judicial Council, the denomination's supreme court, affirmed that the denomination forbids "self-avowed practicing homosexuals" to serve as pastors. However, the council said, a bishop may not unilaterally fire pastors even if they announce their homosexual practice; they must be given a full hearing at the Annual Conference. Four members of the nine-member panel issued a supplementary opinion, saying that the denomination "is coming to terms with the fact that, in essence, the United Methodist Church has a don't ask, don't tell policy, with respect to gay and lesbian clergy. This reality is heightened when fair process provisions are overlooked or violated." The opinion will eventually be posted here, but it's not there yet. Meanwhile, debates on homosexuality continue to boil in other denominations, especially the Presbyterian Church (USA).
More cases the Supreme Court won't hear
The Supreme Court has turned down several more religion cases. The most noteworthy is a suit opposing Virginia's moment of silence law. The 4th U.S. Circuit Court of Appeals ruled that mandating one minute of silence at the beginning of each school day does not violate the First Amendment; that decision now stands. The Supreme Court also won't hear the case of Kenneth Weiss, a worker at a Florida medical lab. He offered Bibles to his Muslim coworkers, talked about the Bible's injunctions against homosexuality to a lesbian coworker, laid hands on those who weren't feeling well, and even prayed over faulty machinery. He was fired. The 11th U.S. Circuit Court of Appeals criticized his behavior, but said a jury should decide if he was unjustly fired. The Supreme Court apparently agreed; the case now goes back to Florida for trial.
More articles
Life ethics:
Religion and culture:
Christian OzzFest vets say they're rebels with a cause | P.O.D. attempts to communicate respect and compassion for others through their music (The Plain Dealer, Cleveland)
Holy Frappuccino! | Houston church will open McDonald's franchise. Many churches have similarly turned to commerce to help pay off big mortgages after a huge building spree in the '90s. (The Wall Street Journal, via The News & Observer)
Church and state in Texas:
The governor is blowing this one | Just when I thought we were getting our act together as a state and a nation on this issue, along comes a governor who apparently cares not one whit about a family whose religious instruction might differ from his. (Mark Davis, Fort Worth Star-Telegram)
Also: Crossing the lines of church and state | Our civic God is Nature's God, accessible through reason - not Allah, Jesus or Jehovah, revealed through scriptures. (Don Erler, Fort Worth Star-Telegram)
Also: A couple of wrong approaches | If we wanted the state to coerce faith, we would have voted for the Taliban (Molly Ivins, Fort Worth Star-Telegram)
Persecution:
Related Elsewhere
See our past Weblog updates:
October 29

October 26 | 25 | 24 | 23 | 22

October 19 | 18 | 17 | 16 | 15

October 12 | 11 | 10 | 9 | 8

October 5 | 4 | 3 | 2

September 28 | 27 | 26 | 25 | 24

September 21 | 20 | 19 | 18 | 17

September 14b | 14a | 13 | 12 | 10

September 7 | 6 | 5 | 4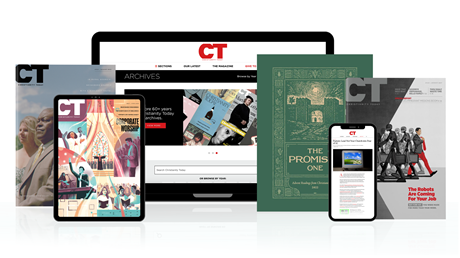 Annual & Monthly subscriptions available.
Print & Digital Issues of CT magazine
Complete access to every article on ChristianityToday.com
Unlimited access to 65+ years of CT's online archives
Member-only special issues
Subscribe
"Weblog: Decisions, Decisions"
"Weblog: Decisions, Decisions"